Happy returns for Trojans
by
Dave Ornauer
March 5, 2009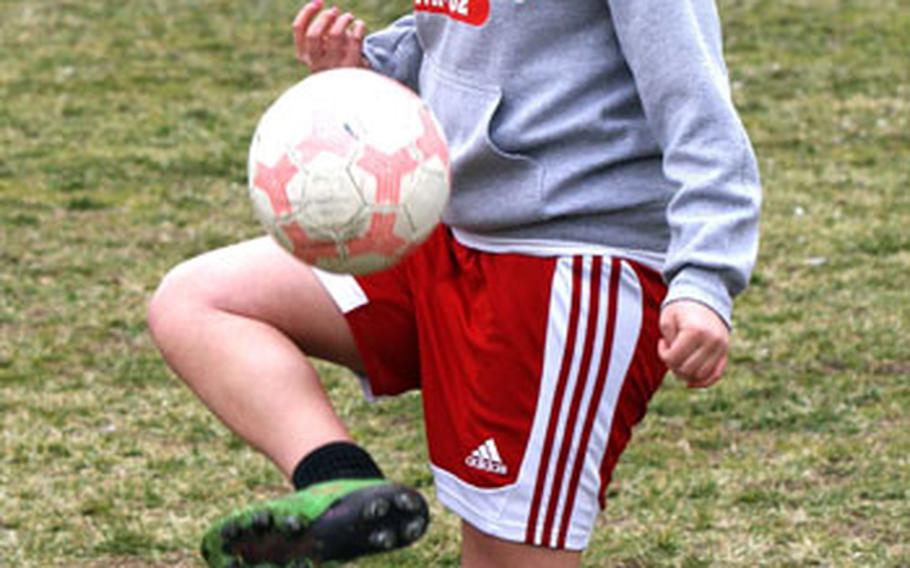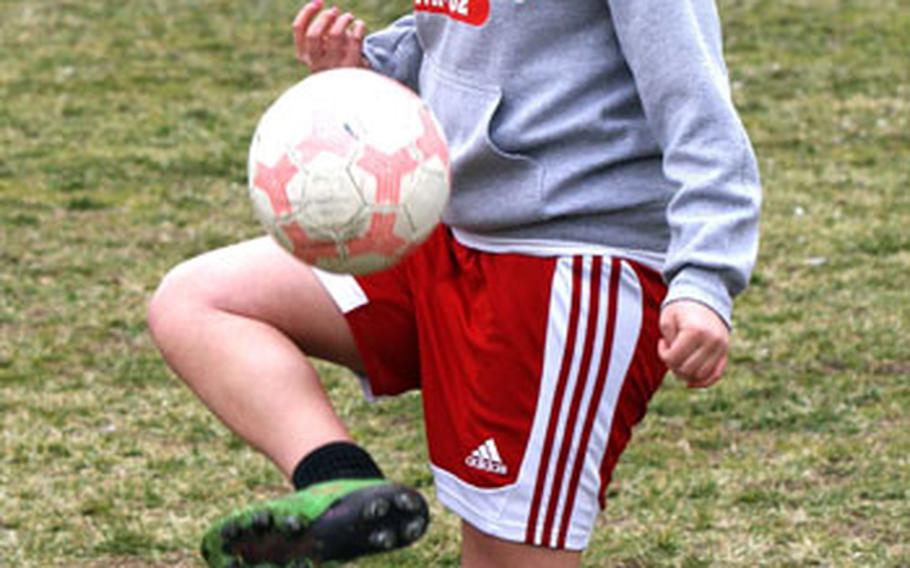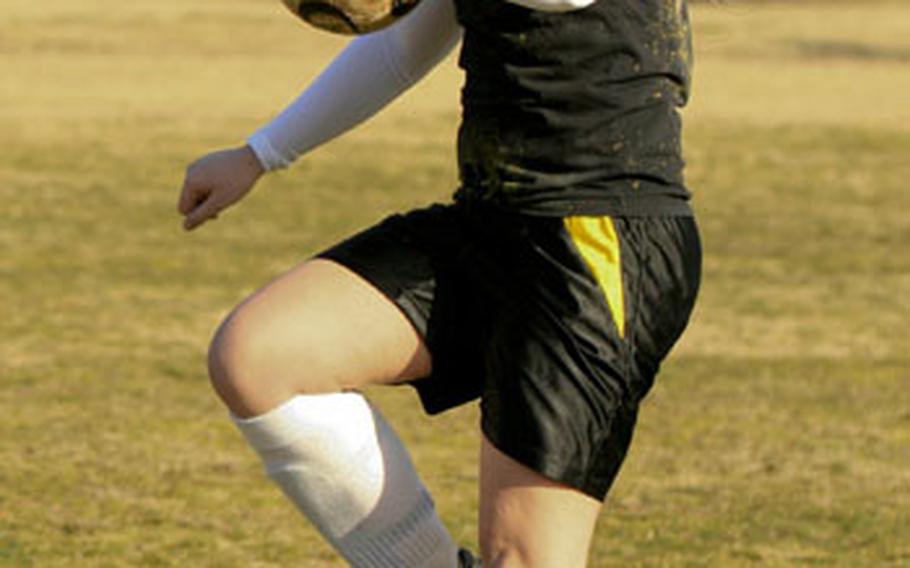 CAMP ZAMA, Japan — They weren't supposed to be in Trojans uniforms. They weren't supposed to be at Zama at all, for that matter.
Prolific scoring sisters Aubrey and Mallarie Ashliman were destined to return to Virginia and their traveling club team.
Taylor Russell? Back to her native California, or so it seemed last spring.
But circumstances changed. And here they are, in Zama American black, maroon and white jerseys, shin guards and spikes.
And from all indications, the reigning DODDS-Japan Soccer League and Kanto Plain Association of Secondary Schools champions are primed for another title shot, maybe a deep run at a Far East Girls Class AA Soccer Tournament title.
"We have experience on both lines, plus the sisters, and what can you say about the sisters?" new coach Rogers Pitts said. "We have some quickness. We play both sides of the ball effectively."
And not one senior populates his roster. "We're fortunate as a DODDS school that we have this type of talent," Pitts said.
Already competitive was this Trojans lot, which the last two years under Vanessa Little rang up a 33-17-3 ledger, including top-eight Class AA finishes. Pitts indicated this team could exceed that.
For one, he returns his wings, sophomores Yuri Fisher and Eris Pitts, and junior three-year veteran center-midfielder Kristen Dulay. Sophomore Deanna Polaski is back in net. And anchoring that defense is junior transfer Katie Scully, new to Zama from Hawaii.
But the three players who weren't expected to be at Zama could just complete the Trojans' picture.
"I'm really excited," said Aubrey Ashliman, who scored 58 goals in parts of two seasons before knee surgery shelved her last spring.
Now back and healthy, she teams up front with Mallarie, who scored 43 goals last season.
"I think we're going to have a good team," Aubrey said. "We have girls who can play defense, offense, everywhere."
It's quite a turnaround from the fall, when going through physical therapy, she entertained thoughts of returning to Virginia. But by the time basketball season ended, she'd changed her mind.
"I thought we had a really good chance (to do well), so I wanted to stay and finish the season," Aubrey said. "I'm happy now."
The Ashlimans' father, Navy Cmdr. Monty Ashliman, commanding officer of Strike Fighter Squadron 102 at Naval Air Facility Atsugi near Zama, managed to secure enough extensions to ensure they would depart two days after the Class AA Tournament ends on May 22.
The prospect of hitting the pitch in tandem for a full season seemed to excite the sisters. "We've talked about it," Mallarie said, adding that the two used to play alongside each other in club and middle school ball. "She's really easy to work with."
For her part, Russell says she wanted to stay on Okinawa, where she helped the Kadena Panthers earn back-to-back Class AA bronze medals while scoring 19 goals and assisting on 16.
But her mother Kerry's job contract at Kadena ran out. The family considered returning to California, but eventually Kerry took a new post at Atsugi. So heartbroken was Russell upon learning she was leaving that she said: "I didn't want to play soccer any more."
"I miss my team," Russell said. "We had been building more and more with the team, we were getting closer and especially with Far East on Okinawa the next two years. And I miss my coach (Hoa Nguyen) so much. He was always going to be there for us."
What may be the most difficult part for Russell is actually going back to Okinawa to play Far East at her former home.
"That's going to be really hard. That's going to be the worst," Russell said. "Maybe I'm going to want to go there and not come back."
Over time, resistance to taking the pitch as a Trojan melted, as Russell says she viewed the change as a learning opportunity.
"They're a good group of kids and it would be a good experience to learn to play with a new group of people," Russell said.
She'd played against the Ashlimans during Far East, and Russell says she welcomes the chance to be on the same side. "Knowing how well they play, it's definitely a great opportunity to play with them instead of against them, and maybe learn from them," she said.
Well before practice officially began Feb. 23, Russell says she spent time getting to know her teammates. "Since I've gotten to know the team more, I feel more comfortable and confident with it," she said.
Her teammates have been equally accepting. "We're all friends outside of soccer," Aubrey Ashliman said.
Now, with the season-opening matches beckoning at Marine Corps Air Station Iwakuni, the three who weren't supposed to be at Zama and their teammates will get down to the business of translating their talent into victories.
"I think we have a pretty good chance if we all play well," Mallarie Ashliman said.
Coach Pitts agrees. "I thought we would be competitive, but now, I think we'll be really competitive," he said.