Hanau's Lane signs to play football at Hawaii
by
Rusty Bryan
April 7, 2006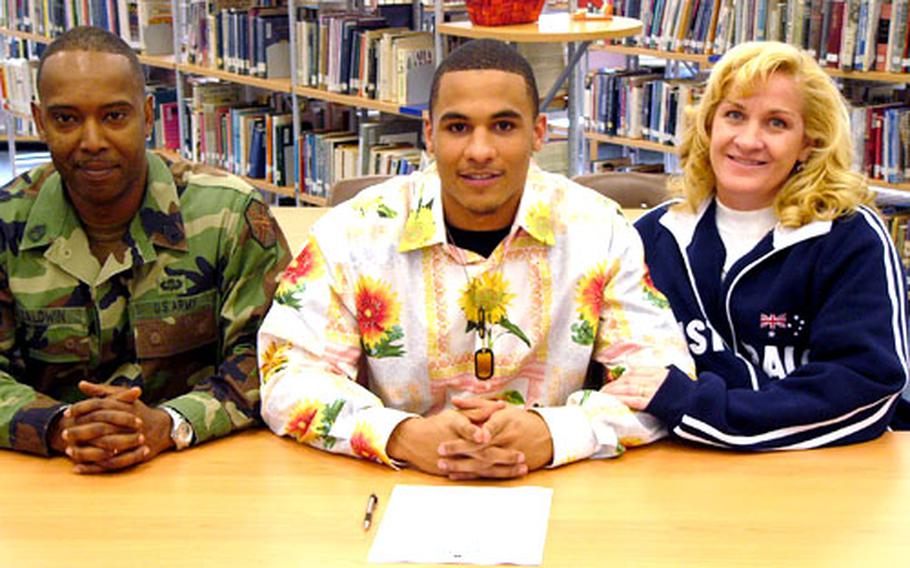 HANAU, Germany — Even though most Division I college football scholarships were signed, sealed and delivered two months ago, Malcolm Lane plucked a plum of an offer last week.
Lane, a two-time, two-way All-Europe selection from Hanau High School, signed a letter of intent to play for the University of Hawaii and has accepted a full scholarship.
The signing concluded a frantic winter of buttonholing anyone who'd listen.
"I contacted all the big schools — Washington, Nebraska, schools like that," said Lane, who sent out DVDs showcasing his abilities. "They said they liked what they saw, but that they had already used up all their scholarships."
However, Dan Miles, a Hohenfels-based coach for Team USA Football, used his connection with University of Washington coach Tyrone Willingham to get a copy of Lane's DVD into the coach's hands, Lane said. Although Willingham had already used his scholarships, Lane said, he passed the DVD on to Jeff Reinebold, an assistant at Hawaii.
Reinebold was impressed.
"I looked at the tape and thought, 'This is a no-brainer,'" Reinebold said in a story in Tuesday's electronic edition of the Honolulu Advertiser. "If he's as fast as he looked on tape, we had a great prospect."
Lane, who was also a guard on Hanau's basketball team, said Reinebold called him around the end of the season.
"He told me he liked the things I was doing on the tape, but warned me it would be a long process," Lane said.
Lane was sure enough about the offer, however, that he elected to skip his senior season in track — in which he'd be a heavy favorite to win a European sprint title or two — to concentrate on getting ready for college football.
"I'm lifting weights two days a week and running sprints to build up my speed two days a week," he said.
Lane's confidence was vindicated when Hawaii made its offer.
Lane, at 6 feet 2 and 185 pounds, played wide receiver and defensive back last season. Lane said he doesn't care on which side of the ball he plays at Hawaii.
"I just want to contribute wherever I can as quickly as possible," he said Wednesday. "Even special teams. I love returning kicks. It's a chance to be creative and use your abilities."
Wherever he plays, Lane knows he's in for a test.
"I look at playing in college as another challenge," he said. "I'm going to meet it. I don't want to let all those people who helped me get here — my parents, my coaches, my teammates — down."