Hanau hangs tough, takes D-III girls title
by
Charlie Coon
February 25, 2007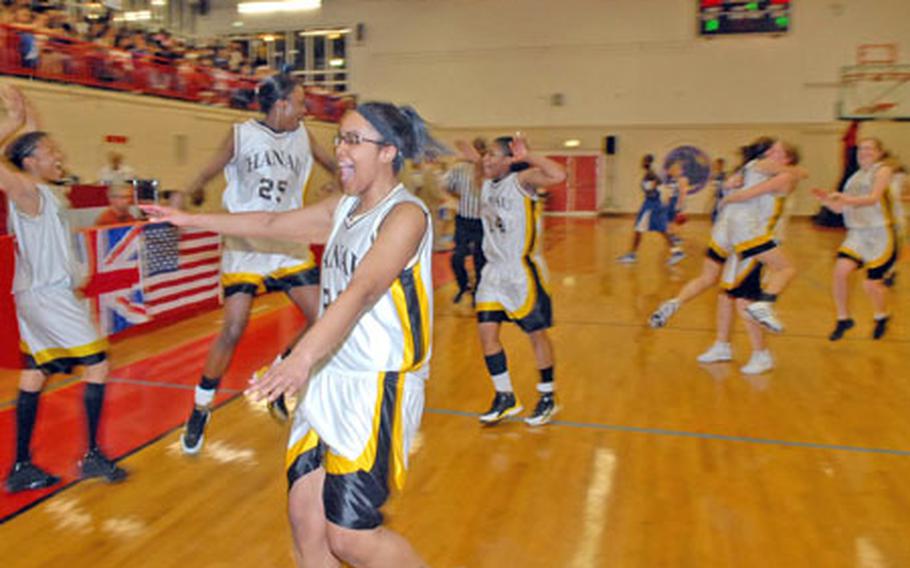 See photo gallery.
MANNHEIM, Germany — The Hanau Panthers led by 11 points at halftime in the Division III girls championship game and were cruising.
But that didn't mean much Saturday at the DODDS-Europe basketball tournament. In an earlier game, Vilseck lost a 14-point halftime lead and dropped the Division II title game to Naples.
So Hanau coach Michael Lee Hunt wasn't relaxing. There was a lot of game to be played against Rota before the title was settled.
"You're never comfortable," Hunt said. "They're a good team, well-coached, and an 11-point lead is nothing in basketball.
"You hope to take it to them and end it, but it's the tournament and you've got to expect them to come back."
Rota did, taking the lead in the fourth quarter before Hanau rerecovered to pull out a 29-28 victory. Latanya Wilson, who scored a game-high 17 points, made a free throw with 15 seconds to go for the win.
Wilson scored 11 points in the second quarter, and capped a 13-0 run with a fast-break layup, taking a long outlet pass from Emily Morris. She almost made it more dire for Rota at halftime when she back-rimmed a long three-point try at the buzzer.
Despite trailing 17-6, Rota coach Greg Jacobs' team wasn't giving up.
"All we needed to do was knock a couple shots down, start whittling away and getting back into the game," Jacobs said.
The Admirals did with a 14-4 run, with Candise Apling's set shot from the left wing giving them their first lead, 24-23, with six minutes to play.
Nicole Edwards, Rota's 5-11 center who scored all of Rota's first-half points, added a basket in the paint to increase the lead to 26-23, and it seemed a great comeback win was at hand.
"It wasn't the end of the game," Edwards said. "We still had to put pressure on the ball, block out and do what we had to do."
Hanau (15-6) had other ideas.
Wilson made a free throw, Jehan Bostick put back an offensive rebound and Lisa Fontanez, cold most of the game shooting from the right wing, swished a 15-footer with two minutes left to move Hanau back on top, 28-26.
With possession in their offensive zone and only 37 seconds to go, Hanau seemed in good shape. But Rota's Stephanie Shapiro stole the inbounds pass, and Edwards followed up a missed shot with another offensive rebound and basket to tie the game at 28.
This time it was the Panthers who came through. Wilson was fouled, and her free throw proved to be the winning point.
"Foul shots win basketball games," Wilson said as her team celebrated. "That's what my coach said."
Hanau 29, Rota 28(Saturday at Mannheim)Rota......2 4 14 8-28Hanau......4 13 5 7-29Scoring—Rota: Nicole Edwards 16, Tamara Williams 8, Candise Apling 2, Stephanie Shapiro 2; Hanau: Latanya Wilson 17, Lisa Fontanez 6, Jehan Bostic 4, Emily Morris 2.
---
---
---
---