Hallie Kisney making a big splash for Sigonella
---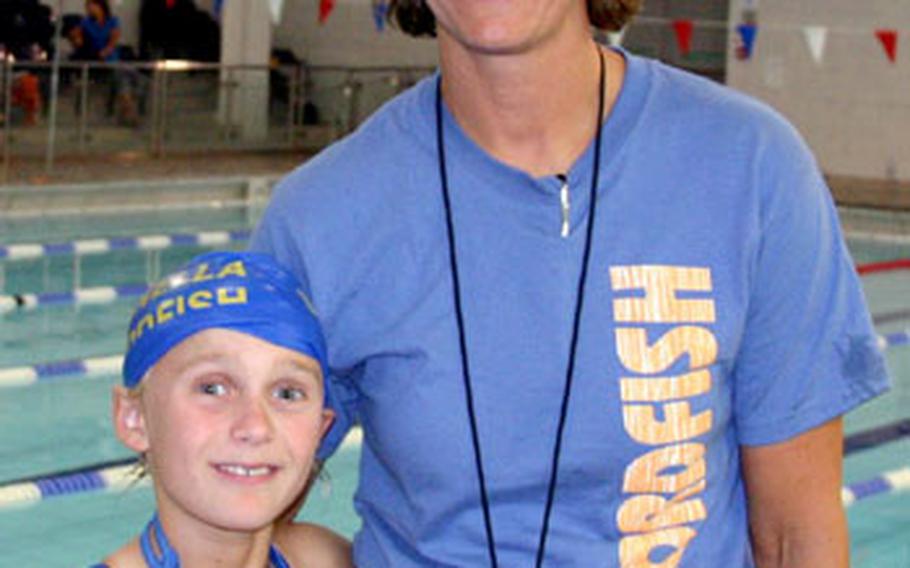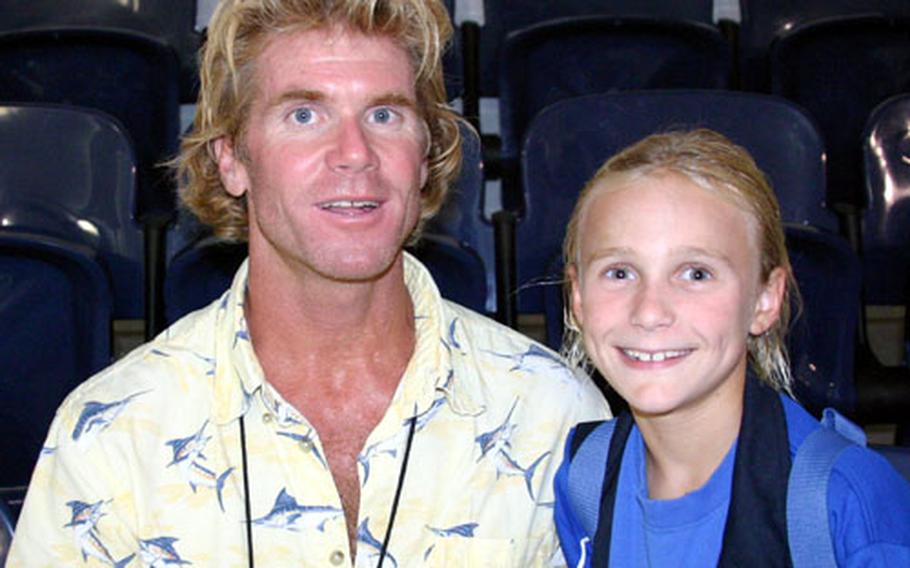 About 500 elementary and high school swimmers will gather in Berlin from across the continent Saturday and Sunday to compete in 136 events at the 2009 European Forces Swim League championships.
And it's safe to expect six of those individual races to be dominated by 8-year-old Halladay "Hallie" Kinsey of the Sigonella Swordfish. In just eight meets this season, Hallie has set 10 age-group records in events ranging from the 50-meter butterfly to the 800-meter freestyle.
"I'll be swimming the 200 IM [individual medley], 200 free[style], 100 IM, 50 free, 100 free, 50 [butter]fly and two relays," Hallie said by telephone Monday.
Hallie holds EFSL short-course records — done in a 25-meter pool — in those events. But the championships are scheduled for the Olympic-size 50-meter pool at the Schwimm- und Sprunghalle im Europapark, opening more worlds for her to conquer. She holds just two long-course records — the 100 free and 200 IM.
"I'm really excited," Hallie said of her biggest stage of the season. "The long course makes it more exciting."
Hallie will be swimming in her second EFSL championships. Before returning to the States for two years, Hallie, at age 5, competed in her first EFSL finale, the 2005 meet at Riccione, Italy.
"She was my go-to swimmer in the 8-and-unders," Sigonella coach Rich McKeown said Monday. "In the 8-and-unders, the 8-year-olds normally do the best. She was just 5, but I used her in the 50 fly, 200 IM and 100 IM. Those are the events the others [disqualified in] or didn't do well. I knew she was something special."
Hallie followed that season with two years in Southern California, holding her own in the intense competition of that hotbed of the sport.
"Her EFSL record time in the 200 IM (2:54.48) was the second-fastest in the nation for her age group," McKeown said. "That's pretty strong."
Strong might be the best word to describe Hallie, who identified the 50 fly and 200 IM as her favorites. They are among the most technical and challenging events, according to her coach.
"She owes a lot to natural talent," McKeown said, "but that's not the whole story. She's happiest in the pool. She has a good work ethic, and she's really competitive. She's a normal kid outside the water, but when it's time to race, she's looking around to see who's coming on."
Hallie said she practices two hours a day, five days a week in Sigonella's outdoor pool, work that is clearly paying off.
"This league's been around a long time," McKeown said, "and she's beating the old records handily. In the 200 free, the old record was 3:13. She posted 2:54. She dropped the 100 free record by five seconds. That's saying something."
McKeown was able to be part of Hallie's record-setting season because of the impression he made on her mother, Kathleen, a former college swimmer who helps coach the team, during the family's previous tour at Sigonella.
"He's part of the reason we asked the Navy to move us back here from Southern California," Kathleen Kinsey said. "I recognized the value in Coach Rich's program. He takes all these kids and teaches them how to swim."
The Navy didn't send McKeown just a swimmer and an assistant coach when it acceded to the Kinseys' request. It also sent him two more swimmers — Hallie's sisters Greta, 10, and Annika, 7.
The family aspect of the sport looms large at Sigonella, where great distances separate the Swordfish from the 17 other teams in the league. "It's a hard thing," Kathleen Kinsey said. "It's a minimum of four days' travel to any other meet."
Sigonella has traveled to Lakenheath, Naples, Aviano and Geilenkirchen, Germany, this season. On this trip, traveling is just part of the time Hallie will be putting in to win gold. But she's not fazed by the eight events on her schedule.
"When I'm swimming, I don't really think about it," she said. "And when I get really tired, I just think of Michael Phelps. He wouldn't quit."
The Kinsey file
EFSL records for girls 8 and younger set in 2008-2009 by Sigonella's Hallie Kinsey:
Long course(50-meter pool)
100-meter freestyle — 1 minute, 25.00 seconds (old record 1:27.70)
200-meter individual medley — 3:23 (old record 3:36)
Short course(25-meter pool)
50-meter freestyle — 37.48 seconds (old record 37.95)
50 meter butterfly — 41.43 seconds (old record 43.83)
100-meter freestyle — 1:23.81 (old record 1:28.31)
100-meter individual medley — 1:31.65 (old record 1:35.02)
200-meter freestyle — 2:54.48 (old record 3:13.41)
200-meter individual medley — 3:17.58 (old record 3:21.22)
800-meter freestyle — 13:18.90 (new event)
Pentathlon (best combined times in 50 free, 50 back, 50 breast, 50 fly, 100 IM) — 4:28.72 (old record 4:40.25)
---
---
---
---