Hallauer rallies for Army Europe golf title
by
Rusty Bryan
July 22, 2005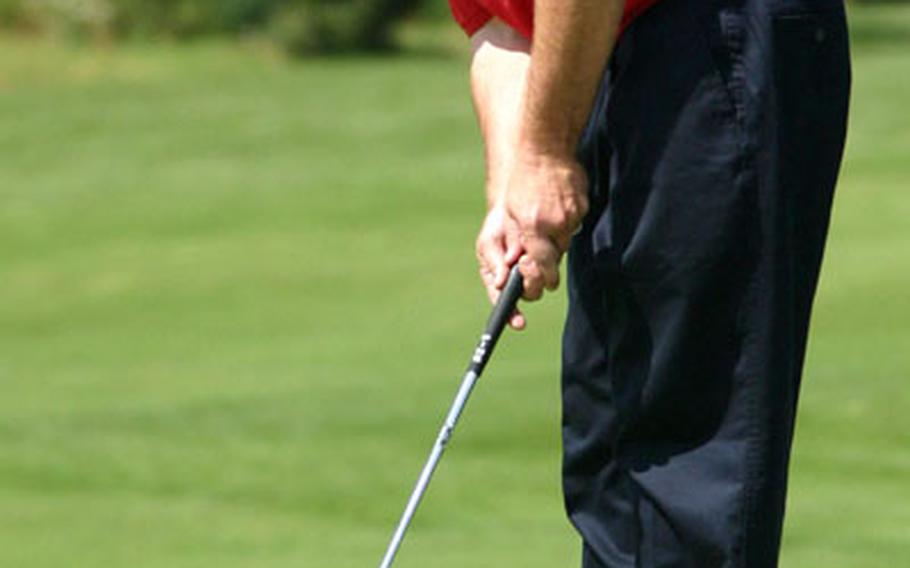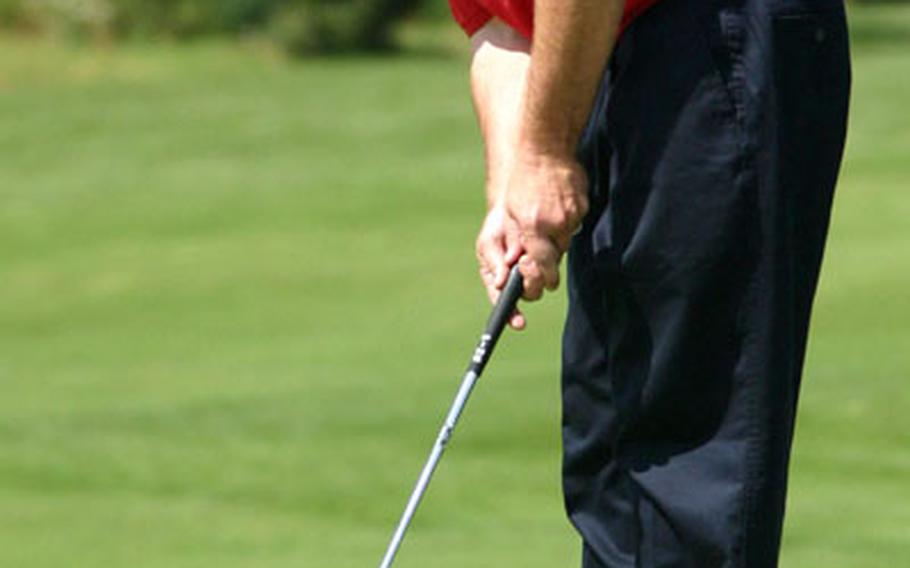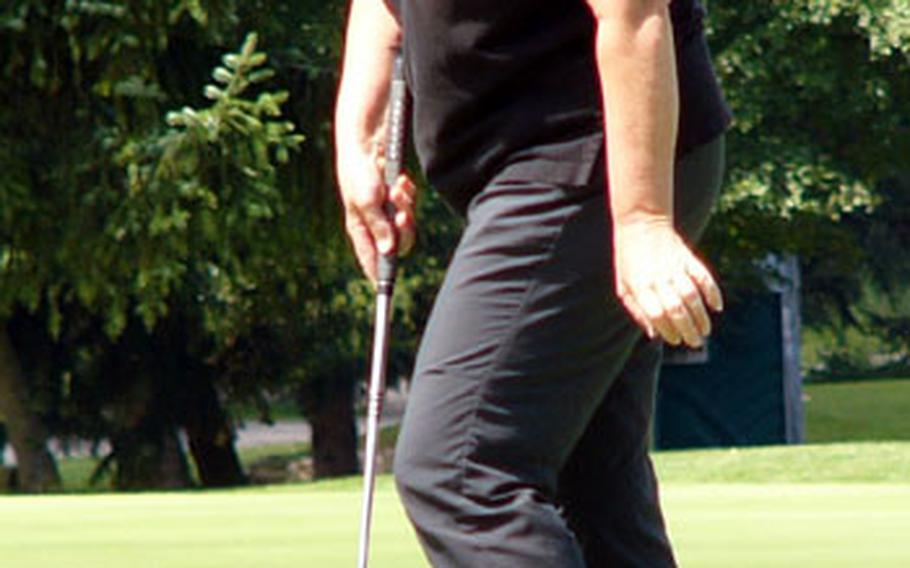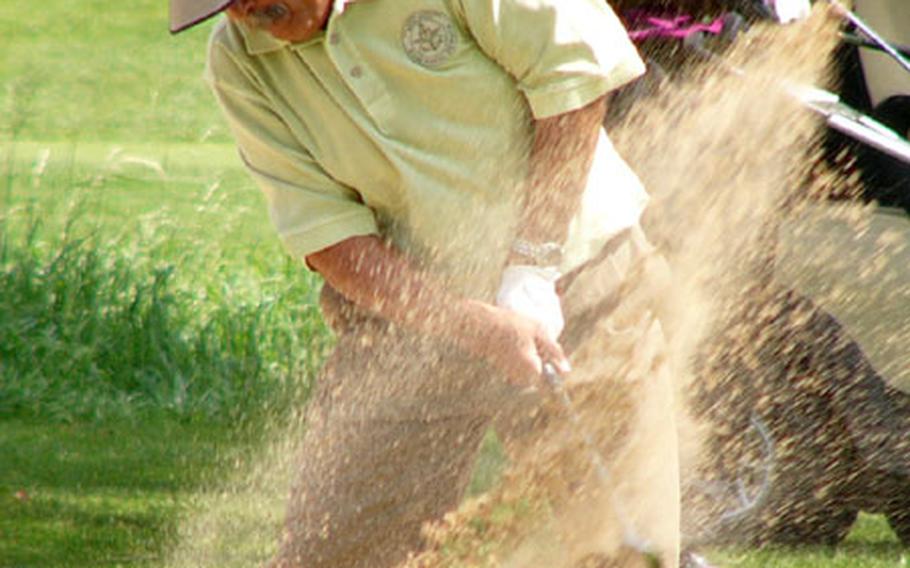 KORNWESTHEIM, Germany — Heidelberg's Jeffrey Hallauer rode two back-nine birdies Thursday to his second straight Army Europe golf title.
Hallauer, who has won three of the past four Army Europe titles, birdied the 357-yard 12th hole and the 516-yard 18th for a 6-over 79.
Hallauer's 54-hole total was 235, 16 over par but good enough for a two-stroke victory over Eric Smith of Stuttgart.
Hallauer capped a comeback from an 83 he shot in Tuesday's first round.
"It was the first time I had played here in a year," Hallauer said Thursday about that rainy and windy first round. "The second day I kind of figured the course out."
Hallauer figured it out well enough that on Wednesday he posted the best round of the tournament, an even-par 73 that included five birdies and moved him from seven strokes back to only one behind going into the final round.
Smith, who led after two rounds, birdied the first two holes Thursday to expand his lead to three strokes. Despite a bogey on No. 3, Smith led by four shots after Hallauer double-bogeyed the par-3 hole.
"I was scared," said Hallauer, who won this event last year on his home course at Heidelberg, finished second in 2002 in Kitzingen to Mike Stanley of Naples, Italy, and won in 2001 at Wiesbaden.
"But then he had a couple of bad holes, and I had a couple of good ones and got back into it."
Smith knew exactly which holes were costly.
"The turning point was either my 8 on No. 6 [a par-3] or my 7 on No. 12," Smith, laughing. "I can't decide which."
The par-4 12th hole resulted in a four-stroke swing when Hallauer made birdie and Smith shot a triple bogey. Smith, the Stuttgart club champion, got two of those strokes back with consecutive birdies on 14 and 15, but Hallauer put the match away with a birdie on 18.
"I had some bad swings," Smith said.
Stanley, one of five golfers who started the final round within five shots of the lead, shot 80 on Thursday to finish third at 240. He won a best-round tiebreaker with Rogelio Renteria, who also finished at 240 after an 83 on Thursday.
It wasn't nearly as close in the seniors division for golfers 50 and older. Eric Goins of Grafenwöhr, ahead by 13 strokes going into the final round, fired his second consecutive 79 to finish at 19-over 238. He credited the irons he used exclusively after the first round for his 31-stroke victory over Celio Cedeno of Rota, Spain.
"There's no driver in this bag," he said as he strolled to hit his second shot on No. 18 on Thursday. "I used it once the first day and put it away.
"You've got to be accurate. If you hit it into that stuff," he continued, gesturing toward the fairway-wide deep rough that borders many of the holes here, "you're gone."
Also enjoying a cakewalk to a championship was women's champion Sue Hamilton of Stuttgart. She shot a 301 and won unopposed.
"I might not be a great golfer," she joked as she accepted her trophy, "but I know good odds when I see them."
Army-Europe Golf Championships
KORNWESTHEIM, Germany — Final results Thursday from the three-day, 54-hole Army-Europe Golf Championships played at the par-73 Stuttgart Golf Club.
Men's open layout measured 6,982 yards, men's seniors (50 and older) played 6,742 yards, and the women's distance was 5,954 yards (some home communities unavailable):
Men's open
Jeffrey Hallauer (Heidelberg) 83 73 79 235
Eric Smith (Stuttgart) 76 79 82 237
Mike Stanley (Naples, Italy) 82 78 80 240
Rogelio Renteria (Baumholder) 76 81 83 240
Raymond Clayborne (Naples) 81 86 75 242
Ronald Black (Rota, Spain) 80 78 85 243
Daryl Jones (Vicenza, Italy) 84 84 81 249
Karl Reamer (Kitzingen) 81 88 81 250
Neil Thatcher (Naples) 85 83 83 251
David Alvarey (Heidelberg) 77 83 91 251
Jeremy Crow (Little Creek, Va.) 87 77 93 257
Dennis Seymour (Bad Windsheim) 87 79 92 258
Daniel Lopez (Wiesbaden) 95 82 83 260
Ken Doland (unavailable) 88 82 92 262
William Joiner (Heidelberg) 88 90 92 270
William Torrey (Stuttgart) 91 88 84 263
Edward Wilder (unavailable) 94 86 84 264
Marc Schultz (unavailable) 95 87 85 267
Jason Godusky (Rota) 94 87 93 274
Tim Wood (Garmisch) 94 88 100 282
Don Brown (unavailable) 99 89 96 284
Andre Roy (unavailable) 98 97 92 287
Kurtis Jordan (Stuttgart) 100 94 104 298
Eric Eberling (unavailable) 111 100 118 323
Jose Tyler (unavailable) 87 84 WD
Charles Robinson (Kitzingen) 99 98 WD
Christopher Baker (Kitzingen) 90 87 WD
Ramon Vargas-Ortega (Heid.) 87 89 WD
Thomas White (Brunssum, Neth. 103 92 WD
Jonathan James (unavailable) 85 91 DQ
Michael Leander (unavailable) 87 91 DQ
Bertram Denson (Hohenfels) 103 89 DQ
Men's seniors (50 years and older)
Earl Goins (Grafenwöhr) 80 79 79 238
Celio Cedeno (Rota) 86 86 97 269
Thomas Carter (Stuttgart) 90 88 98 276
Richard Helming (Vilseck) 103 95 93 291
August Hurston (Brunssum) 116 100 WD
Women
Sue Hamilton (Stuttgart) 102 98 101 301
---
---
---
---