Half-American, half-Japanese, and all baseball
---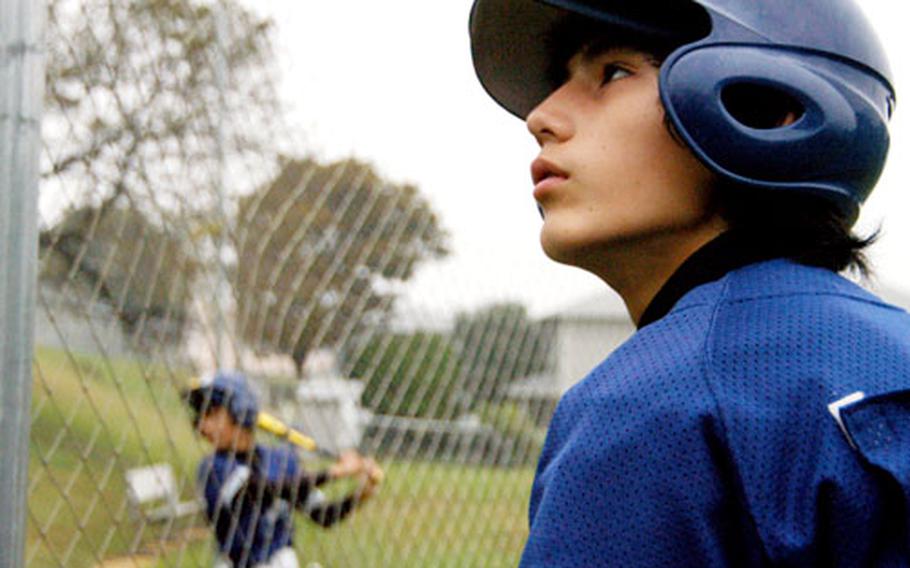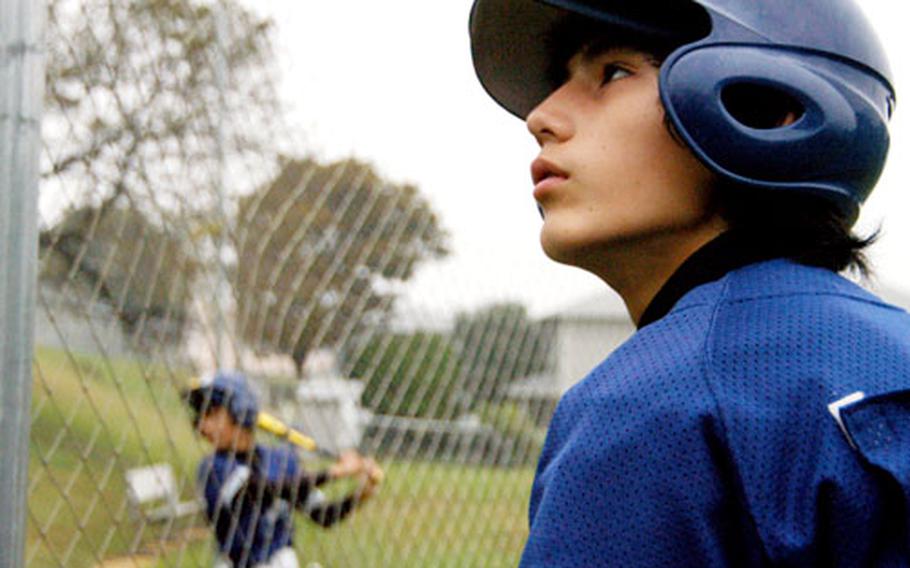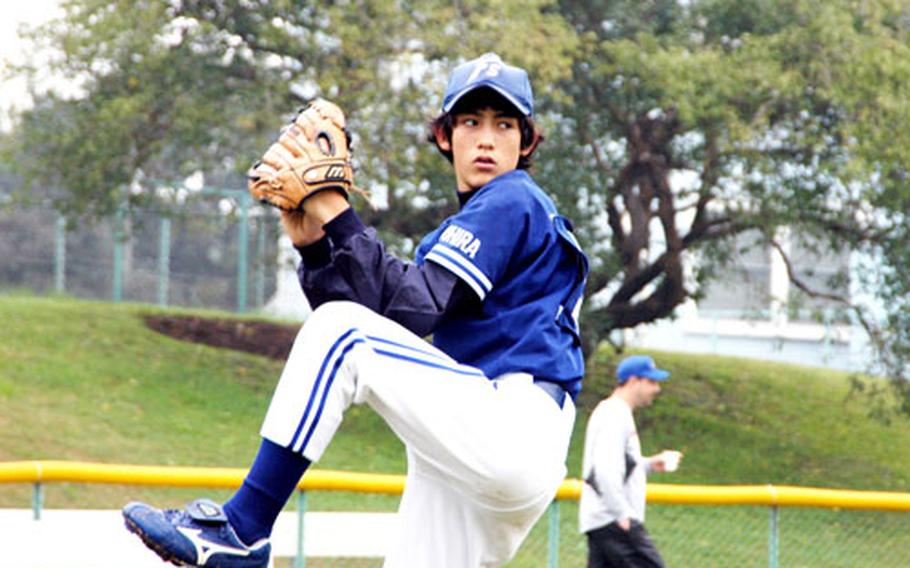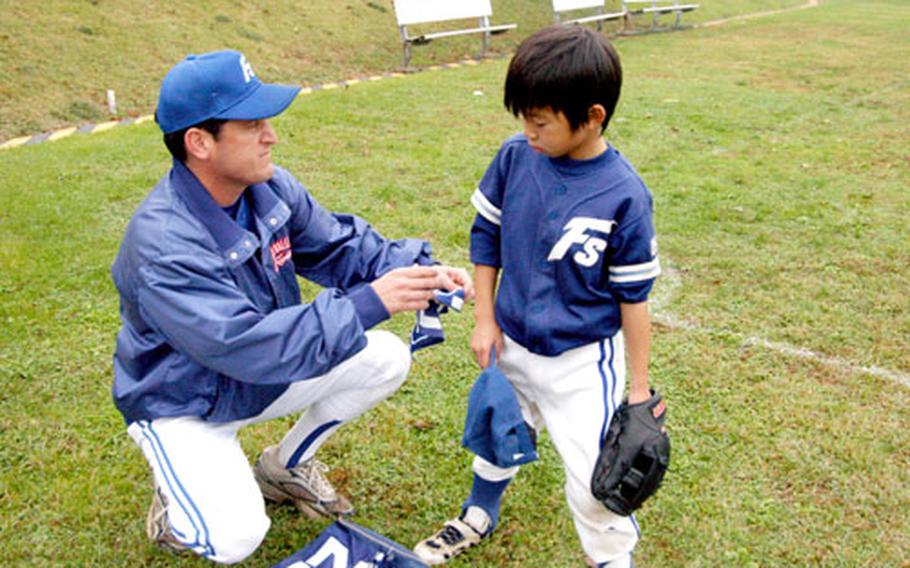 YOKOSUKA NAVAL BASE, Japan — With a 71 mph fastball and a .758 batting average, Kyle Fajardin is at the top of his little league.
The 12-year-old plays baseball every weekend, and he tosses the ball around with his dad, Craig Fajardin — the director of the Yokosuka detachment of Tactical Training Group Pacific — a couple times a week.
But this American boy has never played America's national pastime in the United States. And he's the only American citizen on his Negishi neighborhood team, the Oohira Fighters. But after five years, no one really calls him "gaijin" anymore, Kyle said.
"Nobody really makes fun of me here," Kyle said Sunday as the team waited for the field to dry. "Some of them even say that they wish they could be half-American because I have friends both from the base and outside it. They call me lucky."
Kyle's mother, Orie, is Japanese, and Fajardin is on his fourth tour in Japan, first as active-duty Navy, now as a government civilian. But cultural immersion through baseball is a whole different ballgame, Fajardin said. Kyle plays year-round for Yokohama Little League, and this year Fajardin stepped in to manage the team.
"It's total immersion," Fajardin said. "My off time consists of managing a team, kids and working with parents. I can't describe the sense of achievement, frustration and outstanding friends, families and trips we've made. It's certainly not for everyone, but I wouldn't change a thing."
The rules for Japanese Little League differ slightly from the American version. For instance, there is no pitching mound, nor a maximum pitch count. Thus Kyle, both team captain and the star pitcher, has to watch out not to overwork his arm.
The field for Japanese Little League also is bigger than those for American teams for 6- to 12-year-olds. Instead of 46 feet between the pitcher and home plate and 60 feet between bases, it's 54 feet from pitcher and 75 feet between bases. But if a Japanese team — or those from other countries — enters the Little League World Series, it must adhere to the rules followed in the United States.
But one of the biggest differences is that team concept is more important than each individual player. This means the children, even the little ones, often spend years practicing before they get to play in a game.
"If you're not a starter, you rarely get to play," Fajardin said. "It took Kyle three years to get to a starting position."
And Kyle was a natural, Fajardin said. He knew that when Kyle was 4 years old and swung a bat for the first time, he said.
"On the first day, I started throwing a plastic ball [overhand] and on the third pitch, he smacked that ball right back at me and past my head."
But Kyle is a switch-hitter at the plate and recently fired in a 61 mph pitch from a professional distance at a "Speed Gun" Contest at the Yokohama Bay Stars stadium.
"It's like God reached down and touched his shoulder," Fajardin said.
Kyle, however, considers himself a normal kid who likes playing X-Box with his friends and eating ramen. And Fajardin is also the typical coach who wants his team to work hard.
"When they're not trying and I get really mad, I switch to English," Fajardin said. "I tell the player 'I'm going to yell at you in English and you're going to understand every word I say.'
The team is a large commitment — 48 weekends a year are accounted for. And that's one of the many reasons why Kyle will choose his own fate when it comes to baseball without parental pressure, he said.
"I'm probably the only parent in history that tells his son, 'You can quit if you want,'" Fajardin said. "Not this year though, because in Japan you owe your last year to the team that made this investment in you."
Kyle says he probably won't put away his glove any time soon. In fact, he may not stop until he hits the big leagues.
"I love the game and I don't want to quit this. … I feel like I've come a long way," Kyle said. "I guess I would not mind being a professional player."
---
---
---
---