Hail Mitchell, Weinland, Stripes' Pacific high school Athletes of the Year
---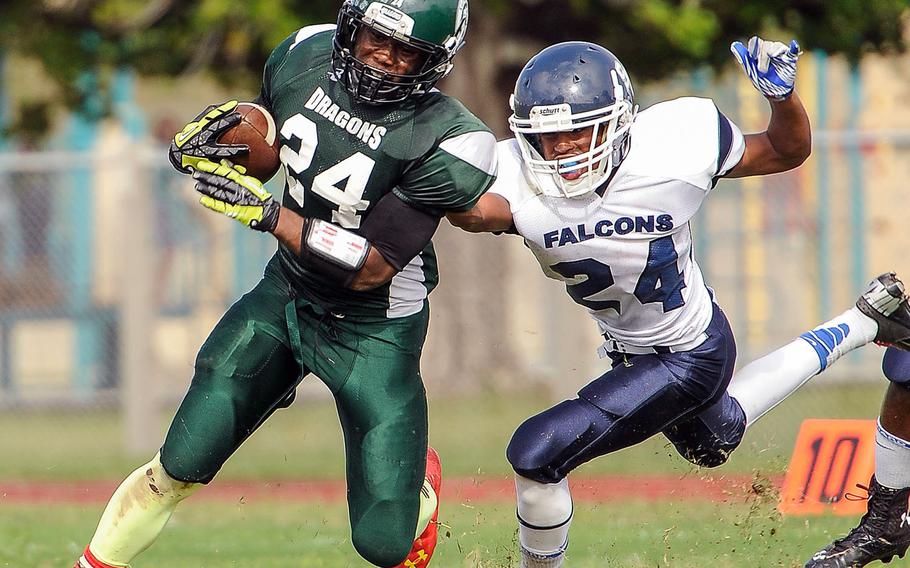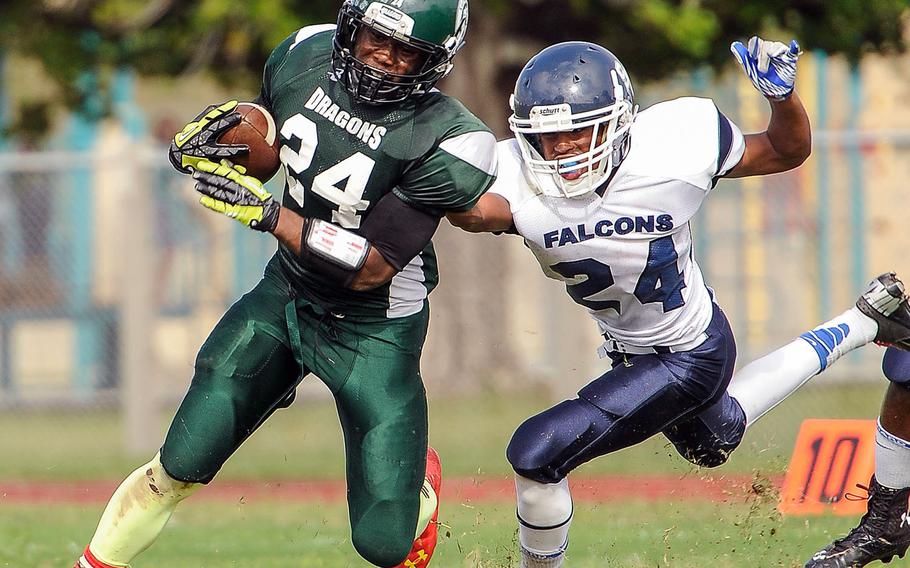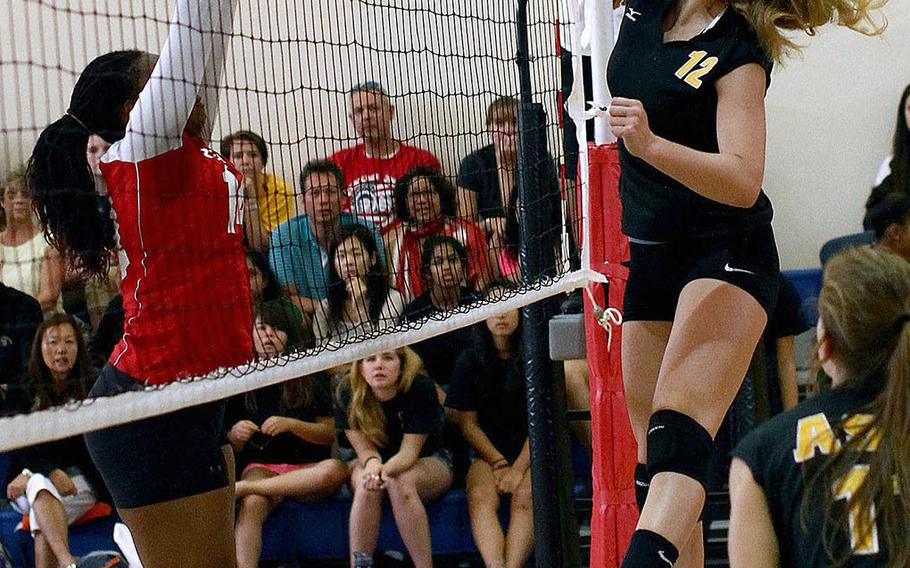 Kubasaki senior, ASIJ junior sparkled in three sports, be they chasing team or individual gold-medal glory.
Sometimes, seeking redemption can be the best source of motivation for athletes chasing individual honors and teams chasing state-championship glory.
That most definitely applied to Jarrett Mitchell and Mia Weinland, the former who entered the football season and the latter the basketball season with bellies full of motivation. And not only did they gain their redemption in their respective sports, their abilities blossomed across three seasons in three sports to the benefit of their teams as well as themselves.
Mitchell, a Kubasaki senior, led the Dragons to their second Far East Division I title after finishing second to Yokota the previous two years and taking a back seat to Kadena in the Okinawa Athletics & Activities Council regular season. He and Kubasaki went on to take the OAAC regular-season title and second place in the D-I basketball tournament, then helped the Dragons win the district title and repeat their boys team title in the Far East D-I track and field meet.
Weinland, an American School In Japan junior, and her Mustangs teammates had as their motivation a 13-point loss the previous February to Nile C. Kinnick in the Far East D-I tournament at Yokota. They avenged that defeat and ran the table to an unbeaten regular season and the school's first D-I Tournament title since 1992. Prior to that, Weinland and ASIJ ran the Kanto Plain Association of Secondary Schools table and captured their third straight Far East D-I Volleyball Tournament title. And in the spring, Weinland won a Kanto Plain discus title and helped ASIJ capture the girls and overall school banners in D-I track.
For all those feats, Mitchell and Weinland have been selected as Stars and Stripes' Pacific high school Athletes of the Year.
"What an awesome achievement," ASIJ athletics director Brian Kelley said about Weinland.
"A good young pillar in the community," Kubasaki basketball and track and field coach Jon Fick said about Mitchell.
Mitchell began the school year by rushing 149 times for a district-record 1,820 yards. He set a career mark with a 96-yard touchdown run, and posted the third-best single-game yardage total in Pacific history when he ran for 379 yards on just 14 carries in a Sept. 28 game at Robert D. Edgren.
Kubasaki redeemed itself for finishing second in district by edging Kadena 34-31 in overtime last Nov. 9 at Habu Field, Ryukyu Middle School on Kadena Air Base. Mitchell exits as Kubasaki's career rushing leader in the Far East playoff era with 3,970 yards on 357 carries.
"He's been a positive force since he came to our school," Kubasaki football coach and outgoing athletics director Fred Bales said. "He's always upbeat, has a great attitude and positive. He's a rare athlete, but he's also a great human being.
Mitchell and Dragons basketball went on to post a 19-7 overall record, including 3-1 against Kadena in the OAAC season series. They won their first five games in the D-I tournament before falling to Most Valuable Player T.J. Hardeman Jr. and Faith Academy 77-52, and on the Dragons' home court.
In the spring, Mitchell and fellow Dragons senior Rahman Farnell dueled throughout the track season. Mitchell posted a 10.84 time in the 100-meter dash, second-best in the Pacific behind Farnell by .10 seconds, and 22.71 in the 200, sixth-best in the Pacific. He was also part of a Pacific-record 400-meter relay, 42.9 seconds in the second meet of the season. In the Far East meet, Kubasaki's boys outdistanced ASIJ 94½-75 for the team title.
Now, Mitchell will move on to college and plans to walk on to the football team at the University of Arizona of the Pacific-12 Conference. "He's a great Dragon. We'll surely miss him," Bales said.
Both Mitchell and Weinland are also known for their scholastics and involvement in school and community. Weinland will return to ASIJ in August as senior class president, Kelley said.
"She has the innate ability to get along with others, maintain a positive outlook, set the example and be a team player," Kelley said. "Good student, scholar athlete, good friend; she's one of the people we can count on to steady the ship in every aspect."
She and the Mustangs spikers buzz-sawed their way to a 14-0 Kanto record, then swept all seven of their Far East D-I Tournament matches. Weinland was named tournament MVP.
With the memory of their 45-32 loss to Kinnick in the 2013 D-I tournament fresh in their minds, Weinland averaged 10.7 points and 7.2 rebounds per game for a Mustangs basketball team that went 20-2 overall, losing twice in its opening tournament at Hong Kong in November. They were pressed just once after that, in the D-I semifinals before pounding Kadena 57-37 in the championship.
After helping ASIJ run the Kanto track table, Weinland took silver medals in shot put and discus – in just her second season of track – and helped the Mustangs edge Kinnick 135½-131 in the girls standings and to the overall school banner.
More recognition
Coach of the Year: It's rare that a coach gets this honor for his or her work during one season, but Phillip Loyd's basketball season for Daegu High was extraordinary as well: He coached both the boys and girls teams, and to league and Far East championships, something no coach has ever done previously in the same season. Daegu's boys won their first Korean-American Interscholastic Activities Conference Blue Division Tournament title in 25 years and their first Far East Division II Tournament title since 1990. The Warriors girls won the KAIAC regular-season title and their third D-II Tournament title in five years. Team of the Year: In a field loaded with candidates, many of them on missions and seeking redemption, no team dominated its sport than Weinland and ASIJ girls volleyball. Program of the Year: ASIJ won almost everything in sight. Kanto Plain titles in everything except wrestling and softball. Far East D-I titles in tennis, girls volleyball, girls basketball, baseball and track and field. Asia-Pacific Invitational cross-country team title. Most Improved Teams: Coaches Kelly Wigton and Chrismond Raga, coach-on-the-floor senior setter Kristina Baldwin and Zama American volleyball, which rose from the ashes of a last-place DODDS Japan finish two years ago to take second in the DODDS Japan and Far East D-II tournaments (see Play of the Year). Then there were Vanessa Black, Natalie Gammel and Robert D. Edgren girls soccer, which posted the first winning record (11-10-1) and captured their first D-II tournament title in school history. Most Improved Program: At the Division II level, Daegu High seized the day in Far East football, girls volleyball and boys and girls basketball (see Coach of the Year), reached the D-II softball final for the second straight year (losing to Osan American) and even had seven athletes qualify for Far East track … under the afore-mentioned Loyd. Game of the Year: Kubasaki and Kadena definitely saved the best for last when it came to the football season. DeQuan Alderman's quarterback sneak in the Dragons' possession in overtime capped a dramatic, see-saw D-I football title clash. Play of the Year: In a Kanto Plain regular-season volleyball match on Oct. 10 at ASIJ's Mustang Valley, Weinland got ready to unleash one of her trademark heavy-duty, cast-iron, pile-driving spike kills that threaten to rip open holes in the opponent's court … right into the waiting hands and arms of Zama middle blocker Erica Howie, and down past Weinland's feet on ASIJ's side. It touched off a brief celebration on the Trojans bench. The Mustangs won 25-10, 25-7, 25-14. Performance of the Year: Over the course of May 16-17, ASIJ baseball won four games, 13-0 and 19-4 over Zama and 18-0 and 7-3 over Kinnick. Over that span, Mustangs senior Mizuki Shumsky completely dialed in, batting 8-for-11 with two walks, a double, five home runs, four of them grand slams, 18 RBIs and two stolen bases.Previous Athletes of the Year
2013 – Jesse Hogan, senior, Yokota, Japan. Football, wrestling, track and field. Concordia College, Moorhead, Minn.. Liz Thornton, junior, American School In Japan. Volleyball, basketball, track and field. Wake Forest University, Winston-Salem, N.C. 2012 – Jarrett Mitchell, sophomore, Kubasaki, Okinawa, football, basketball, track and field. University of Arizona. Amanda Henderson, senior, Seoul American, cross country, track and field. Washington State University, Pullman, Wash. 2011 – Lotty Smith, senior, Kadena, Okinawa, football, basketball, track and field. Enlisted in U.S. Army. Liz Gleaves, senior, Seoul American, volleyball, basketball, soccer. Old Dominion University, Norfolk, Va. 2010 — Stanley Schrock, senior, Kadena, Okinawa, football, basketball, soccer. Colorado State University-Mesa, Grand Junction, Colo. Liz Gleaves, junior Seoul American, volleyball, basketball, soccer. 2009 — Andrew Quallio, senior, Zama American, Japan, cross country, track and field. Air Force Academy, Colorado. Celine Baldevia, senior, Osan American, South Korea, volleyball, basketball, soccer. Seattle University. 2008 – Andrew Quallio, junior, Zama American, Japan, cross country, track and field. Monica Hayes, senior, Kadena, Okinawa, basketball, softball. University of Dubuque (Iowa). 2007 – David Heitstuman, junior, E.J. King High School, Japan, cross country, wrestling, soccer. Naval Academy, Annapolis, Md. Zori Drew, senior, Kadena High School, Okinawa, volleyball, basketball, softball. Brigham Young University-Hawaii. Commissioned into U.S. Army. 2006 – Carlos Albaladejo, junior, Osan American High School, South Korea. Football, wrestling, soccer. Lynnette Grant, senior, Taegu American School, South Korea. Volleyball, basketball, softball. Jacksonville State University, Alabama (killed in car accident in September 2006). 2005 – Adam Krievs, senior, Nile C. Kinnick and Matthew C. Perry, Japan. Football, wrestling, soccer. San Bernardino Valley Community College, San Bernardino, Calif. Dianne Abel, junior, Kadena, Okinawa. Cross country, basketball, soccer. Winthrop University, Rock Hill, S.C.; University of West Florida, Pensacola, Fla. 2004 – Scott Tunis, junior, Seoul American High School. Football, wrestling, soccer. New Mexico Military Academy, Roswell, N.M. Katie LaGrave, Kadena High School, Okinawa. Volleyball, basketball, soccer. Augsburg College, Minneapolis. 2003 – Mike Chamberlain, senior, Yokota High School, Japan. Football, wrestling, soccer. Carroll College, Helena, Montana. Brieanna Carroll, sophomore, Pusan American School, South Korea. Cross country, basketball, soccer. Pepperdine University, Malibu, Calif. Theresa Gittens, junior, Kadena High School, Okinawa. Basketball, soccer, softball. Missouri Valley College, Marshall, Mo. 2002 – Mike Chamberlain, junior, Yokota High School, Japan. Football, wrestling, soccer. Olivia Anglade, senior, Seoul American High School. Tennis, basketball, soccer. Stanford University, Palo Alto, Calif. Commissioned into U.S. Army. Lori Shields, senior, Osan American High School, South Korea. Volleyball, basketball, soccer. Florida Tech, Melbourne, Fla. Commissioned into U.S. Army. 2001 – Ray Lamb, senior, Seoul American High School. Football, wrestling. New Mexico Military Academy, Roswell, N.M. Kirsten Nelson, senior, Christian Academy Japan. Volleyball, basketball, track and field. Houghton College, Houghton, N.Y. 2000 – Justin McCloskey, senior, Matthew C. Perry High School, Japan. Football, basketball, baseball. Lewis & Clark College, Portland, Ore. Olivia Anglade, sophomore, Seoul American High School. Tennis, basketball, soccer, softball. 1999 – Josh Whitney, senior, Kadena High School, Okinawa. Cross country, basketball, soccer. Quinnipiac College, Hamden, Conn. Yuki Basso, senior, Seisen International School, Tokyo. Volleyball, basketball. Boston College, Newton, Mass. 1997, 1998 – Julie Stauffer, sophomore-junior, Faith Academy, Manila. Basketball, soccer, baseball, softball. Cedarville College, Ohio. 1996 – David Page, sophomore, Seoul American High School. Football, basketball, baseball. University of California, Berkeley, Calif.; Hinds Junior College, Jackson, Miss.; Southern Methodist University, Dallas. Han Ripley, senior, Seoul American High School. Football, basketball, baseball. Daytona Beach Community College, Daytona Beach, Fla.; University of Florida, Gainesville, Fla. 1995 – Meleesa Meno, senior, Kubasaki High School, Okinawa. Volleyball, soccer, basketball. University of Arizona, Tucson, Ariz. 1994 – Melissa Calkins, senior, Trinity Christian School, Guam. Volleyball, track and field, basketball. Christian Heritage, El Cajon, Calif.; University of Guam, Mangilao, Guam. 1993 – Jamel Smith, senior, Kubasaki High School, Okinawa. Football, wrestling. Willamette College, Salem, Ore. 1992 – Katherine Greig, sophomore, American School In Japan. Volleyball, swimming, basketball. Stanford University, Palo Alto, Calif. 1991 – Robert Weeks, senior, Kadena High School, Okinawa. Football, basketball, track and field. University of Connecticut, Storrs, Conn. Sumi Pyo, junior, Seoul International School, Seongnam, South Korea. Cross country, soccer, basketball. Wesleyan College, Mass.; Wheaton College, Ill. 1990 – James Carson, senior, Yokota High School, Japan. Football, basketball, baseball. University of Florida, Gainesville, Fla. 1989 – Elbert Bailey, senior, Kubasaki High School, Okinawa. Football, wrestling. Columbia University, New York. Commissioned into U.S. Air Force. 1988 – Carol Williams, junior, American School In Japan. Volleyball, soccer, basketball. University of California-Davis, Davis, Calif. 1987 – Kevin Maxwell, senior, Zama American School, Japan. Football, basketball, baseball, track and field. University of Georgia, Athens, Ga.DODDS Pacific high school Athletes of the Year (Selected by each schools' athletics directors, administration and coaching staffs)
---
---
---
---