Grafenwöhr major sets record in Army Ten-Miler qualifier
by
Dan Blottenberger
July 10, 2010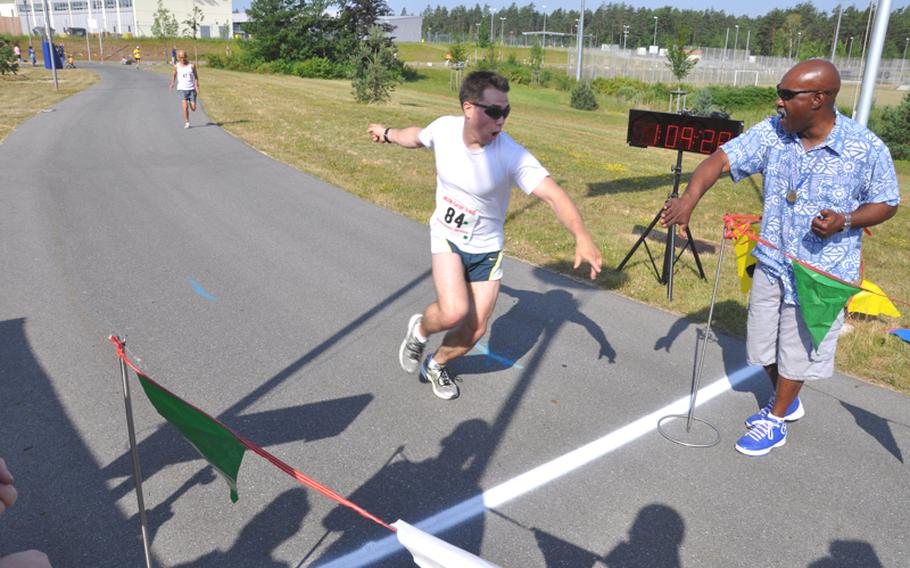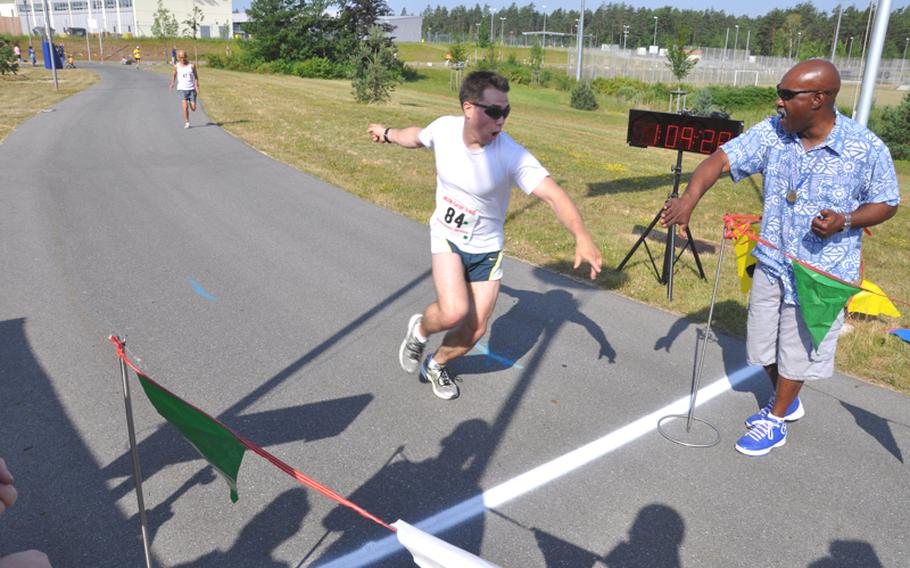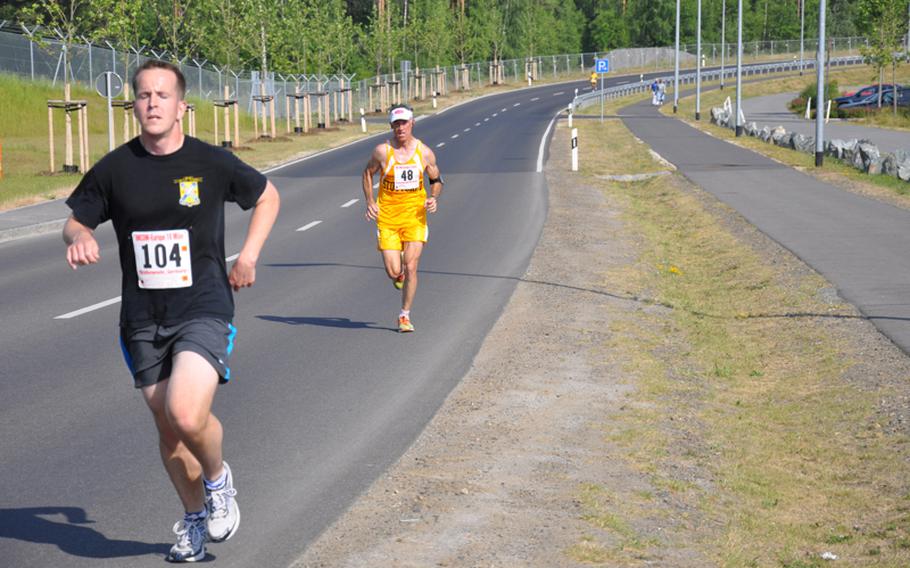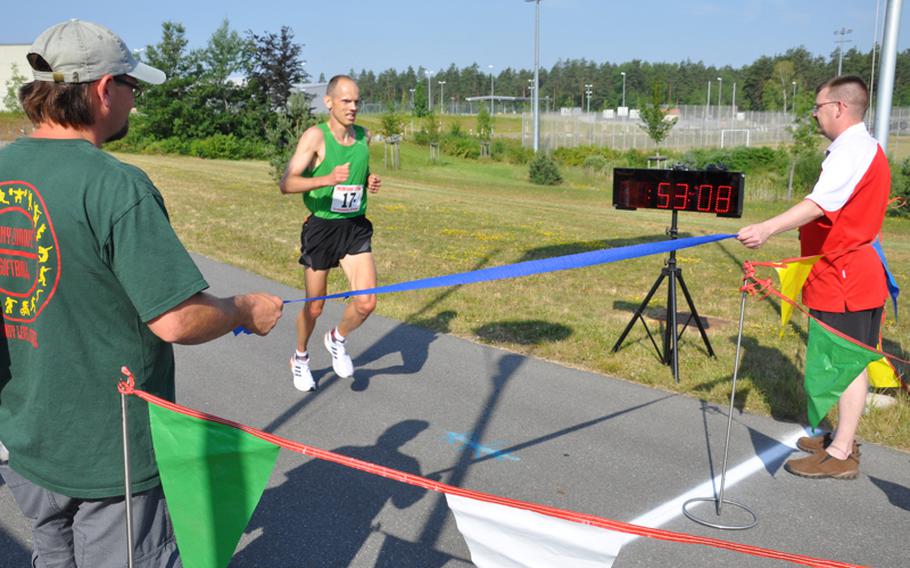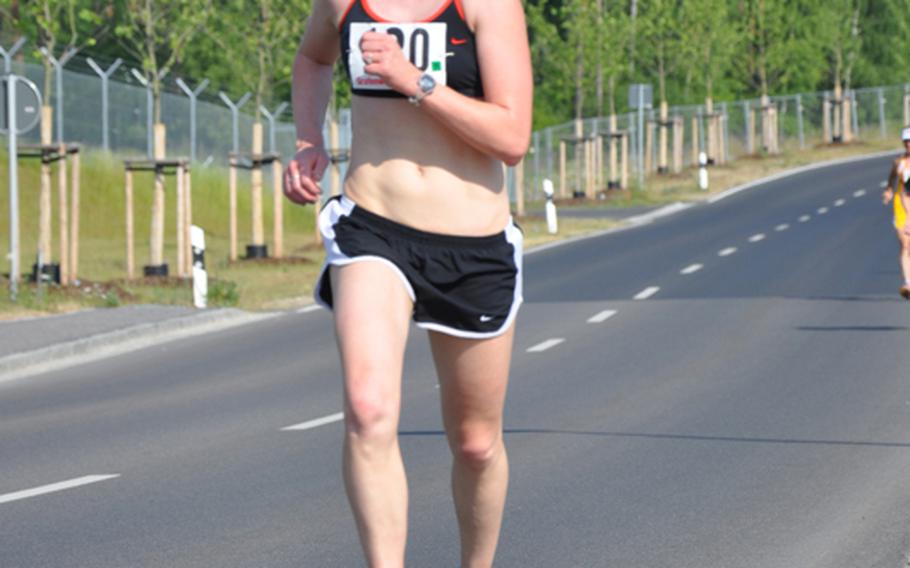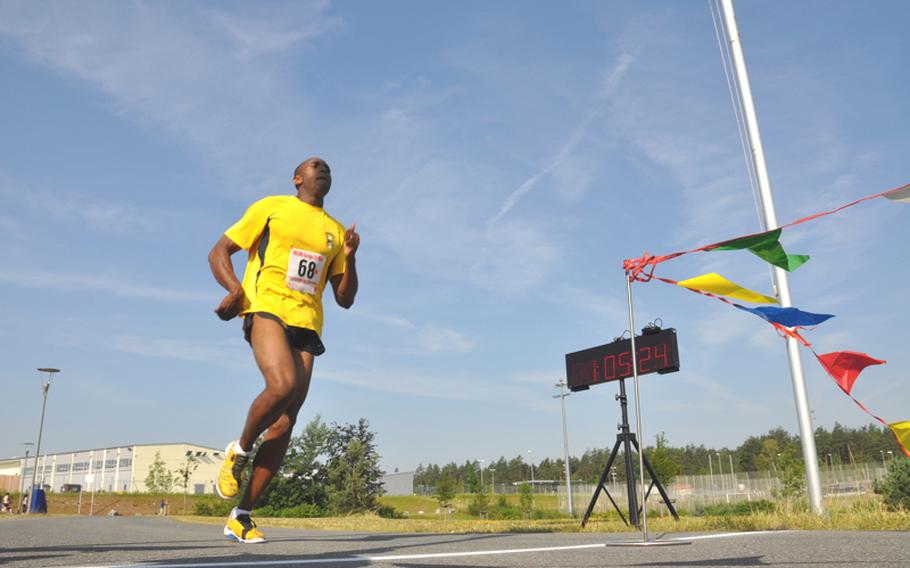 GRAFENWÖHR, Germany — Maj. Keith Matiskella ran the fastest time ever recorded at the U.S. Forces-Europe Army 10-Miler on Saturday while qualifying for the Army Ten-Miler in Washington, D.C., in October.
Matiskella, 38, from the Joint Multinational Training Command in Grafenwöhr, beat the old track mark by almost three minutes, finishing in 53 minutes, 9 seconds.
Race officials were shocked to hear how fast Matiskella was reaching certain checkpoints on the track during his record-setting run on one of the hottest days of the summer.
"There is no way he is already there," one spectator said when Matiskella passed the seven-mile mark in about 35 minutes.
Matiskella was breathing easily and dripping with sweat as he crossed the finish line to become the first of six male soldiers to qualify for the All-Army race. After being told he had broken the track record, he responded simply: "That's good."
"I'm tired out," he said. "I did better than I thought I would do by a few seconds. Sometimes my legs get a little more tired than my lungs."
Matiskella added that he didn't have as much time to train for the race as he would have liked because he is a single parent now with his wife deployed to Afghanistan. He said resting the week prior to the race helped refresh him for the competition.
He hopes to run 52:30 in Washington.
Capt. Myra Galusha, from the 12th Combat Aviation Brigade in Ansbach, had the best time for women, coming in at just over 69 minutes. She and the five other top female soldier finishers also qualified for the D.C. race.
"It went well. I have not gotten as much training as I would have liked this year so I kind of just wanted to go out and finish in the top [group] so I could go [to D.C.]," she said.
However, she was unsure if she would be able to attend the race because her unit had several units returning from deployment and her job may require her to miss it. If she, or any of the other qualifiers, are unable to make the race, alternates will be eligible, based on Saturday's results.
Galusha credited the heat over the last two weeks for preparing her for Saturday's temperatures. Other competitors, however, did not take the heat in stride. Several fell victim to the high tempeatures and two had to be taken to medical facilities because of dehydration.
Following the race, civilian Rich Hoke, 42, of Stuttgart was all smiles, having finished second in his age category.
"It is a challenging race," he said. "The last lap around was really mentally challenging."
As competitors approached the nine-mile mark they could see the finish line, but were redirected around a one-mile loop to get to the end of the track.
A total of 113 competitors finished the race, the smallest turnout for the race since it began 14 years ago, according to Serge Kearse, chief of sports and fitness at U.S. Army Garrison Grafenwöhr.
"We are seeing less participation in a lot of activities and sports," he said. "And we are not sure why that is."
Despite the smaller than average turnout, competitors enjoyed the run and bystanders didn't hesitate to cheer them on.
The most joyous of onlookers seemed to be Matiskella's 3-year-old son, Finn, who made sure following the award ceremony that the trophy his dad won was going to be kept in his room.
blottenbergerd@estripes.osd.mil
Top finishers in the U.S. Forces-Europe Army 10-Miler, run Saturday in Grafenwöhr, Germany. All runners from Germany unless otherwise noted. Some military ranks not available.
Top six Army male qualifiers
Maj. Keith Matiskella, Grafenwöhr, 53 minutes, 9 seconds
Capt. Kyle Greenberg, Garmisch, 57:48
Maj. Daniel Welsh, Grafenwöhr, 58:09
Sgt. 1st Class Walter Johnston, Heidelberg, 63:04
Capt. Adolph Dubose, Vicenza, Italy, 65:25
Spc. John Baeza, Grafenwöhr, 66:04
Top six Army female qualifiers
Capt. Myra Galusha, Ansbach, 69:55
Staff Sgt. Alicia Anderson, Grafenwöhr, 81:39
Ekaterina Volsky, Heidelberg, 84:11
Capt. Leah Mock, Stuttgart, 87:24
Sgt. Katherine O'dell, Heidelberg, 87:28
Staff Sgt. Rosemary Hernandez-Oglesby, Vicenza, 90:58
Top runners by age group, military male and female; Army unless otherwise noted.
18-24
Scott Shumaker, Stuttgart, 72:51
Staff Sgt. Alicia Anderson, Grafenwöhr, 81:39
25-29
Capt. Kyle Greenberg, Garmisch, 57:48
Capt. Myra Galusha, Ansbach, 69:55
30-34
Maj. Daniel Welsh, Grafenwöhr, 58:09
Staff Sgt. Cathryn Acklin, Air Force Institute, 72:27
35-39
Maj. Keith Matiskella, Grafenwöhr, 53:09
40-44
Sgt. 1st Class Walter Johnston, Heidelberg, 63:04
Sgt. 1st Class Paula Powell, Mannheim, 115:07
45 and older
Navy Capt. Jimmer Sullivan, Stuttgart, 64:36
Civilian winners by age group, male and female
18-24
Alex Cornelius, Mannheim, 60:01
Brooke Cardinalli, Vicenza, Italy, 99:56
25-29
David O'dell, Hedielberg, 95:53
Christina Salas, Vicenza, Italy, 79:45
30-34
Benjamin Walters, Vicenza, Italy, 69:43
Lisa Welsh, Grafenwöhr, 73:31
35-39
Douglas Hutcheson, Stuttgart, 62:10
Michelle Jesop, Stuttgart, 74:10
40-44
Martin Bofill-duetsch, Bamberg, 78:02
Theresa Michal, 43, Stuttgart, 88:57
45-49
Eloy Campos, Stuttgart, 83:00
Kimberly Ormiston, Kaiserslautern, 135:21
50 and older
Huseyin Kara, 51, Vicenza, Italy, 69:33
Rita Cucchiara, Kaiserslautern, 135:25