Goodman, Ikstrums anchor Würzburg marksmanship team
---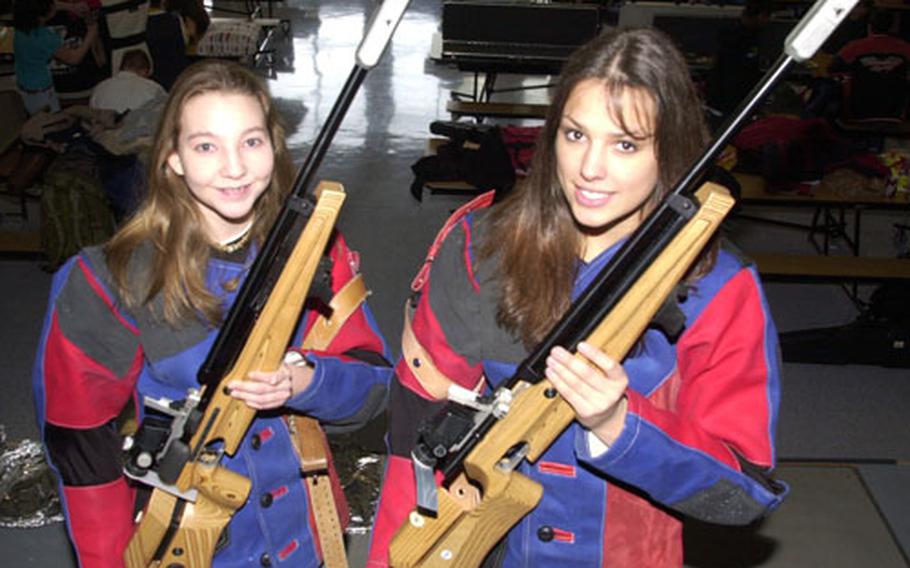 HOHENFELS, Germany — Their nicknames are Gringa and Snowbunny, and most days they are an ordinary pair of teenage girls. But put precision Feinwerkbau .177-caliber marksman's rifles in their hands and they become lethal.
The pair, whose real names are Brenna Goodman (Gringa) and Anna Ikstrums (Snowbunny), played key roles in Würzburg's eighth-straight Department of Defense Dependents Schools-Europe marksmanship championship Saturday at Hohenfels. Now they are off to Fort Benning, Ga., with the rest of the team to compete in the national finals.
Goodman, 15, had the highest total score in DODDS marksmanship this season, scoring 1408, and Ikstrums, the Würzburg team captain, was not far behind.
What makes the girls' performance all the more remarkable is that both started shooting only recently. Ikstrums, who came to Germany from Seattle four years ago, took up the sport last year, and Goodman started shooting six months ago after moving to Germany from Augusta, Ga.
The young sharpshooters maintain a friendly rivalry.
"We compete every practice, and it is always us shooting for 288, 290 (out of a maximum score of 300)," said Ikstrums, 16.
Both are also involved in other sports. Goodman said she plays soccer and plans to add softball this summer. Ikstrums does tae kwon do and says that helps her with her shooting.
"When I spar in tae kwon do, it is the same stance I use for shooting," she said.
Both practice shooting three to five days each week for two hours.
They regard their teammates, including Carly Sipes, 15, — second only to Goodman in accuracy — and Melanie Rodriguez, 15, and her sister Natalie Rodriguez, 17, as family. But that didn't stop them from rubbing hair mousse on the face of the only boy on the team, Ben Guerrero, 16, as a practical joke at a team sleepover.
For good luck, team members carry a teddy bear, named Buddy Bull's-eye, to contests, and they even have nicknames for their rifles. Goodman calls hers "Bull's-eye" and Ikstrums named hers "Cookie Monster."
The Würzburg coach, retired Army 1st Sgt. Jack Wayne, 58, said it's no surprise that his team was led by girls because they generally make better shooters than boys.
"I think the girls are more concentrated than the guys are. Their nerves are calmer than guys'. They are not so fidgety. When you find a girl who is interested in shooting, they are easier to train and they learn faster than guys," he said.
Wayne said the Army should consider putting females into combat arms units because of their sharpshooting skills.
"If a girl can do the physical things that are required on the job, I think they can do what the guys can do," he said.
DODDS-Europe marksmanship championship organizer Bob Hase said about 40 percent of the competitors in marksmanship are girls.
"They are very capable, if not better than the boys," he said.
One reason why girls are able to compete so well in the sport is because it does not rely on muscular strength, Hase said.
"It is more to do with concentration ... and the ability to master the art of marksmanship. If you can lift the rifle, which weighs 9 pounds, you are OK," he said.
---
---
---
---