Goff's 4-0 weekend sends Lakenheath to first place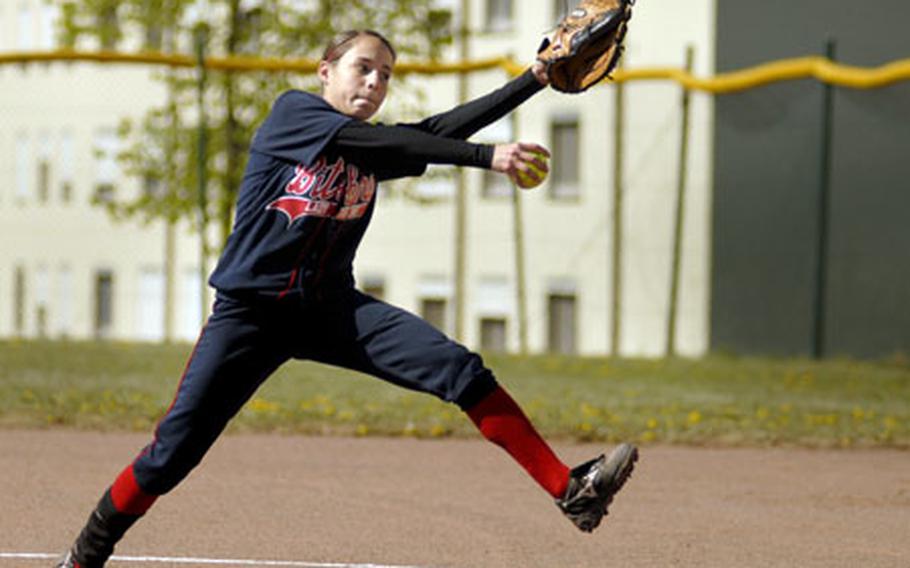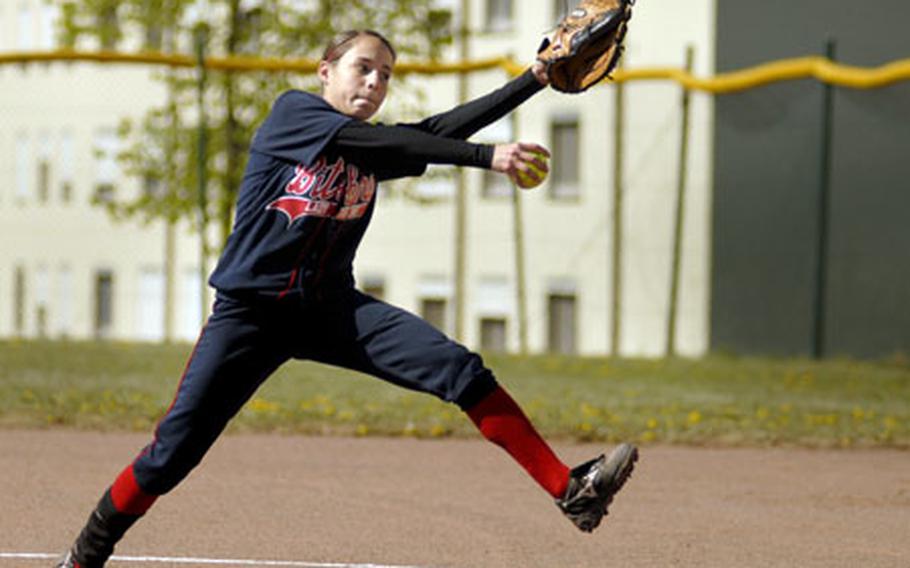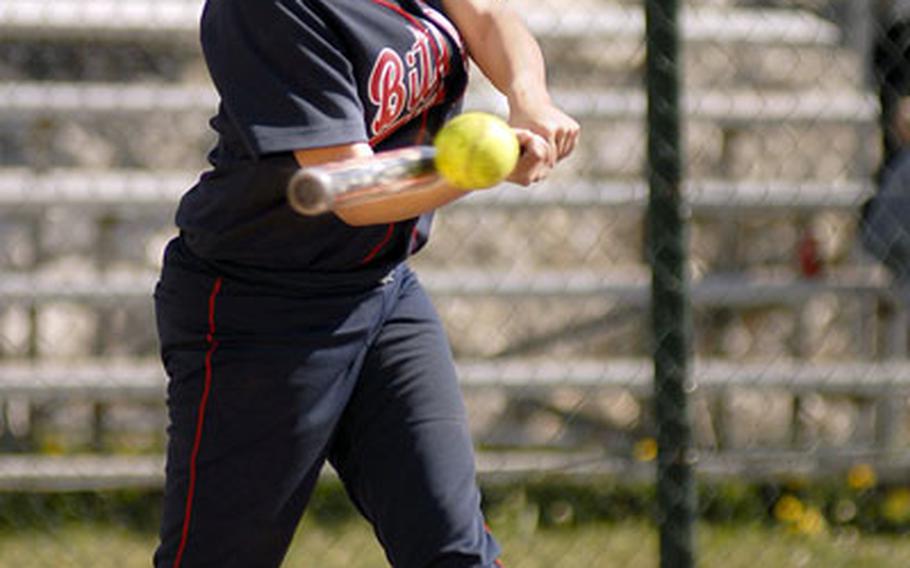 Rebecca Groff picked up the victory in all four games this weekend as the undefeated Lakenheath Lancers improved to 6-0 and moved into sole possession of first place in the Division I softball standings.
Groff tossed a one-hitter Friday in a 15-5 victory over Kaiserslautern, a two-hitter, also on Friday, in a 12-0 shutout of Heidelberg, a three-hitter in Saturday's 9-6 victory over Heidelberg and a four-hitter in Saturday's 15-2 hammering of K-town.
Groff wielded a hot bat, too. She had two hits in both Saturday games and in Friday's shutout, and stroked three hits in Friday's victory over K-town. Jessica Serd also banged out three hits in that game.
In other softball games of note:
Patch 10-7, Ramstein 6-17: Friday at Ramstein, the four-time defending D-I champion Lady Royals fanned 10 times against Patch All-European Kasy'e Lalau in the opening-game loss. Lalau walked just three, allowed six hits and collected two hits in the victory. Lalau homered in the nightcap, but Kristin Burns and Brandy Hill each had three hits to help make a winner of Lindsey Jones.
Ramstein 17-15, Wiesbaden 2-0: Saturday at Wiesbaden, the Lady Royals rebounded as Kayla Haven and Hill each scored four times in the opener and Jones tossed a one-hitter in the nightcap.
Patch 14-13, Baumholder 2-11: Saturday at Baumholder, Lalau faced only nine batters in the first three innings of the first game as the D-I Lady Panthers opened a 10-0 lead over their D-II hosts. Lalau had two doubles and drove in six runs. Lalau stroked a three-run homer in the nightcap in a five-RBI outing, and Lauren Nation added a grand slam and drove in six runs. Anne Wasson went 4-for-4 as the Lady Panthers feasted on Bamholder pitching. According to Baumholder coach Spencer Bean, Angel Roman made a key catch for Patch in the nightcap when she snared a hard shot to left with two outs and a Lady Buc on third to preserve a 10-9 lead. Sharena Cabrera went 4-for-5 in the second game for Baumholder. Brianna Hudak's last-inning RBI single off Lalau was as close as Baumholder got.
Bitburg 15-22, Mannheim 0-4: Saturday at Bitburg, Sandra Davidson and Emily Long picked up the victories. Davidson struck out eight and allowed just two hits in her four-inning shutout; Long stroked an inside-the-park home run in her victory, also cut to four innings by the 10-run rule. Erica Green also had an inside-the-park homer in the nightcap.
London Central 28-31, Alconbury 15-7: At London Central, Alexis White pitched both victories. She went 3-for-3 with a home run and scored five times in the nightcap, according to London Central coach Duke Eidt.