Boys soccer roundup
Goals galore as boys teams debut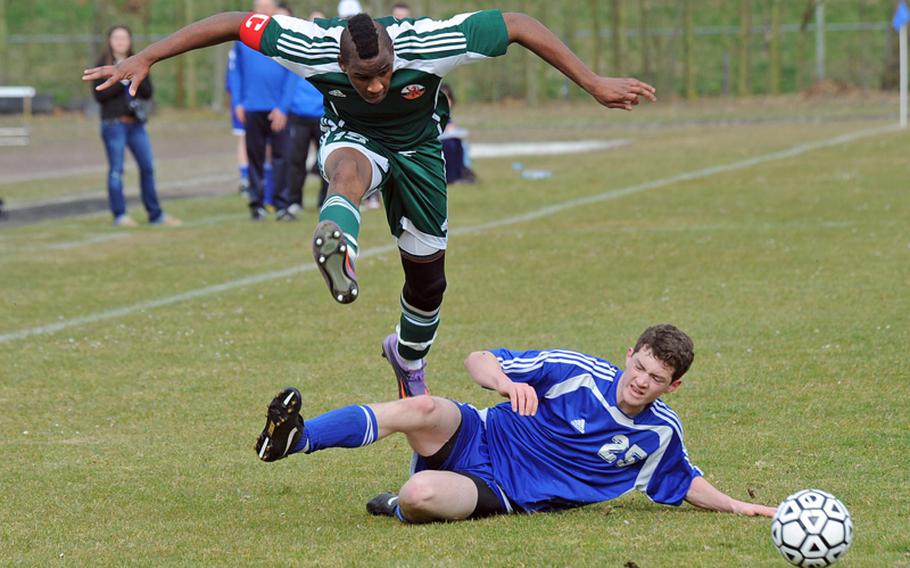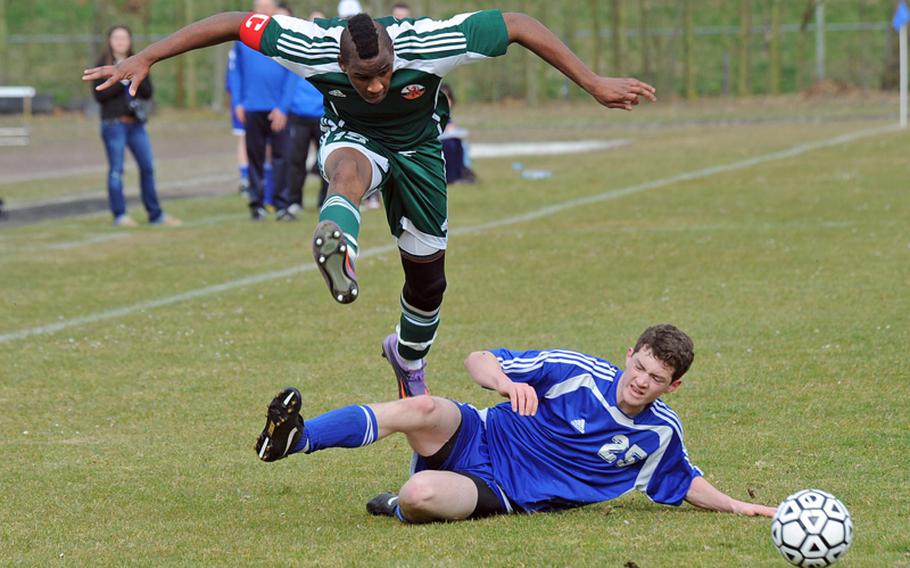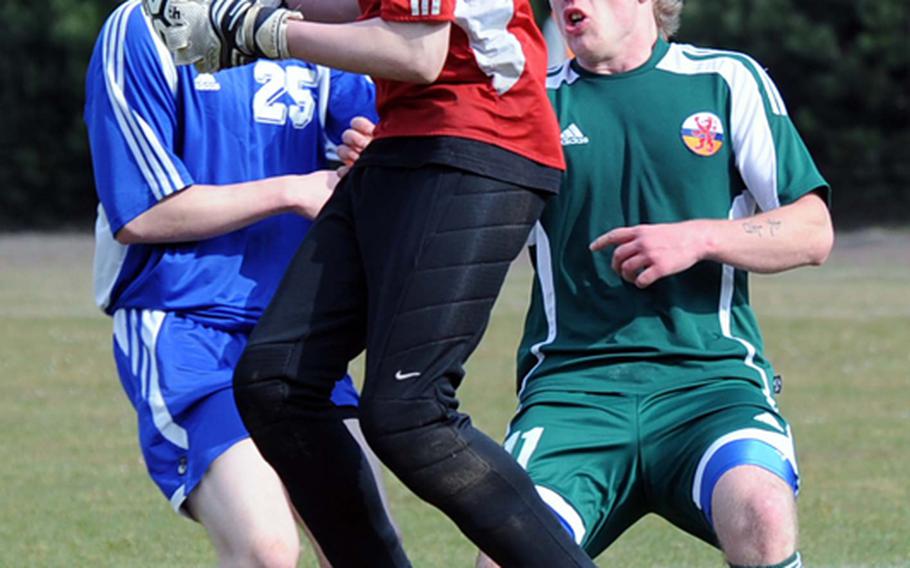 Big scoring days were the story Saturday as most DODDS-Europe boys soccer teams opened their 2011 seasons.
Kaiserslautern's Dominic Day led the way, scoring five times in a 7-3 victory over Mannheim that opened the Region II campaign for both teams. It was the first game of the season for Kaiserlautern while Mannheim fell to 0-2 overall after absorbing a 3-2 loss the previous week at Black Forest Academy.
Lost in the light of Day's five-goal outing was a hat trick by Mannheim's Brandon Wylie. Wylie scored two of his goals in the first half, during which Day tallied three times.
Except for Mannheim and BFA, all teams north of the Alps that played Saturday were taking part in season-openers, and the high-scoring outings weren't confined to Kaiserslautern.
Wiesbaden 7, Vilseck 1: Saturday at Vilseck, Drew Polson scored four goals as the Warriors claimed the victory despite a score in the game's first 10 seconds by Vilseck's Sage Thornbrough.
Wiesbaden center back Jeff Holt blocked four shots on goal and handed out an assist, according to Vilseck coach Sam Cassou.
Naples 6, International School of Florence 1: Saturday at Florence, Nigel Alexander scored three times in a 13-minute span to jump-start the Wildcats to a victory that evened their record at 1-1.
According to Naples coach Craig Lord, Alexander found the net in the game's fifth, 14th and 18th minutes. Hunter Johnson made it 4-1 Naples at the half, and Troy Reeves and Regan Campbell added second-half tallies.
Despite the big margin, Naples keeper John Koffel was called on for 15 saves against Florence (0-2).
Baumholder 7, Menwith Hill 0: Saturday at Baumholder, the Bucs fashioned a more equitable distribution of the goals, with just Pablo Martinez and Alexander Shadrin scoring more than once. Each found the net twice.
The game marked the debut of the Bucs' latest replenishment of their West African connection. Franck Atangansa and Kwadwo Larbi each posted a goal and an assist for Baumholder, which placed Cote d'Ivoire native Alassane Doukoure on the 2009 and 2010 All-Europe teams. All-Europena Prince Owusu, whose family came from Ghana, anchors Baumholder's defense.
Heidelberg 2, Ansbach 0: Saturday at Heidelberg, Ansbach keeper Mikael Vicente rang up some big numbers of his own, turning back 21 shots in defeat.
Thanks to Vicente's effort, the game was scoreless at halftime, but Andrew Guelle, off a feed from Joshua Torres, and Torres, on an unassisted shot, got balls past Vicente after intermission.
Brussels 3, AFNORTH 2: Saturday at Brunssum, Netherlands, the Brigands, a Division III team, rallied from a 2-0 halftime deficit against their D-II hosts behind second-half goals by Jamie Hunt, Imran Ahmic and Ryan Bottesini.
Brussels keeper Danny Helbling, who stopped 10 shots on the day, kept the Lions at bay after intermission.
---
---
---
---