DODDS-Europe girls basketball preview
Girls tournament favorites? Take your pick
---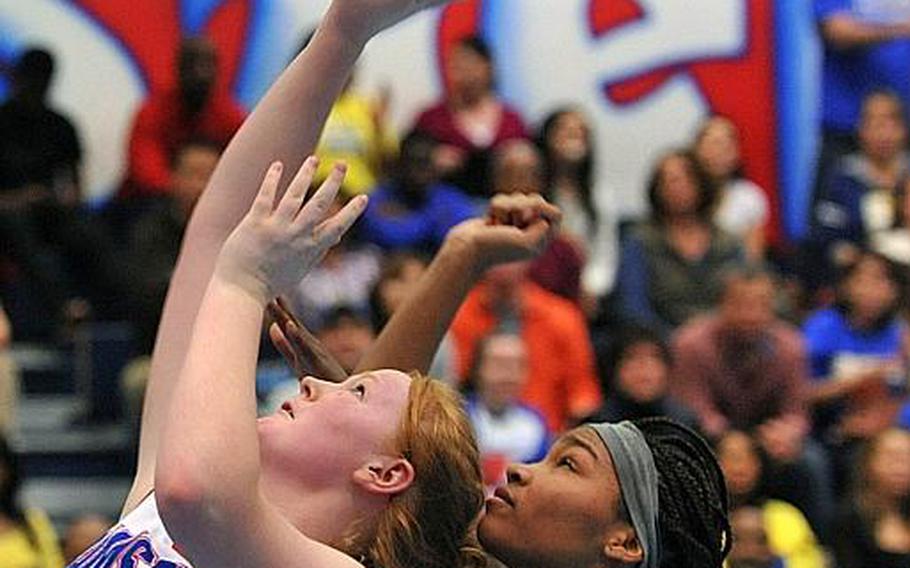 The 2013-14 DODDS-Europe girls basketball tournament will run Wednesday through Saturday at sites around Wiesbaden, Germany. Here's a look at each division's contenders.
Division I Regular-season records don't matter once the postseason arrives. That's fortunate, because the regular-season records belonging to the DODDS-Europe Division I contenders aren't very helpful anyway.
Start with this week's home team. Wiesbaden is 10-2 and fields a dangerous lineup featuring sharpshooter Crisheena Rolack and versatile forward Cierra Martin. The Warriors, however, are far from invincible. They lost to Ramstein and will come into the tournament off a loss to Kaiserslautern.
So is Ramstein the team to beat, then? Not quite. High-scoring ace Lindsey Breton and rebounding machine Katherine Enyeart headline a well-constructed starting five, but the Royals carry three losses, including their other meeting with Wiesbaden as well as Lakenheath and Kaiserslautern.
What about Kaiserslautern? The Red Raiders bring a lot of talent back from last year's European championship squad, including prolific guard Alana Dickerson and reigning Stars and Stripes girls basketball Athlete of the Year Johanna Quinn. But they've lost to both Ramstein and Wiesbaden and sometimes struggle to score, having yet to post 50 points in a game this season.
Lakenheath, helmed by new coach Jon Mittenzwey and featuring a dominant frontcourt led by Jourdan Hodge, narrowly missed a championship-game appearance last year and scored a signature win against Ramstein in December. But the Lancers have been inconsistent, losing their other game against Ramstein, losing two straight January games to local non-DODDS opponents and splitting a pair of games against Division II SHAPE.
Beyond those four teams lurk less-accomplished but dangerous contenders Patch, Vilseck and International School of Brussels. Big nights from Patch's Rebecca Hess, Vilseck's China Sumpter or ISB's Kelsey Adamitis could leave the bracket in further disarray.
All of these exchanges of wins and losses leave the Division I picture thoroughly muddled entering the tournament. The only safe prediction, it seems, is for an unpredictable tournament.
Division II The guesswork doesn't get any easier at the Division II level.
DODDS-Europe's largest division is headlined by an undefeated team in Naples. The Italian frontrunners certainly have the personnel to make a title run: Shanice Alexander is a double-double waiting to happen in the frontcourt, and Keylee Soto is a valuable steady hand on the perimeter.
The news isn't all good, however. A closer look at Naples' schedule reveals that the Wildcats' margin for error is whisker-thin: their wins included a two-point decision over Vicenza and a one-point victory over Aviano.
Those regional rivals are anxious for rematches. Aviano features a deep, versatile lineup led by Jasmyn Green and Jasmine Cole; Vicenza's Emma Knapp can fill a stat sheet like few others.
Casting further uncertainty on Naples' title hopes is the fact that the Wildcats, like most teams competing under DODDS-Europe's increasingly strict travel policy, are untested beyond the borders of their region. It's impossible to forecast which unfamiliar team might present an unsolvable matchup problem.
Candidates are lining up to try on that role for size. SHAPE, led by stalwart point guard Gina Rhett, enters the postseason on a wave of positivity after splitting games with solid Division I program Lakenheath on Feb. 8 and spending the season's final weekend avenging earlier losses to Brussels and AFNORTH.
Despite that loss, AFNORTH remains a viable title contender, sporting a deep roster of contributors including Erica Balkcum, Rachel Pagio and Grace Phillips.
Black Forest Academy has been resilient all season, absorbing the blows administered by a schedule heavy on Division I powers Ramstein, Kaiserslautern and Wiesbaden and somehow emerging with a winning record of 8-6.
Hohenfels, Ansbach and defending champion Bitburg rank among the other contenders hoping to piece together a hot streak and make a deep postseason run.
Division III As a general rule, no teams are more relieved to see the European tournament than those small schools assigned to Division III. After a season of being pushed around by larger regional opponents, the tournament gives these teams a long-awaited chance to see where they stand against comparable competition.
This year, however, the Division III teams weren't willing to wait to start winning.
Pitted against predominantly higher-division opposition, defending Division III champion Brussels nonetheless survived its schedule with a 7-3 record, handing out losses to Division II teams like AFNORTH, Alconbury and SHAPE along the way. The Brigands, led by star guard Ali DeFazio and the formidable frontcourt duo of Ana-Marija Vasileva and Teodora Vasileva, also took the time to put down a Division III rival, holding Menwith Hill to single-digit scoring efforts in each of two Brussels victories.
That likely leaves Sigonella as the biggest obstacle separating Brussels from a repeat. The Jaguars absorbed more blows from their own rugged upper-division schedule, but they have the tools to give Brussels a hard time. Post Sydney Moore in particular could prove problematic for the Brigands.
Twitter: @broomestripes
---
---
---
---