Girls top seeds lead the way at opening day of tennis
---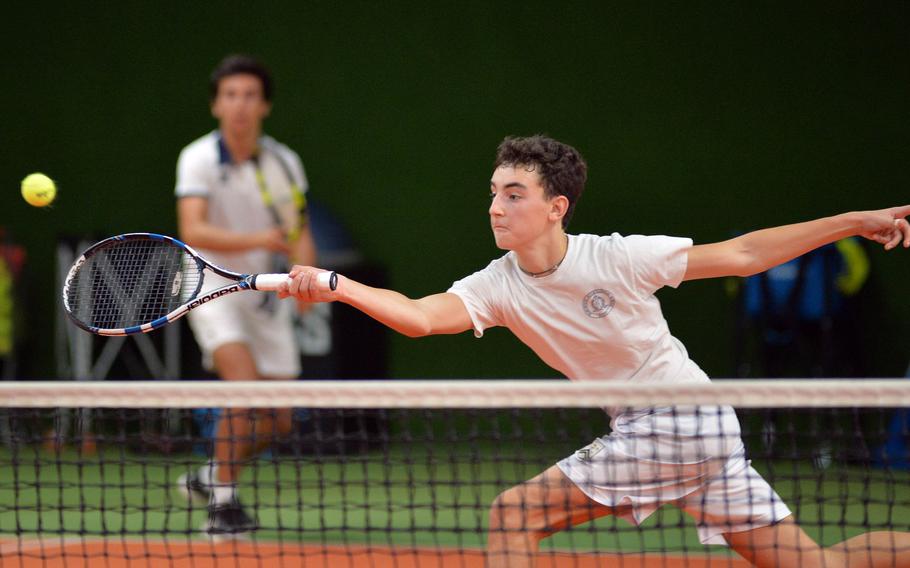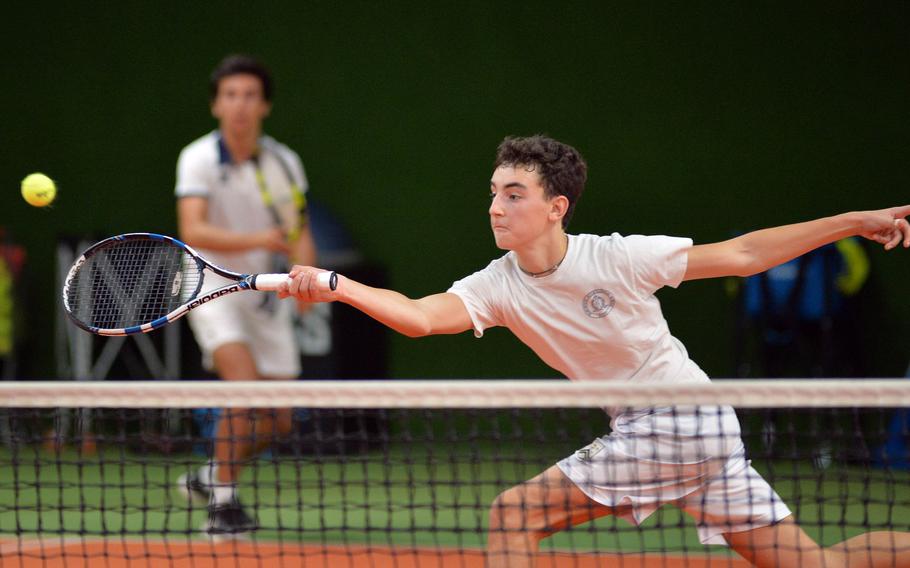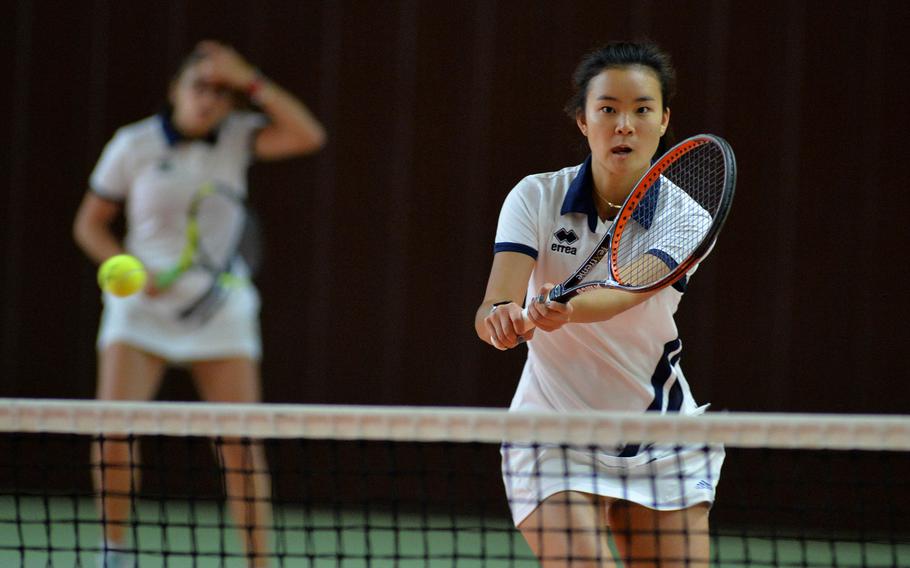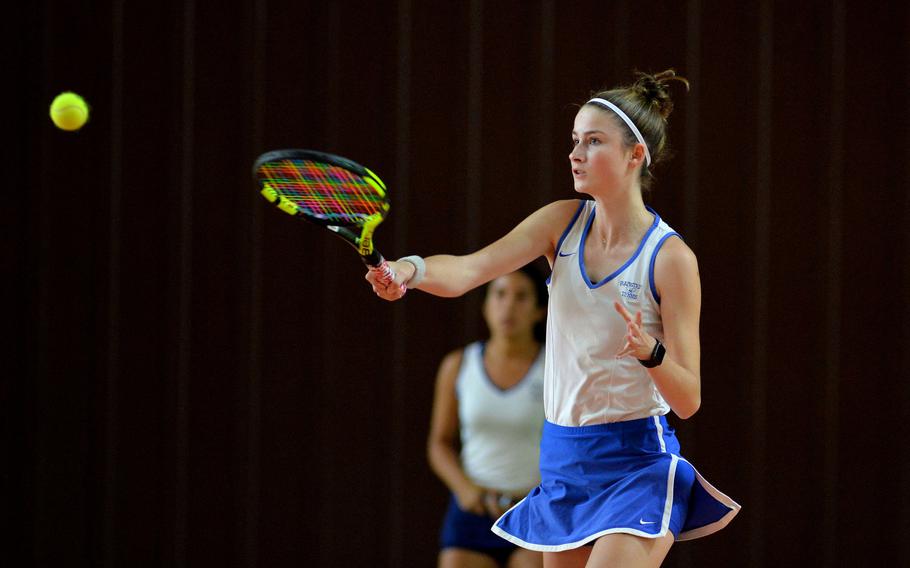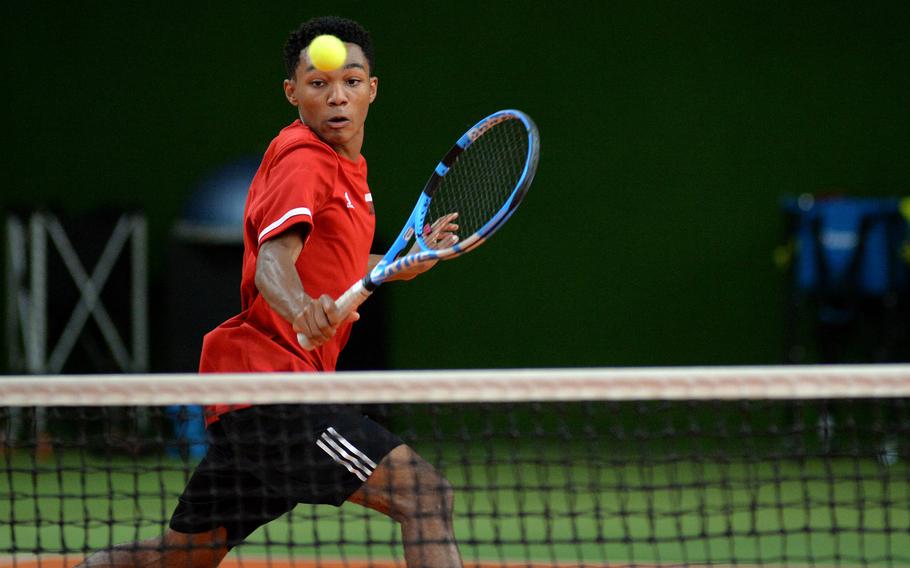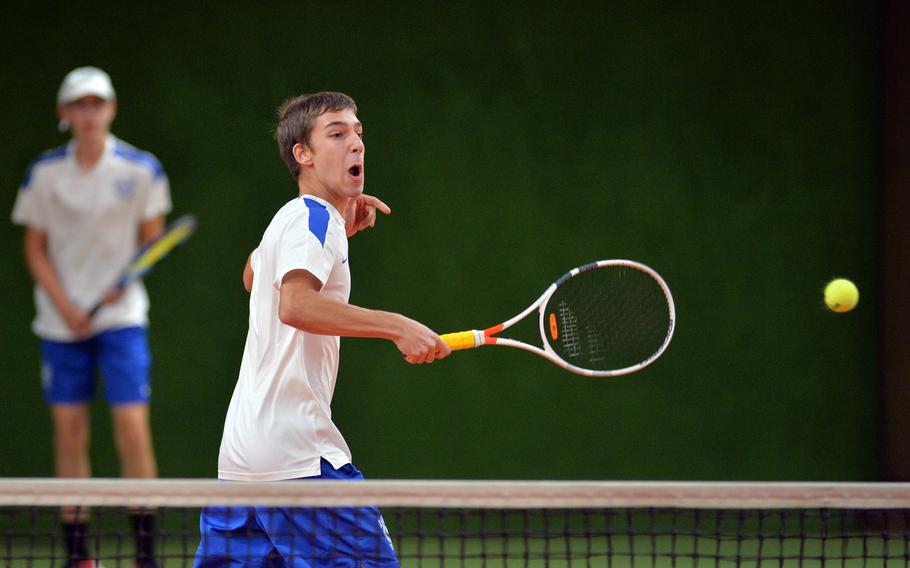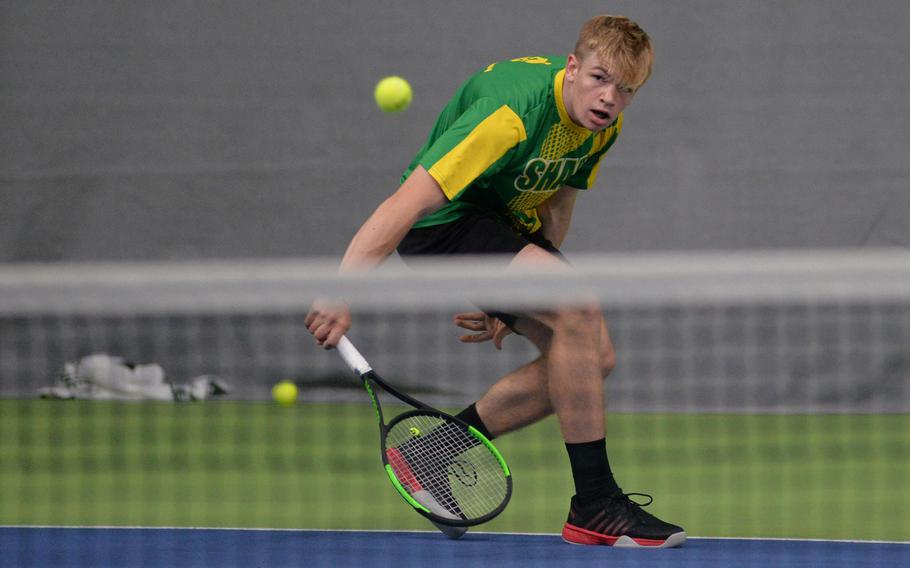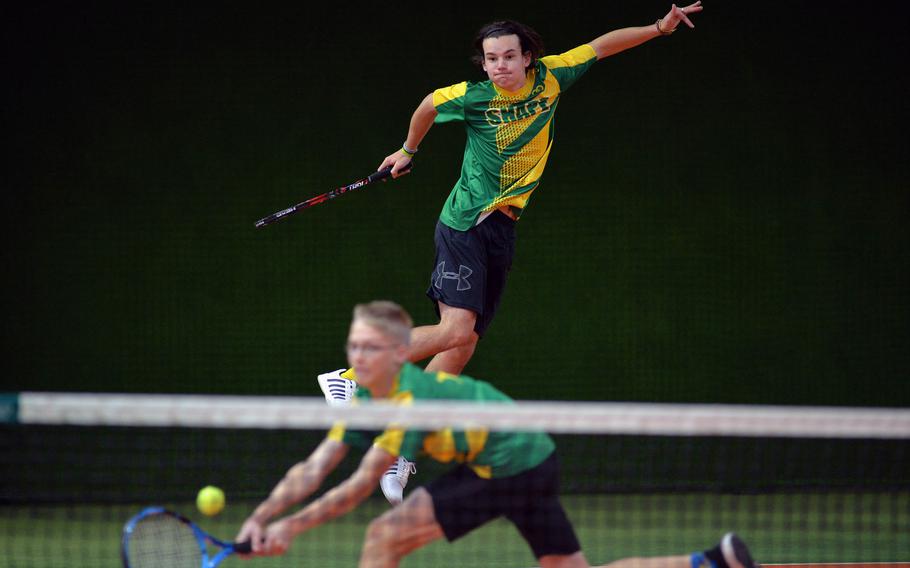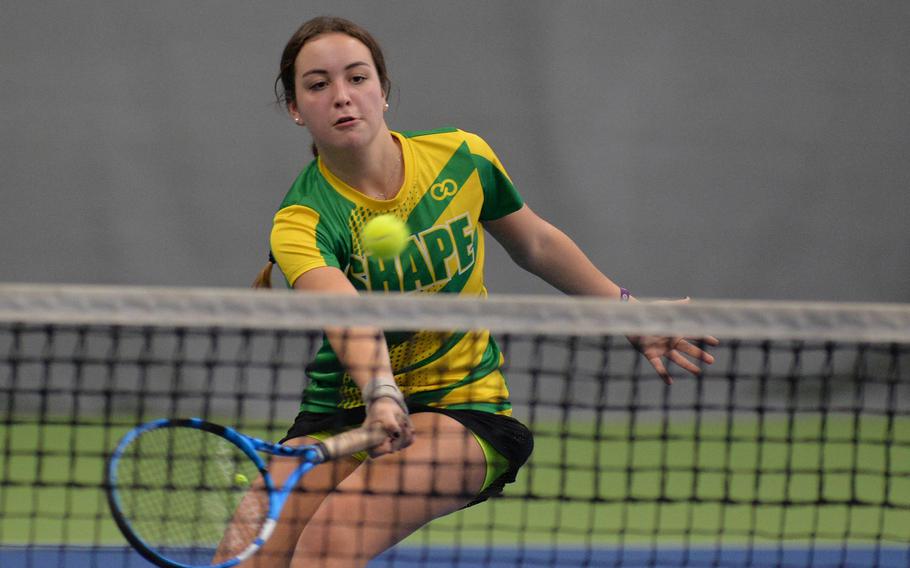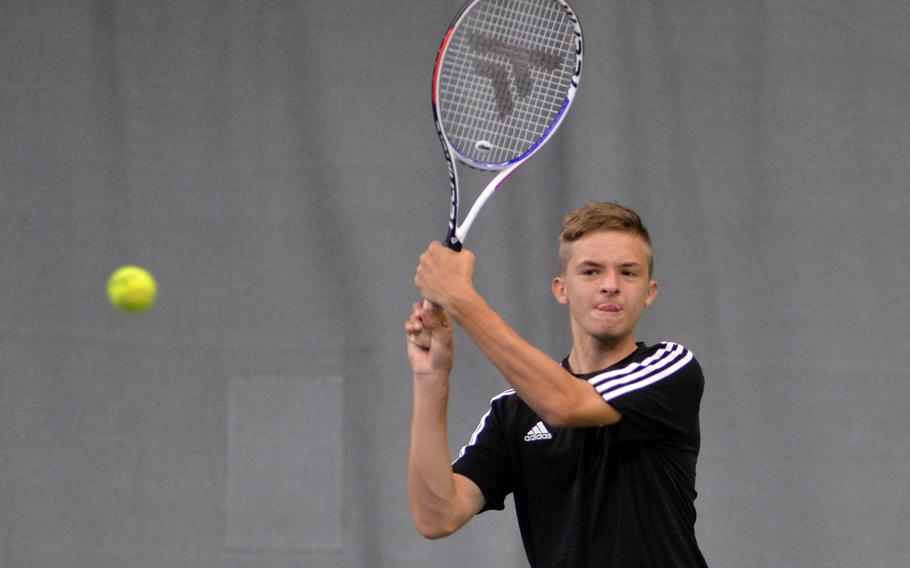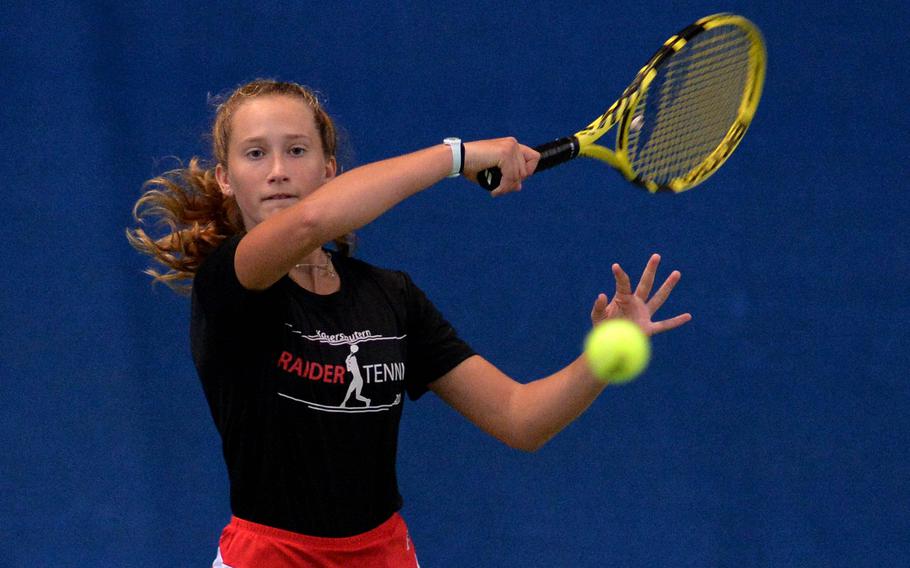 A handful of upsets and near-upsets highlighted an otherwise routine opening day of the 2019 DODEA-Europe tennis championship tournaments, played Thursday at sites around Wiesbaden, Germany.
Top-seeded girls Aiva Schmitz of Kaiserslautern and Charlotte Kordonowy of Wiesbaden each won all three of their first-day matches, the first step towards a projected and highly anticipated showdown in Saturday's championship match.
Kordonowy, the tournament's top overall seed after defeating defending champion Schmitz in the regular season, didn't drop a game across six sets of overwhelming dominance. Schmitz, the top seed in Pool B, knocked off second seed Kassianna Von Eicken of Ramstein 6-0, 6-2, in her toughest match of the day.
The boys singles bracket produced far more intrigue.
Stuttgart sophomore Amar Tahirovic, the reigning European champion who generally cruises to 6-0, 6-0 victories in his DODEA-Europe matches, ran into some serious resistance in his second match. The Panther ace persevered for a 6-1, 6-3 win over second-seeded Marco Garofalo of Marymount.
Panthers coach Amy Rochowiak said while Tahirovic usually "blows away" his opponent, Thursday's challenge should ultimately be beneficial for the defending champion.
"For the first time, really, I saw him struggle, I think, with his emotions," Rochowiak said. "This kid put the pressure on him in that second set.
"He was a little bit stressed about that."
Tahirovic wasn't the only top seed under attack on Thursday.
In the opposite pool, third-seeded Robert Been of Florence pulled off the day's most notable singles upset with a convincing 6-1, 6-3 defeat of the pool's top seed, Giudo Plebani of American Overseas School of Rome.
Though they're both the aces of their respective central Italian teams, the two did not meet in the regular season. Been relished the chance to take on the higher-seeded opponent, and the match lived up to its billing, drawing a crowd of onlookers as it lasted deep into the afternoon well after every other singles match had concluded.
"I tried to do as little mistakes as possible. He's a pretty solid player," Been said of Plebani.
The victory, along with a straight-set win in his other match Thursday, puts Been in line for a spot in the elimination round. An upset win on Day 1 gave the Florence contender a psychological boost.
"For the confidence, this was a really, really important win," Been said. "My objective was to be around in the final...We'll see what happens."
While the tournament favorites worked to avoid a first-day slip-up, the goal for much of the field was to build on strong regular seasons with solid performances in the postseason.
The Hohenfels Tigers enjoyed a successful regular season this fall led by the efforts of European qualifiers June Smith, a third-seeded girls singles competitor, and boys doubles squad Declan Colbert and Caleb Love.
"I'm just trying to have fun... Not put too much pressure on myself," said Smith, who earned a straight set win in her opening match before falling to Kordonowy later Thursday. "Just play as hard as I can and see where it takes me."
The three-day tournament continues Friday with two more rounds of preliminary play followed in the afternoon by the semifinal round. The slate of four European championship matches follows Saturday.
---
---
---
---