Girls soccer: Osan goes on the defensive
by
Dave Ornauer
April 27, 2010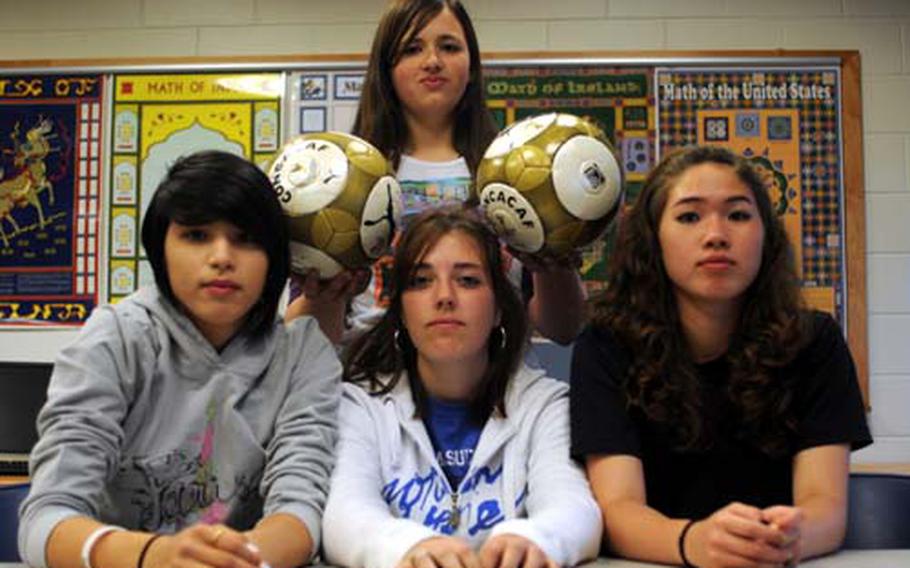 OSAN AIR BASE, South Korea — The cheering had barely quieted after Osan American's 4-0 and 4-1 championship victories in last May's Far East Girls Class A Soccer Tournament that the grim reality set in: It would be the Cougars' last time playing with high-scoring Bria and Jasmine Pressley.
"We were thinking, 'oooh, what's going to happen to us?' We learned so much from them," said forward Angela Frisby, one of six returnees charged with replacing the Pressleys, who combined for 57 goals and 17 assists before heading to Kadena.
Well, what the Cougars (23-5-3 last year) did was take the opposite tack: Lock down on defense, with sweeper Alina Hauter leading the way, and import a stellar goalkeeper from another Pacific champion team, Deanne Polaski of Zama American.
Add a dash of Frisby (13 goals), sophomore Stephanie McDole (10) and playmaking junior Courtney Ouellette (10 assists), and the Cougars — at 10-1-3 and second in the Korean-American Interscholastic Activities Conference — are doing even better than at this time last season.
"We have a strong defense, and they're all veterans; they know what they're doing," McDole said. "But we were starting over up front without the Pressleys."
"We were kind of a shadow last year, helping out Jasmine and Bria," Frisby said.
So, what has changed?
Two opposing coaches, Joon Myong of KAIAC regular-season champion Seoul Foreign and Daegu American's Ed Thompson, see a team with strong players on all parts of the field, working the ball through the middle and using the outside instead of kicking and chasing like last season.
"They're passing a lot more this year, and everybody's involved in it," Thompson said. "It's a team effort."
"They're much stronger this year," Myong said.
Start in the back. Perhaps the key figure would be 5 — the number of goals allowed by Osan this season. Of those, three were regulation goals by Taejon Christian International; the others were penalty kicks.
Teammates and coaches credit the arrival of Polaski, the hero of last year's Class AA Tournament final in which she stopped three Kubasaki kicks in the penalty-kick shootout.
"Solid," Ouellette said.
"Not a lot of shots come to me," Polaski said, crediting Osan's defense for her not seeing many shots, "especially Alina."
Polaski initially expressed "mixed feelings" about leaving Zama. "I miss the team," she said. "But now that I'm here, I want to stay."
As important as Polaski is, so are the people playing just in front of her. "The defense is really strong," McDole said. "And everybody talks a lot out there. A lot of communication and teamwork."
That was an important part of transitioning from star system to more of a team concept, players said.
"It's a collaboration now," McDole said. "It used to be we'd give it to them (Pressleys), and they'd go up by themselves. Now, all the goals are spread out, instead of just one or two people."
The midfielders, coach Sung Plourde said, have "stepped up and created more opportunities to the forwards up front, whereas last year, we simply gave it to the Pressleys and they finished."
Ouellette gives much of the credit for the Cougars' success to Plourde, who has coached soccer at Osan for the last decade.
"He pushes us, he wants us to be in better shape and communicate, and he knows the game well," Ouellette said.
If there is one quality lacking from the Cougars of 2010, it's that they don't have the finishing power of last season.
"We get the ball up there, and the defense stops the ball when it gets to them," Ouellette said. "We just have to finish."
Perhaps the best thing to happen to the Cougars, players said, was their 2-1 loss last Friday at Taejon Christian International, their lone loss of the season.
"I want to redeem myself for TCIS," McDole said.
They may get their chance at this weekend's KAIAC tournament at Seoul Foreign. Then Osan vies for its Pacific-record sixth Class A Tournament title at Daegu, which would be two straight for Frisby, McDole and Ouellette, who recalls last year's title run as if it were yesterday.
"It was amazing," Ouellette said of Osan playing four matches in 10 hours last May 21, in the chill and rain. "It was freezing. So we just ran into the sauna" after every match.
And the bus ride home? "Very nice," Ouellette said.
She will return next year, as will Polaski and McDole; and for all its veterans, the defense sports nary a senior.
Built to win now and built to last? "Definitely," Ouellette said.