Girls high school basketball roundup: Ramstein overcomes slow start vs. Lakenheath
by
Stars Stripes
January 31, 2010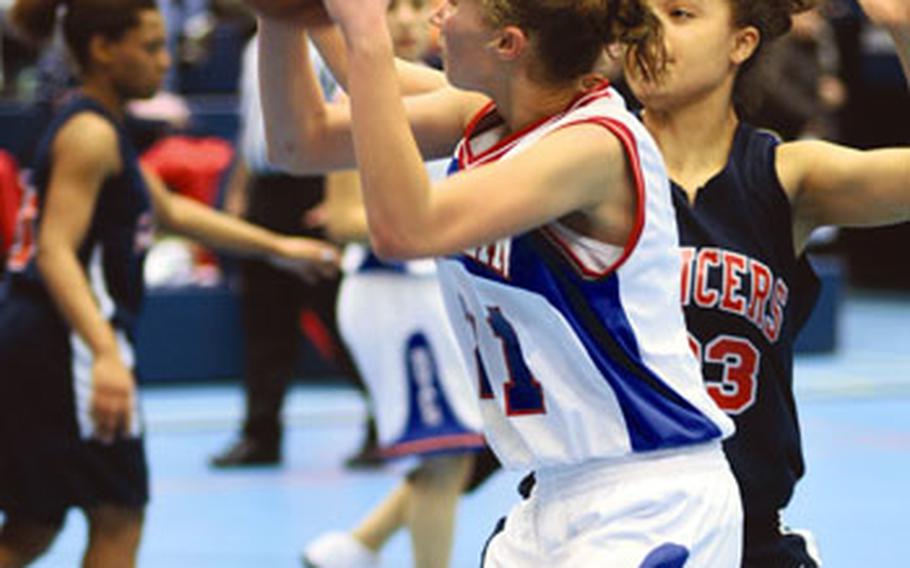 For the first eight minutes Friday night, it looked like Ramstein, not Lakenheath, endured an 18-hour bus ride to the venue as the Lady Lancers scored the first eight points and grabbed a 12-7 first-quarter edge.
That was as far, however, as Ramstein was willing to go. The Lady Royals held Lakenheath scoreless for the first six minutes of the second period and took a 21-20 halftime lead en route to a 47-33 non-regional victory over their Division I rivals.
Ramstein dominated the post during the rally, with freshman Sarah Syzbist and senior Nadia Booker each scoring 12 points. Booker also had 10 rebounds and blocked six shots for Ramstein (5-2).
In other girls games of note:
Kaiserslautern 49, Lakenheath 36: Saturday in snowy Kaiserslautern, Erica Turner blitzed her former Lakenheath teammates for 18 points as Kaiserslautern improved to 5-2 and ensured the Lady Lancers would join their boys counterparts in a lost weekend to Germany. Both Lakenheath squads went 0-2.
The Lady Lancers are 4-4 overall going into their final games of the regular season — both at home against Region I foes.
More important than the game, according to Kaiserslautern coach Corey Sullivan, was the $700 raised at the game to aid the people of Haiti affected by the earthquake.
Brussels 58, Rota 41: Saturday at Alconbury, the Lady Brigands shot 71 percent from the floor to down Rota for the second straight day and remain unbeaten against Division III opposition.
Senior Kathleen Anderson scored 30 points and pulled down nine rebounds, and teammate Bria Yazzie added 10 points and 12 rebounds as Brussels improved to 7-1, with the loss coming at the hands of D-I SHAPE, 46-44.
Anderson chalked up 28 points and 14 rebounds in Brussels' 54-37 victory Friday.
Menwith Hill 57, Alconbury 20: Friday at Alconbury, the Lady Mustangs rode 17 points, 10 rebounds and nine steals by Monique McCreary and 11 steals by Katie Claycomb to a 3-0 record in the Region I smalls schools round-robin. Two of the victories came against Rota.
Kaia Pierce added 10 points and eight rebounds for Menwith Hill (6-2). Alconbury fell to 0-7 overall despite 15 points by Savanna Fourhman.
Bamberg 57, Heidelberg 30: Saturday at Bamberg, Racquel Davis scored 30 points and grabbed 14 rebounds as the Lady Barons improved to 9-1 overall and 8-0 in Region III with a sweep of their D-I guests. Jenna Cepe added 19 points, six assists and five steals for D-II Bamberg.
Davis scored 24 points and Cepe 12 in Friday's 41-36 victory over the Lady Lions (1-6 overall, 1-5.)
Aviano 52, Naples 39: Saturday at Naples, sophomore Jasmine Mailoto scored 18 points for the second straight game to help the Lady Saints (8-0) sweep Naples and overcome a 25-point outing by Naples' Demi Holbrook. Naples fell to 4-4 overall and in Region IV. Aviano won 54-39 on Friday night.