Girls favorites have a few weeks left to build cases
---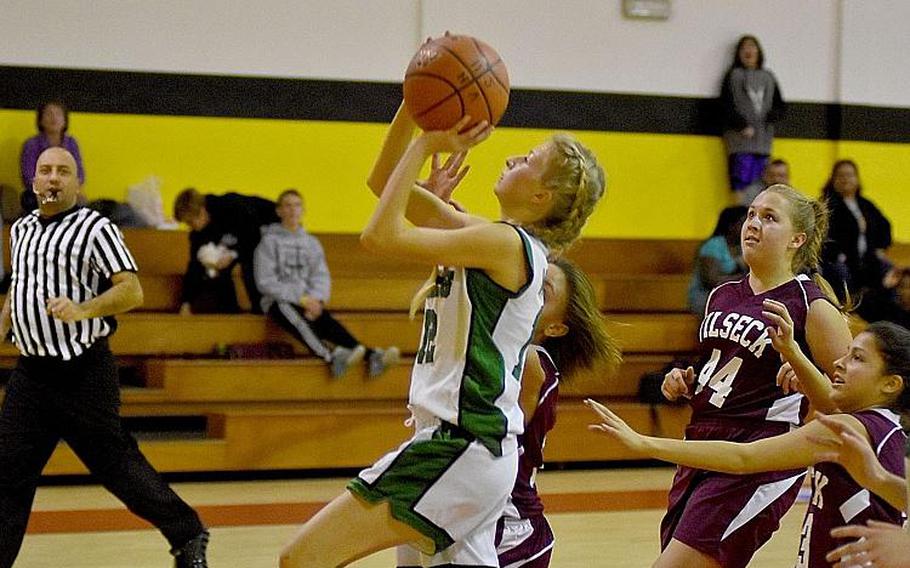 Five DODEA-Europe girls basketball teams have managed to reach February without sustaining a divisional loss. In a scheduling quirk, three of those teams have already completed their respective divisional schedules. Still, the final weeks of the regular season hold plenty of ramifications for the Feb. 21-24 European tournament.
Division I The Naples Wildcats are the only team to survive the ongoing scrum in the large-school girls hoops ranks unscathed, and it's not just because of their location far-removed from their divisional rivals.
Division I's tightly packed German programs have spent the winter locked in back-and-forth combat, and each - reigning champion Stuttgart, 2017 runner-up Ramstein, and contenders Kaiserslautern, Wiesbaden and Vilseck - has sustained at least two losses as a result.
Naples' geography allows it to avoid that week-to-week gauntlet; the team is currently wrapping up its regular season against a string of lower-division regional opponents. But when given the opportunity to prove their Division I bona fides, the Wildcats have delivered.
The centerpiece of this impressive Naples campaign is its 39-35 neutral-court defeat of the defending champion Panthers on Dec. 9. But the Wildcats have also swept a solid Lakenheath team in England, easily handled rival Vicenza and earned a gritty win over tough Vilseck to round out a 6-0 mark.
Naples won't play another Division I game until the tournament. But the Wildcats should see a lot of action at that event, perhaps all the way through Saturday's final.
Division II At least one team with perfect divisional record will fail to earn the top seed in the Division II tournament bracket, a result of the three-way, three-country battle currently being waged among DODEA-Europe's mid-sized programs.
Defending champion Black Forest Academy had only two games on its divisional schedule this season, and completed its 2-0 mark with a sweep of Rota. But the Falcons will be plenty tested come the tournament, as they've spent the winter largely punching up at Division I opponents and have scrapped to a very respectable 6-4 overall mark in the process entering a stretch run against Vilseck and Ramstein.
Resurgent AFNORTH jumped into the conversation for the division's top seed with a strong January featuring sweeps of Spangdahlem and Aviano. Like BFA, the Lions have seen their last Division II action until the tournament. Their visit to Ansbach this weekend continues a string of seven games against Division III opponents to end the regular season.
That leaves Marymount as the upstart of the group, and perhaps fittingly as the one with opportunities remaining to prove itself. The Royals are one of four teams participating, along with Aviano, Spangdahlem and host American Overseas School of Rome, in a two-day Division II meet this weekend. While its tough weekend provides plenty of chances for a misstep, it could also cement Marymount's spot on the short list of viable title contenders.
Division III Hohenfels, which hasn't seen a DODEA-Europe semifinal round since its fourth-place Division II finish in 2015, has methodically moved to the forefront of small-school girls hoops this winter with an impressive run of five victories capped by its Jan. 12-13 dismantling of 2017 runner-up Baumholder.
The Tigers have spent the time since building character in losses to much larger schools, including Vilseck and BFA, and might face a similar fate this weekend at Stuttgart. But Hohenfels can start some fresh divisional momentum on the season's final weekend against Ansbach, and potentially carry it into a deep tournament run a week later.
Twitter: @broomestripes
---
---
---
---