Home Team
Girls are sure shots in DODDS-Europe
---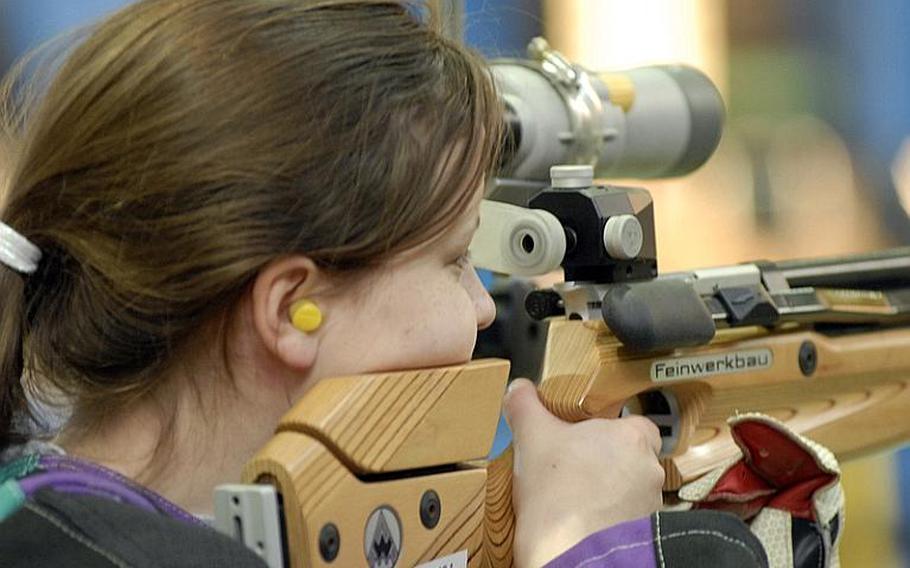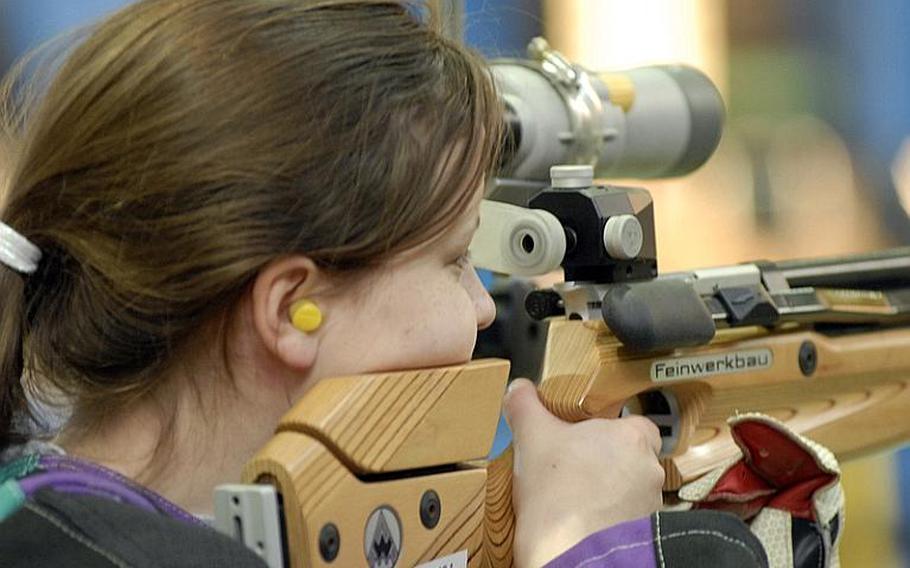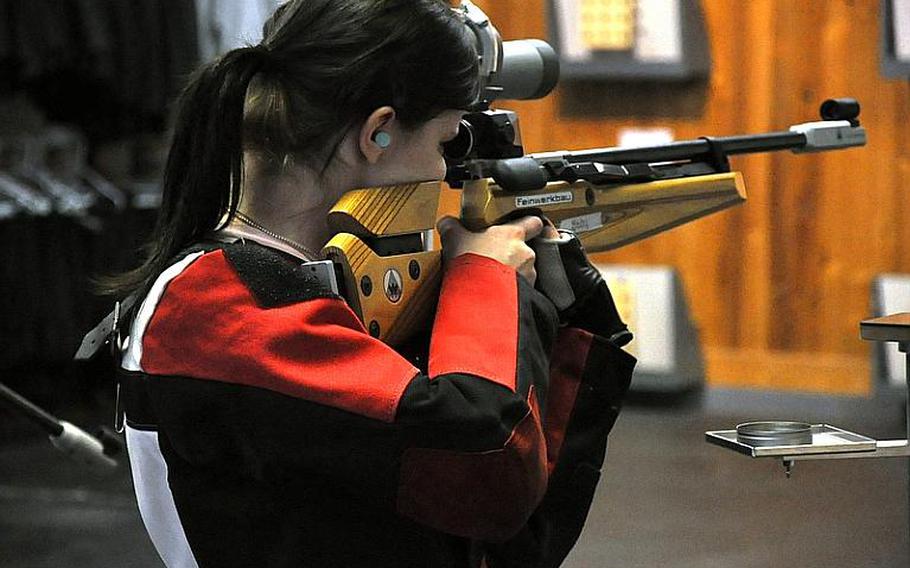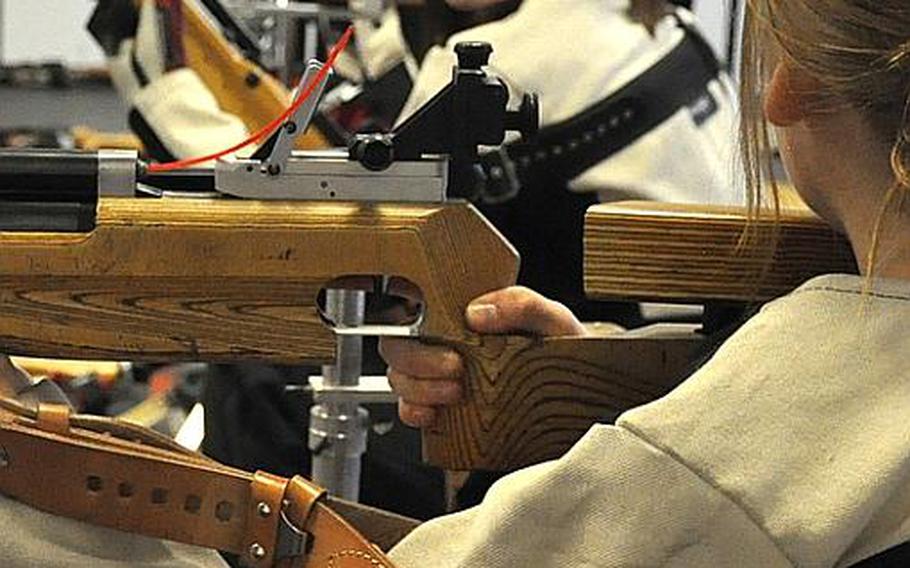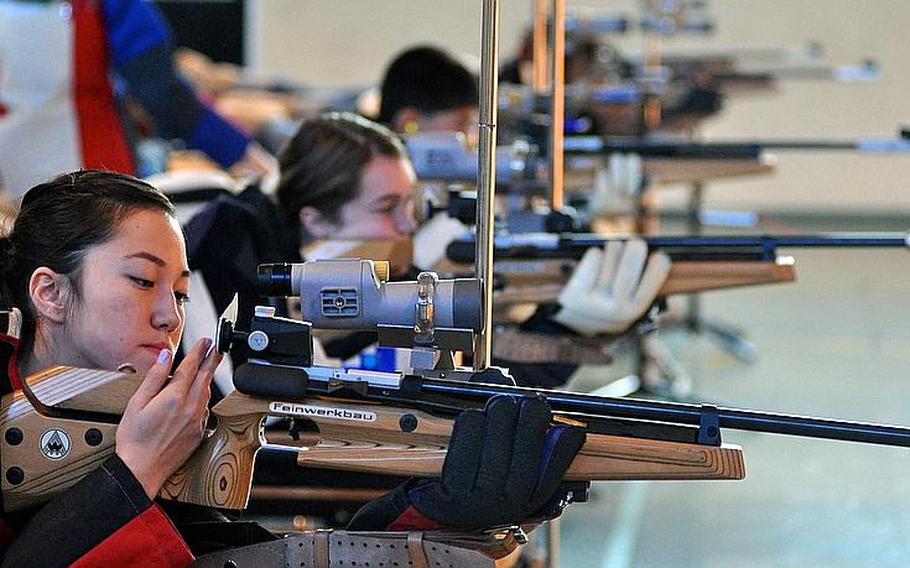 Annie Oakley's sharpshooting prowess was no aberration, according to DODDS-Europe high school marksmanship coaches and recent results in the school system's championships.
Female marksmen have won the last six European individual crowns and placed nine in the top 10 in last year's European championships.
Why?
It's all in their heads, according to Alconbury volunteer assistant Herb Treacy, whose day job is coaching the varsity pistol team at England's Cambridge University.
"Girls don't think they're born knowing how to shoot," Treachy said by telephone last week. "They're more receptive to coaching."
That mindset, Treachy said, puts girls on a direct path to the top, because "most of shooting (success) is allowing yourself to use what you've been taught."
Vilseck coach Mitchell Pollock agreed that girls have a mental edge on their male counterparts, citing their willingness to listen and learn and their ability to concentrate longer than boys.
"Not to mention emotional maturity, grades and academic standing," he added in a Saturday email, adding that the women continue to hold their edge at the next level. "If you look at college teams, they are predominantly female, also."
Bamberg coach Howard Loken buttressed Pollock's assertion about girls' superior powers of concentration.
"I measured the time the female shooters take to shoot each event, and nine-out-of-10 times they use approximately 90-96 percent of their allotted shooting time," he emailed last week. "Guess what? They end up scoring 90 to 100 points out of 100 as a result … On the other hand, males use approximately 66 percent of their allotted time. They end up shooting 65 to 85 points per target. I have to constantly speak to them to change the course of their shooting habits …"
Girls also avoid a sort of mental pressure that steers some talented boys away from the sport, Loken added.
"Target shooting with an air rifle is not an aggressive (sport) such as football, basketball or wrestling. So it is very hard to sell it to potential males because they do not believe it carries as much prestige as other sports."
Female success, however, isn't all in the mind, thinks Heidelberg pilot Andrew King, who coached Katelyn Bronell to the 2011 European crown. They have physical advantages, too.
"From what I've seen," he said Friday, "girls have better fine-motor skills than boys."
Those skills, he explained, allow girls to squeeze the trigger more effectively than boys, whom he said generally take up the slack in the trigger to a certain point, then jerk it the rest of the way.
He added that girls' body structures give them an edge when it comes to keeping the rifle steady.
"Boys have bigger chests and arms," he said. "Girls have a better base, a lower center of gravity which allows them to hold their positions."
Girls also, he said, are better able to rest their forearms naturally on their hips in the kneeling and standing positions.
Whatever advantages they might enjoy in a sport which requires them to, in the words of Alconbury coach Lowell Bartmess, "shoot a pellet (10 meters) to hit a one-and-seven-eighths-inch circle and hopefully be within the one-eighth-inch (bulls eye) to tap out the dot in the center," girls increasingly find marksmanship an appealing sport.
"I thought it was really cool," said Hohenfels senior Kathleen Waldron when asked by telephone last week why she took up the sport as a freshman. "I wanted to do something no one else was doing."
And although few of the girls presently competing probably even gave a thought to the chances they'd have to beat the boys, Ansbach senior LaTrisha Jones probably spoke for them all in a Saturday telephone call.
"Of course it's fun to beat the boys," she said, adding that she's unsurprised by her gender's success.
"There are more girls than boys on the rifle team," she said. "It's a girls' sport."
---
---
---
---