German style of soccer makes Heidelberg's Kerber a better player
by
Rusty Bryan
April 6, 2006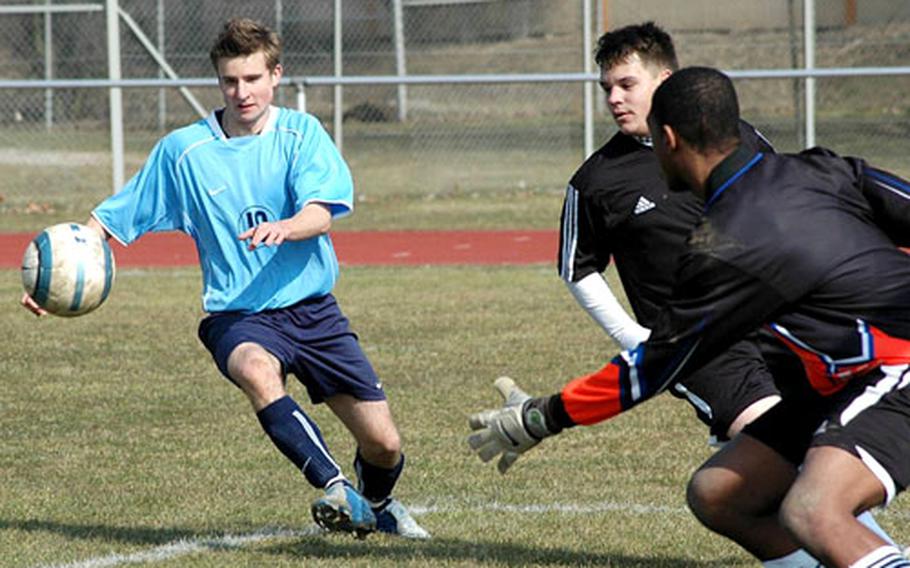 SCHWETZINGEN, Germany — Heidelberg junior striker Sean Kerber has honed his skills the past 11 years by absorbing German-style soccer. But he believes his sports future lies in the United States.
"I'm trying to play college soccer in the States," Kerber, 17, said before a Monday practice at showery Tompkins Barracks. "I really want to do that."
It's a goal that's well within Kerber's reach. He led the Lions with nine goals in their first two games before being shut out Saturday at International School of Brussels.
"I had my chances," Kerber said of his part in Heidelberg's 3-1 loss at ISB. "I just didn't finish."
That was not typical of Kerber, who, according to Heidelberg acting head coach Perry Puppolo, is far from finished in soccer.
"His work habits on and off the field are intense," Puppolo said. "The only person who can stop him is him."
And Kerber's not stopping. He's already drawing interest from colleges.
He said he has heard from Towson State University, the Maryland college to which his friend and Olympic Development Program teammate Tommy Appel-Schumacher of Kaiserslautern's top youth squad already has committed, and the University of North Carolina.
"I had a chance to visit there. It's a beautiful campus," he said of the college in Chapel Hill.
"Coaches in the States generally evaluate players just on the basis of their speed," Puppolo said, "but players like Sean, who's grown up playing German soccer, have so much more to offer.
"Sean's fast, but he's also very physical. He can play with the ball at his feet and a guy on his hip and not even feel him. Americans aren't accustomed to being that physical."
Physicality isn't the only difference between U.S. and German soccer.
"The Germans tend to talk more to each other," said Kerber, who currently plays for a team in nearby Kirchheim, "and they're a little more aggressive. The ball moves quicker because they're always communicating. They work hard on knowing where everybody is and making one-touch passes."
The result so far has been to make a European player out of Kerber.
"He's a German kid," said European ODP director Sven Stadtrecher, who helps out with the Lions' program. "He's an American, but he has a great sense for the game. He reads things very well."
Kerber said his experience with German teams made him in the player that he is.
"Playing German soccer helps you step up your game," he said. "You get to play year-round. It helps you eat, sleep and breathe soccer. I'm glad I was raised over here."