Gardner's nurturing brings hoops career into full bloom
by
Rusty Bryan
February 9, 2006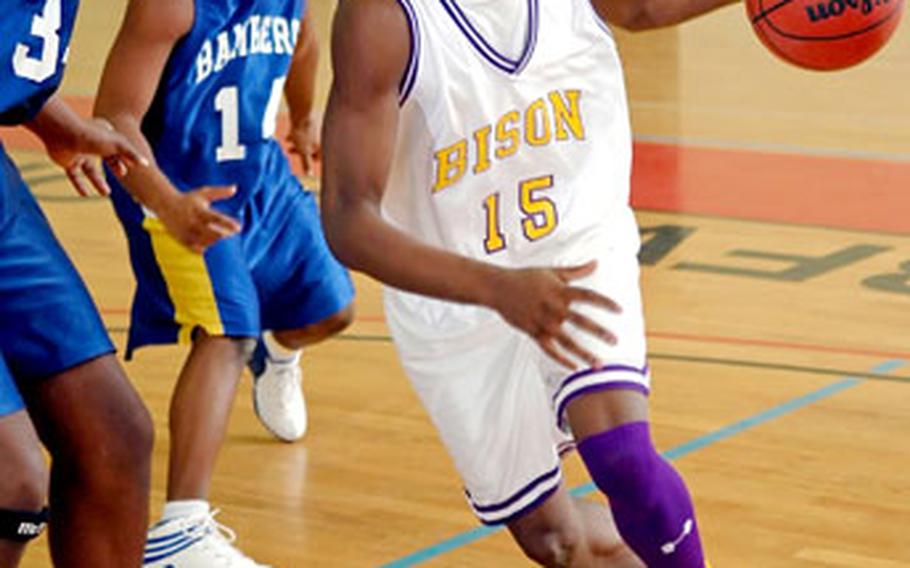 MANNHEIM, Germany — Mannheim senior guard Rickey Gardner has come a long way from his basketball beginnings as a 5-foot-4, 100-pound freshman, who, in his own words, "wasn't very good."
Four years later, Gardner is a 6-2 senior averaging 14.1 points, 6.8 rebounds and 3.3 assists. In Gardner's view, however, that hasn't been enough. He wishes he had a little more time to get a little better.
"My four years here went by too fast," he said Tuesday. "If I had known how much I was going to improve in basketball, I would have pushed myself a little harder as a freshman."
Understand, though, that it took time for Gardner to consider himself a basketball player — the gridiron and the baseball diamond occupied his thoughts when he arrived at Mannheim from Fort Polk, La.
A right-handed pitcher and shortstop, Gardner, whose father still considers baseball to be his son's strongest sport, saw baseball fall away with the lack of high school competition in Europe.
Then he began basketball mainly as a way to keep in shape for football. And in his heart, Gardner, a will-of-the-wisp quarterback whose swift changes of direction often left Mannheim's opponents tackling air last season, still ranks football as No. 1.
"I would rather play football," he said of his college athletic plans, "but the way I've developed at basketball, I think I could make a name for myself playing basketball in college. I've just got to keep working hard."
So how did Gardner the basketball player go, in his own words, from a "freshman who really didn't play all that much" to a "senior who never steps off the floor?"
"It's all practice," he said. "All those summers, going to the gym every day."
That sort of dedication comes from the competitive fires that burn inside Gardner.
"I don't care what sort of person you are," he observed in answer to an unrelated question, "if it doesn't make you mad to lose, then there's something wrong with you."
Then there's his native athleticism, fertile ground for the seeds of practice.
"He's a great athlete," Mannheim coach John Crockett said. "It's amazing how many blocks he gets (32 in 12 games). He's just so quick."
Like most DODDS-Europe athletes, Gardner has found distance to be an obstacle to his college plans. As a résumé enhancement, he's hoping to earn one of the two berths reserved for DODDS players on the U.S. team that will play the national junior teams of 15 or so other countries at April's biennial Albert Schweitzer tournament in Mannheim.
If he can also add an All-Europe basketball plaque, which is fully within the realm of possibility, Gardner just might be good to go in what was once his afterthought sport.
If not, Gardner has no regrets.
"The experience [of playing overseas] is fun, he said. "There are not many players in the States who can say 'I played football and basketball in Germany.' "