Far East cross country
Galvins team up to lead Yokota to relay victory
by
Dave Ornauer
November 5, 2019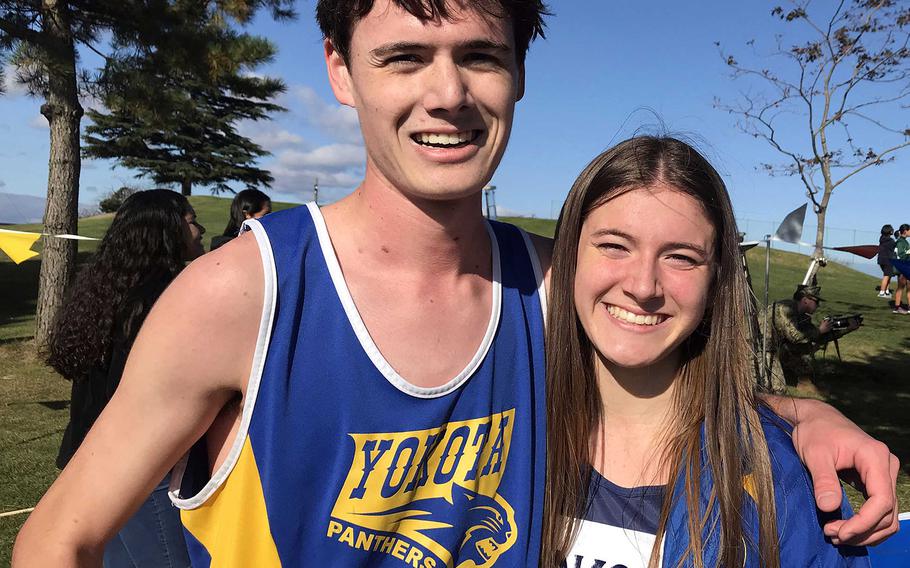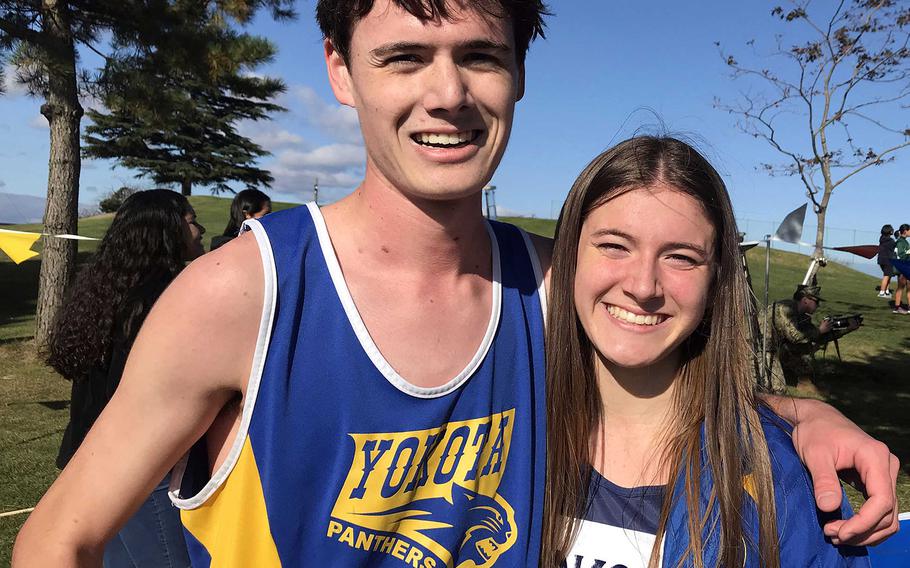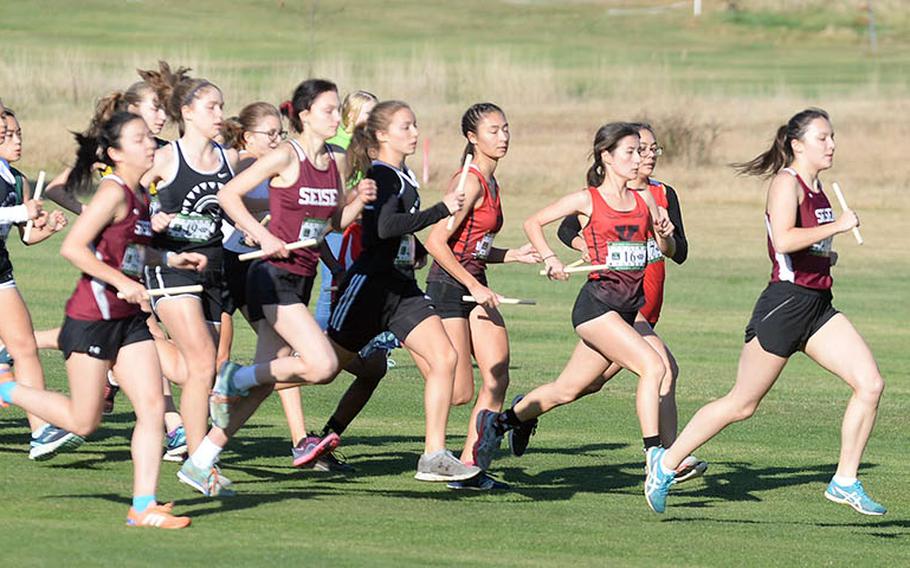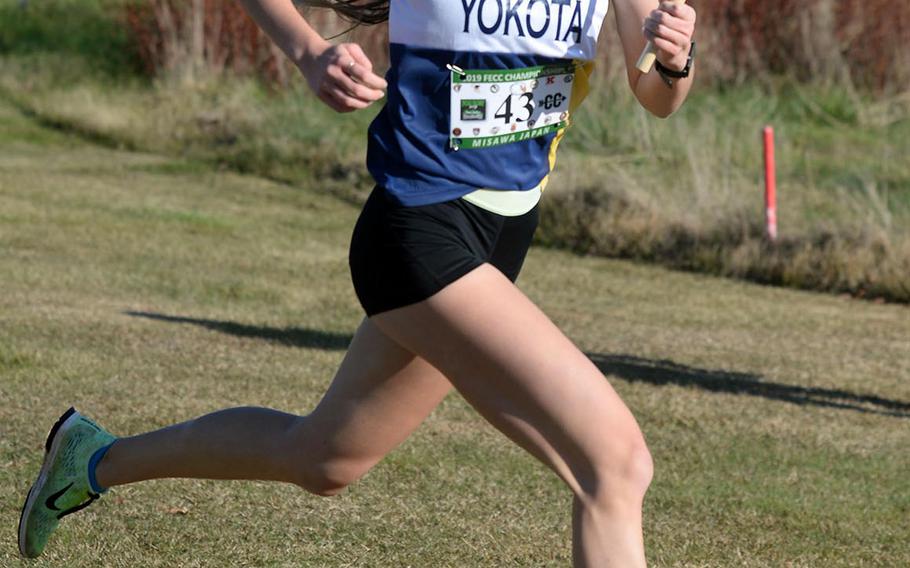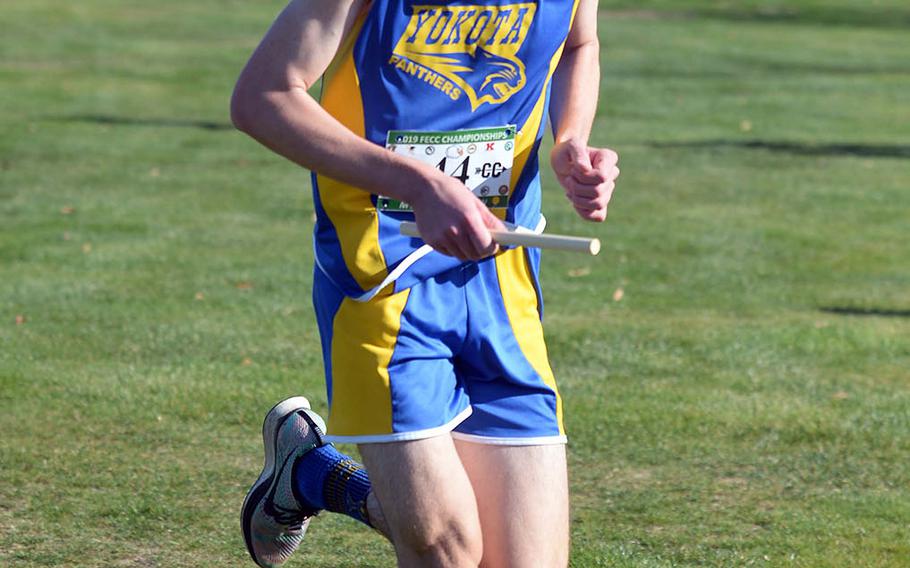 MISAWA AIR BASE, Japan – Throughout their high school years, Aiko Galvin said she'd heard constant comparisons of her older brothers Daniel and Mickey, each of them Yokota cross country and track stars.
Daniel won the Far East cross country title in 2015; would Mickey ever measure up to that?
"I know how much Mickey feels about being compared to Danny," Aiko Galvin said after the two paired up Tuesday to win the team-relay portion of the Far East meet at Misawa's Gosser Memorial Golf Course. "This was for Mickey."
Mickey, a senior, and Aiko, a sophomore who on Monday won the individual 3.12-mile race, led throughout the relay, which involved pairs of runners, one girl and one boy, taking turns running two 2.5-kilometer legs each for a total of 10 kilometers, or 6.24 miles.
"Very proud," said Dan Galvin, the siblings' father and longtime Panthers coach.
Aiko took the lead almost immediately on Tuesday and the two kept the lead through each baton exchange to the finish under pastel-blue skies with temperatures in the mid-40s.
The Galvins clocked the 6.24 miles in 36 minutes, 18.1 seconds. The closest finishers in trail were Matthew Inamine and Nana Richter of St. Mary's and Seisen, who won the D-I title in 37:20.7.
Mickey and Aiko embraced at the finish and tears brimmed in Aiko's eyes. "He's always cheering for me," she said of her older brother. "I just didn't want to let Mickey down."
"Tired. Good. Happy," Mickey Galvin said of the victory. "I'm happy that we won and that it came in my final race."
The two runners didn't have any special plan entering the event, other than "my dad wanted us to pair up and it would be fun to watch."
The elder Galvin called the victory "bittersweet" for the team and for himself, for Mickey graduates in June.
"Eight years ago, when Danny entered the ninth grade, I knew I would have one of mine running for me for the next 10 years. I have two more to go with Aiko now," Dan Galvin said.
From New Rochelle, N.Y., where he runs for Division I Iona, Daniel Galvin watched portions of the race via his father's mobile phone. He says the best is yet to come for Mickey.
"It's an exciting way for him to finish, but I'm excited to see how he does in track" during spring, Daniel Galvin said. "I don't think it's done for Mickey yet."
Yokota won the D-II school banner but had their four-year streak of winning D-II boys team titles snapped by Okinawa Christian. Yokota edged Zama 4-7 for the overall banner.
"The boys felt a little emotional" about that, but winning the overall school title "more than made up for it."
While St. Mary's and Seisen took the top two spots in the D-I team relay, Nile C. Kinnick put four pairs in the top 10, enough to give the Red Devils the overall school banner for the third time in four years. Kinnick edged out the Titans and Phoenix 4-6 for the banner.
"It's the culmination of a lot of hard work," said Kinnick coach Luke Voth. "Meeting goals is always rewarding."
The Red Devils were thought to be rebuilding, until Monday's Far East individual champion Hanokheliyahu Gailson transferred in last spring, freshman Manzi Siibo joined the varsity and the girls "surpassed expectations they had for themselves," Voth said.
"It helped to have a group of guys who knew how to win," Voth said. "At the start of the year, we didn't know how the girls would do, but every one of them stepped up."
ornauer.dave@stripes.com Twitter: @daveornauer