Girls cross country AOY
Galvin found a way past the pain to first-place glory
by
Dave Ornauer
November 25, 2019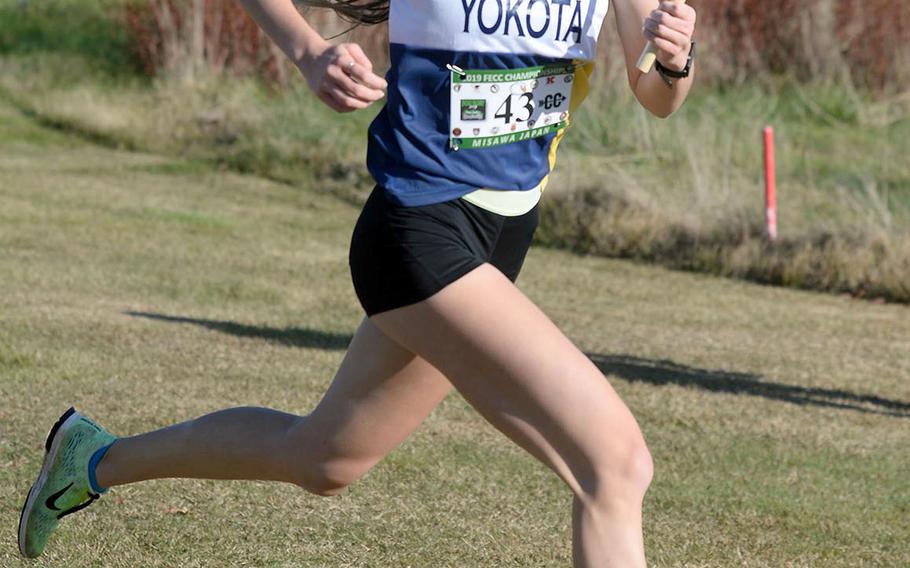 Halfway through the race, Aiko Galvin said she did something she had never done before during a run – talk to herself out loud for encouragement.
It was the start of the second of two laps in the Far East 5-kilometer individual race on Nov. 4 at Misawa Air Base, Japan. And in the most important race of the season, part of her wanted to quit.
"I said out loud that nobody cares that I'm dying; just go run," the Yokota sophomore said. "The first lap, I felt really strong, but the second lap, I had no one with me. It was up to me to stay motivated. I kept hearing excuses in my head and I had to throw them out."
To Galvin, who went on to win the Division II and overall titles in that race – her first victory of the year – running cross country is "98 percent mental. The best runners know how to get over any sort of hindrance. They say, 'OK, I'm going now.' That's what I did."
It was the first of two victories for Galvin in a span of two days – the second being the team relay the next day – and helped salvage what she said had been "a rough season."
Galvin clocked the Misawa course in 20 minutes, 20.9 seconds - almost 33 seconds ahead of the second-place finisher, Division I champion Nana Richter of Seisen.
In the team relay, Galvin and her brother, senior Mickey, were timed in 36 minutes, 18.1 seconds, more than a minute ahead of the second-place team.
For her feats, Galvin has been named Stars and Stripes Pacific girls cross country Athlete of the Year.
It was anxiety, Galvin said, that held her back from trying her best in previous races dating back to her freshman season. She even scratched from the season-opening race at Marine Corps Air Station Iwakuni in September.
"I realized I needed to fix something" at that point, Galvin said. She didn't finish any better than sixth in any races through the DODEA-Japan finals at Yokota. "You know where you stand with those people."
What changed everything was entering the API on Sept. 21 at Disney Sea Resort. She didn't run for Yokota, instead entered unattached, and said she felt relaxed because she wasn't facing the same runners she was used to.
"After API, something clicked," Galvin said. "It was game time now. I started trying to push myself a little more. I relaxed. If I was feeling pain, I was like, get over myself. Motivate myself to push harder." She placed fourth in the API, her best finish to that point.
Her father and coach Dan Galvin called the API a "big confidence boost. Once she got going, she realized she could run with anybody in the race," the elder Galvin said. "And she did really well."
She took that mentality with her to Far East, where she led pretty much from start to finish and led the last lap by a wide margin.
"It took me a minute to process and I walked out of a little space and said, 'Omigod, this happened! I just won!' Everybody was so excited for me," she said.
She now has motivation for the spring and plans to challenge 5 minutes, 15 seconds in the 1,600 and 2:15 in the 800, which would both be Pacific records.
Regardless, Galvin is still relishing her cross country feats. "I'm really glad I ended the way I did."
Ornauer.dave@stripes.com Twitter: @daveornauer