Gadsden, Youngdahl lead DODDS Far East tennis finalist parade
by
Dave Ornauer
November 8, 2012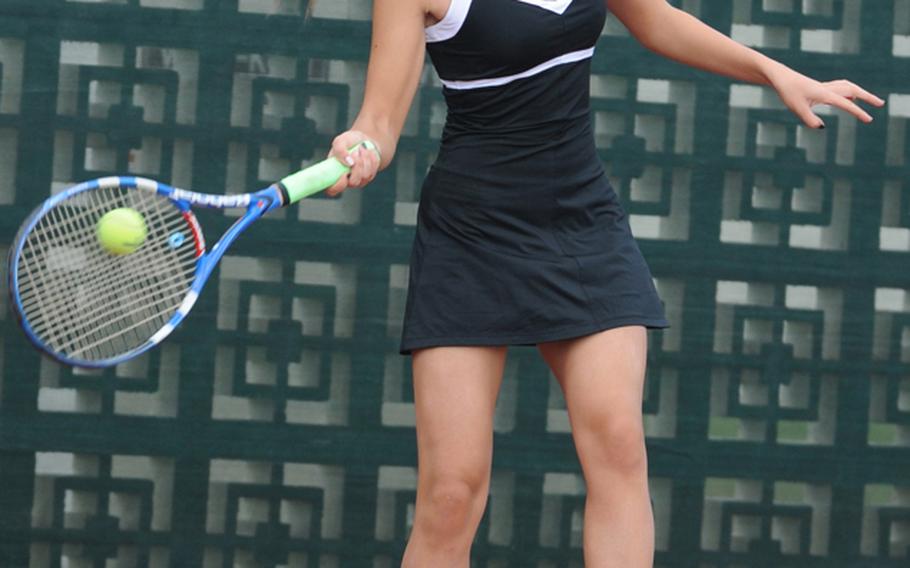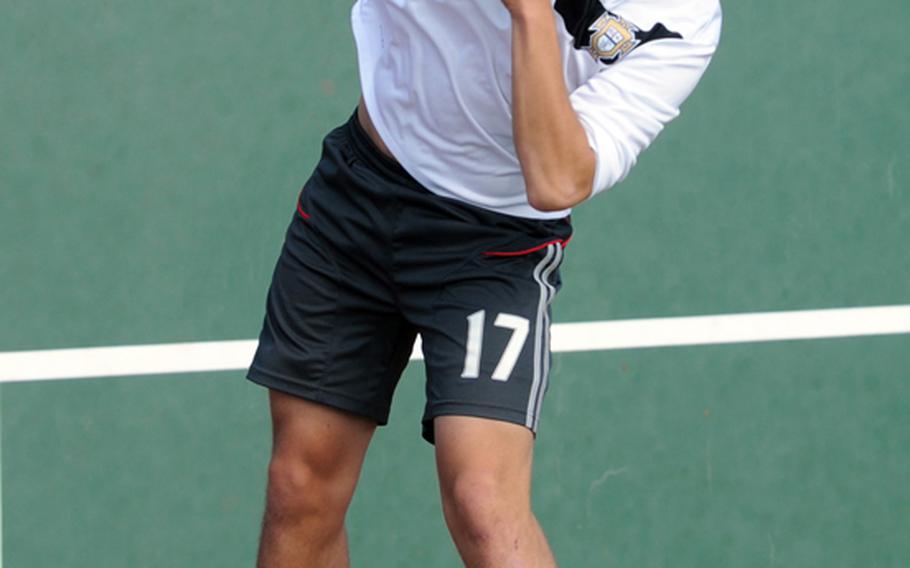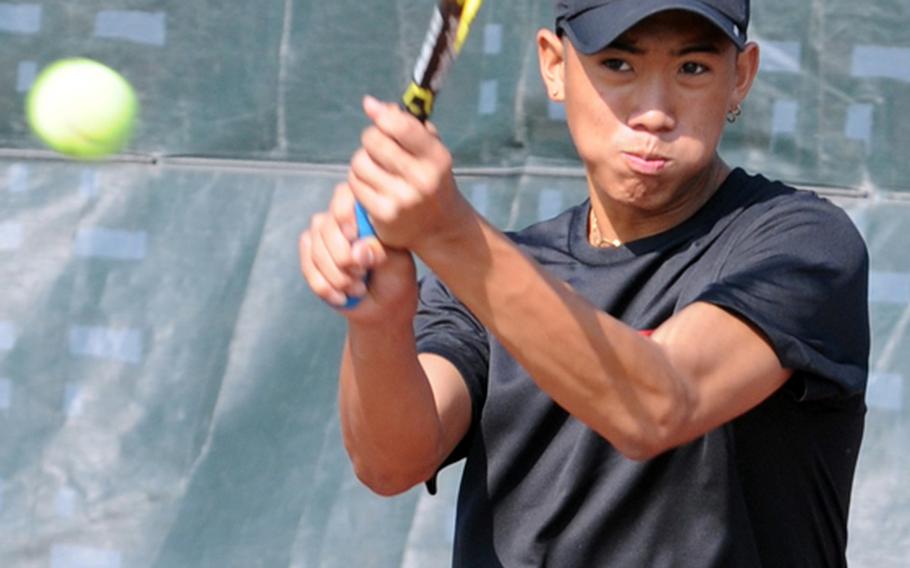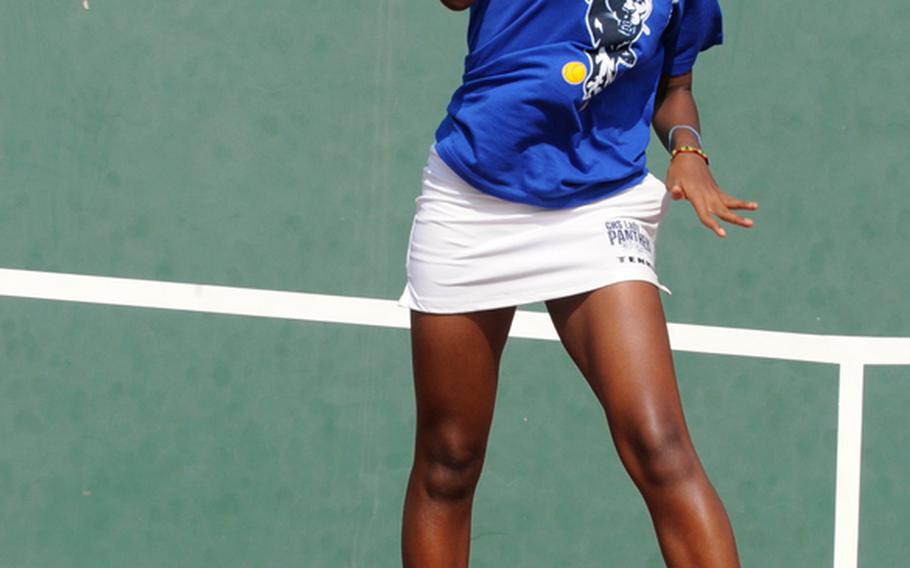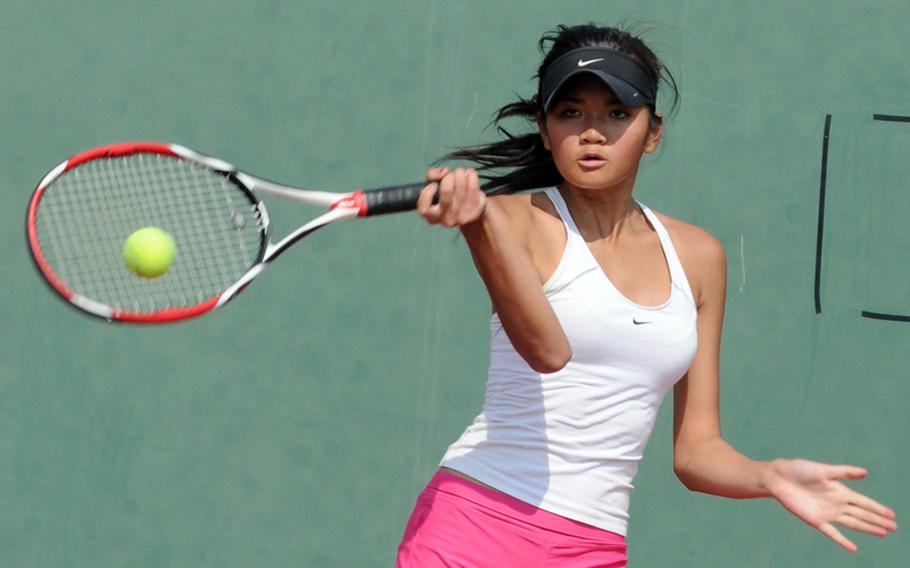 KADENA AIR BASE, Okinawa – Chloe Gadsden could be forgiven if she played Wednesday's Far East High School Tennis Tournament semifinal with one eye on the court next to her – and her eventual finals opponent, Erika Youngdahl of Kadena.
Gadsden, Guam High's junior and defending girls singles champion, lost games for the first time in the tournament, but handily beat Zama American's Natalie Burke 6-1, 6-1 to reach Thursday's final for the second straight year.
"It doesn't get any easier, and definitely gets tougher" to become a two-time finalist, Gadsden said. "You don't know who is going to improve, and everybody improves."
She would make it three straight years that a Gadsden (Amber won in 2009) has won the singles title if she gets past Youngdahl, who reached her first final by downing her old Yokota classmate and friend Emily Beemsterboer 6-4, 6-1.
"She looks more consistent and looks like she has more pace on her balls, hits the ball harder" than last year, Gadsden said of Youndahl.Youngdahl, twice Okinawa's district champion and a Kanto Plain tournament champion as a freshman, found Far East semifinals to be a house of horrors the past three years, but the past's pain became Wednesday's joy.
"Finally, first time," Youndahl said. "I was surprised. Emily is really tough. I'm very happy."
Youngdahl transferred to Kadena as a sophomore two years ago, but remains close to Beemsterboer and most of the Yokota team.
"This is her year, and it's good," said Youndahl's former coach at Yokota, Tommy Palmer. Youngdahl and Beemsterboer "love each other off the court, but on the court it's all business. Emily played her tough, but Erika stayed with it, didn't lose her composure."
Thursday's boys final was an all-international school affair. Two-time defending champion Kent Shikama of St. Mary's International ousted Seoul American's Andrew Clark 6-4, 6-0, and American School In Japan's Kentaro Ishihara got past Sam Cadavos of Matthew C. Perry 7-5, 6-1.
"In the first set, he had me running for every ball, and in the second set, his forehand was much more accurate," Cadavos said. "He just played better than me."
Clark, in his first year of playing singles, said he'd been overcome by heat exhaustion after the third game of the second set. "All the energy went out of me," Clark said.
Shikama faced a strong challenge in the final; he has never beaten Ishihara. "Gotta pull off an epic miracle," Shikama said.Division II volleyball tournament a 'wide-open' affair
CAMP WALKER, South Korea – Perhaps the most eye-opening result in Wednesday's Far East Girls Division II Volleyball Tournament double-elimination playoffs was E.J. King's five-set thriller over Yongsan International-Seoul.
The sixth-seeded Cobras got 17 spike kills and six aces from returning All-Far East hitter Katie Rock against the No. 3-seeded Guardians.Between that and pre-tournament favorite and host Daegu High's struggle to beat No. 5 Osan American in four sets, coach Joanna Wyche of the No. 4-seeded Warriors pronounced the tournament a "wide-open" affair.
"It doesn't matter what your record is; it's achievable," she said. "It will go down to which team will choose to engage and play."
No surprises dotted the first day of the Division I volleyball tournament single-elimination playoffs on Guam, as all eight top seeds won their respective first-round matches.