Far East tourneys - Day 4
Gadsden, Sikama each take two titles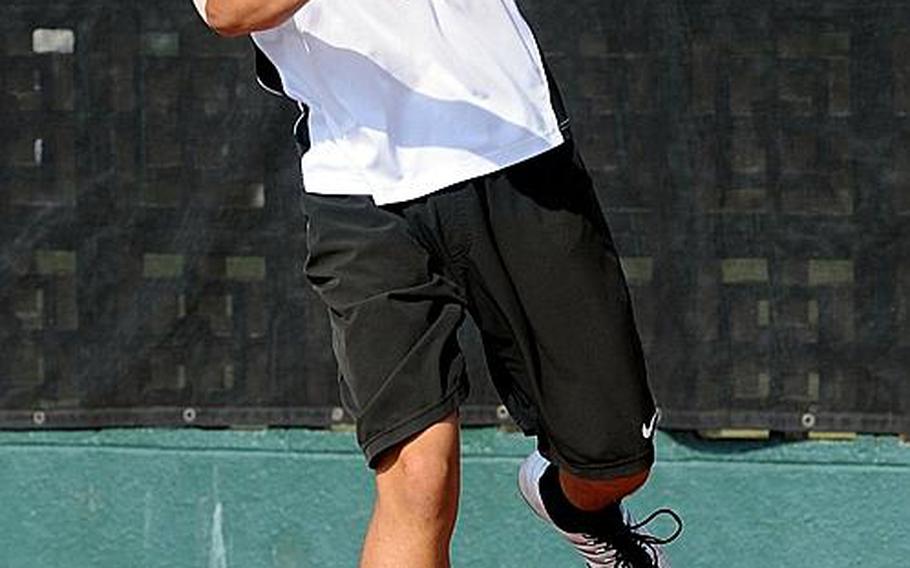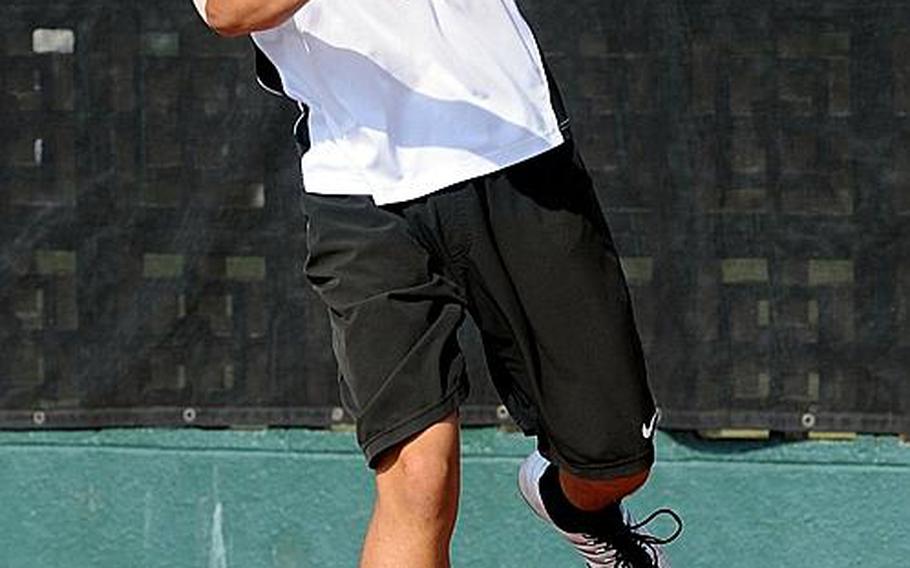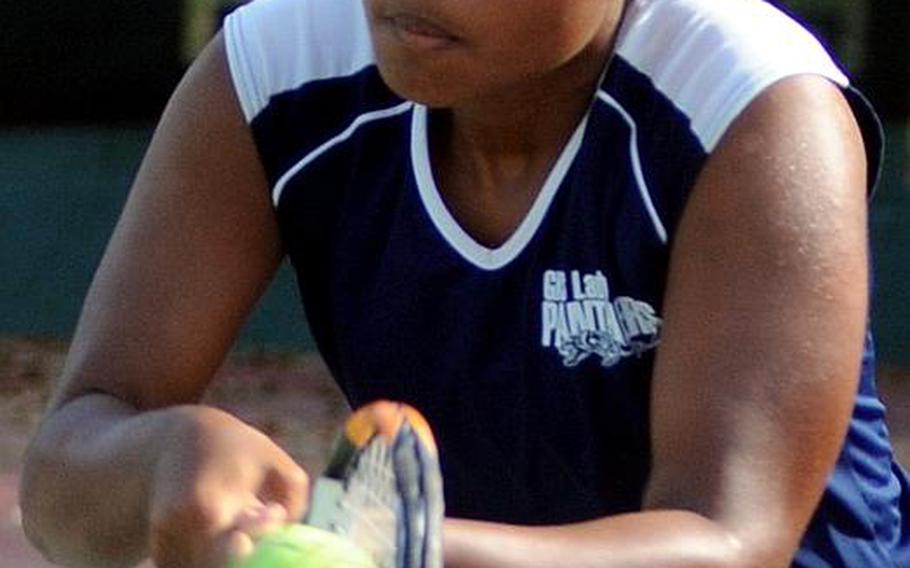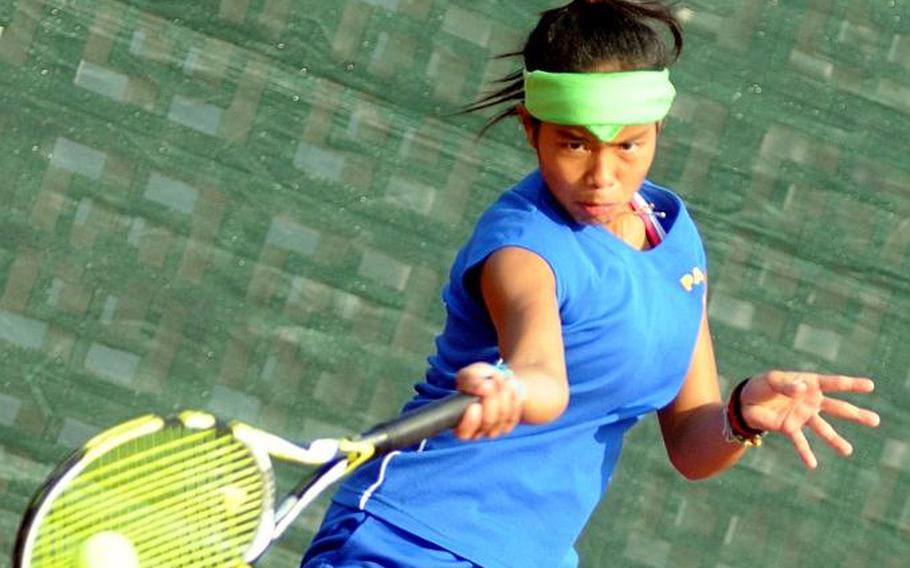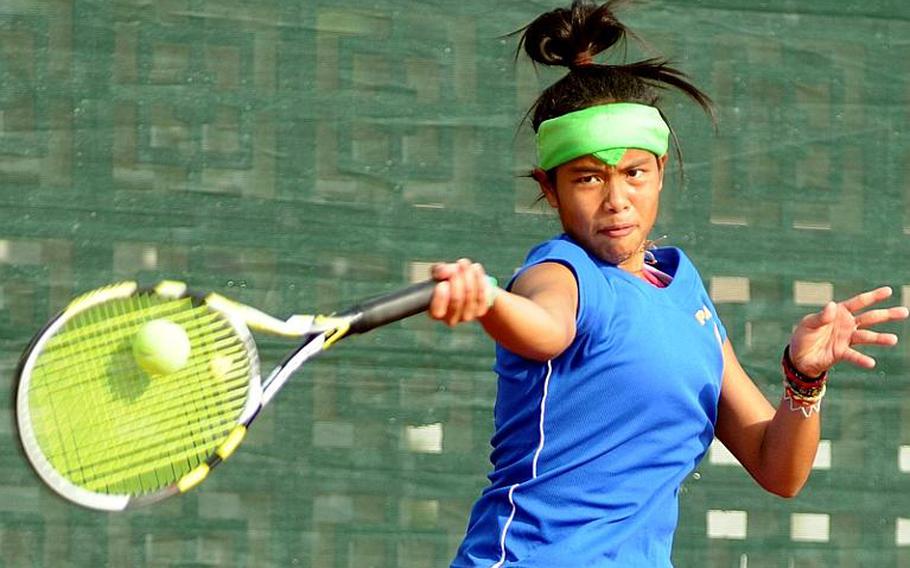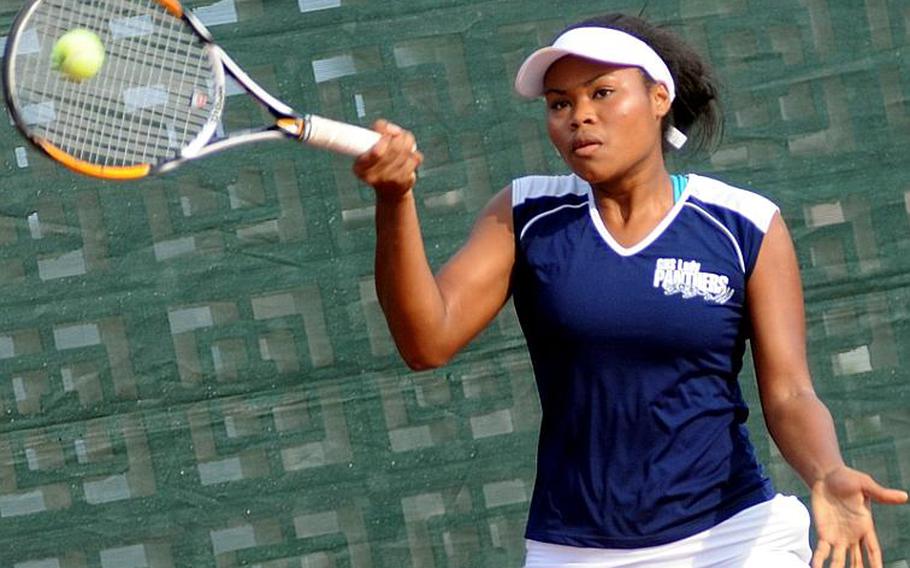 KADENA AIR BASE, Okinawa – After frustration and heartbreak in two previous tries, the third time was the charm for Amber Gadsden.
The Guam High senior came from behind 5-3 and survived a first-set tiebreaker to rally past Yokota junior Erika Ettl 7-6 (7-4), 6-2 to win the girls singles title on her third try in the Far East High School Tennis Tournament on Thursday at the Risner Tennis Complex.
"I feel extremely happy," Gadsden said. "I feel like I finally accomplished everything I've set out to do, ever since I learned about Far East and ever since I've been in high school."
Gadsden finished in sixth place as a sophomore two years ago and earned the bronze medal last year. Ever since those heartbreaks, "I vowed to myself that I would win it by my senior year," she said. "It's such an honor to play in this tournament and finish out the way I wanted to."
But it was far from easy. Both players appeared nervous, with neither able to hold serve until Ettl did so in the eighth game. But Gadsden broke twice to knot it at 6-6 and send the set to a tiebreaker. Ettl netted her return on set point to give Gadsden the game and momentum.
"I could see … she definitely wasn't playing her best" in the second set, Gadsden said.
"Anytime somebody comes from match game to win it, it's a crushing blow," Yokota coach Tommy Palmer said. The tiebreaker result "had a lot to do with" turning the tide of the match.
So, too, did double faults by Ettl, which she did five times in the second set, including on match point. "I have to work on my second serve. That's what killed me the most," Ettl said.
Gadsden also teamed with her freshman sister Chloe to win the girls doubles title, 4-6, 6-0, 6-1 over Kadena sophomore Erika Youngdahl and senior Christin Gentz.
Guam High, the defending island champion, also won the Far East girls team title – the first DODDS Pacific Far East team championship for a Guam High girls team in school history. Ettl and Yokota took second.
Coming from behind was also a trait common to the boys singles champion, freshman Kent Sikama of boys team champion St. Mary's International; he pulled back from near-certain defeat just in time to rally past Kadena junior Arlo Taylor 6-3, 5-7, 7-6 (7-5).
In a battle of Taylor's power vs. Sikama's balanced game, Sikama had his way early before Taylor turned the tables, leading 4-0 in both the second and third sets and seemed to have the match within his grasp.
But Taylor appeared to play tentatively from that point, ceasing to attack the net and seemingly content to stay on the baseline. Sikama clawed his way back and forced a title-deciding tiebreaker.
Taylor fell behind 6-3 after leading 2-1, then fought off two match points before striking a net approach long after a dramatic save at the baseline by Sikama.
"I thought because I was winning, subconsciously I was wanting to finish the game really fast and I went too fast," Taylor said. "I need to take time after each point, take time to relax. I was hurrying things. He (Sikama) was good, really good."
For his part, Sikama said he was suffering foot pain and also from lack of sleep. "But it's definitely all worth it," he said.
Sikama later teamed with senior Stefan Byland to pound Seoul American's Russell Midomaru and Jay Han 6-3, 6-4 to capture the boys doubles. The Titans boys outscored the Falcons 26-20 for the team title.
Seoul American came away with the mixed doubles crown, as junior Jay Han and sophomore Carson Allen – younger sister of 2007 singles champion Kenney Allen – topped Matthew C. Perry's Sam Cadavos and Rebekah Harwell 6-2, 2-6, 6-4.
The overall team title went to St. Mary's and Seisen International, Tokyo sister schools competing in Far East for the first time since 2003. From 2004 until this year, international schools had been banned from playing in Far East tennis tournaments.
VolleyballSeniors Kristina Bergman, Angie Robinet and Gulee Kwon and defending champion Daegu American are back in the Far East Girls Division II Volleyball Tournament final.
They punched their ticket by beating three-time runner-up Morrison Christian Academy of Taiwan 25-15, 25-21, 25-20 on Thursday. In the double-elimination tournament, Daegu now needs only to win its 11 a.m. match Friday against a team to be determined to repeat the title.
Warriors coach Joanna Wyche was almost counting on Morrison to be that team. "I know they'll come with even more firepower for us," she said. "Our goal is to win it, but we need to do it in three sets so we don't have to go to an 'if' game."
---
---
---
---