Girls Tennis Athlete of the Year
Gadsden left mark on Far East tourney
by
Dave Ornauer
November 14, 2013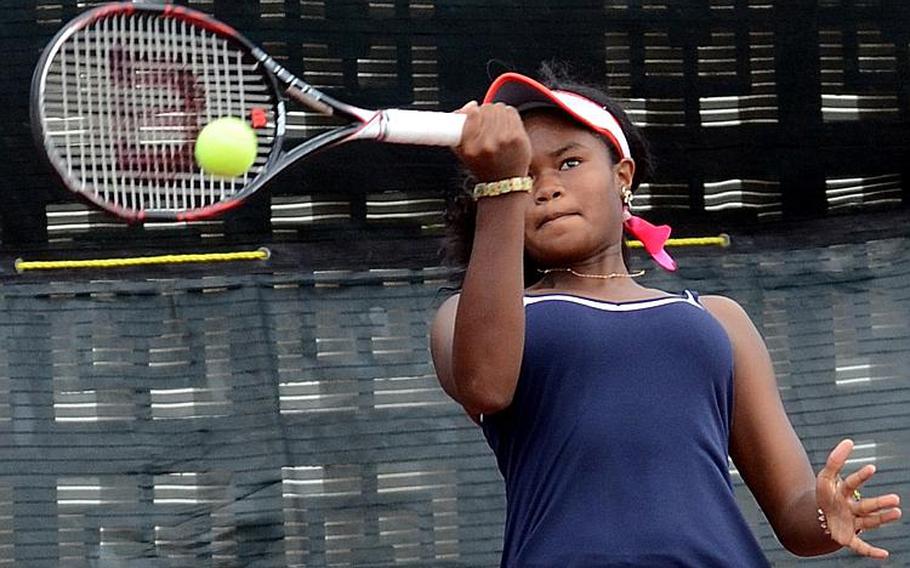 KADENA AIR BASE, Okinawa – Gadsden and Guam High are names that have become synonymous with championships in Far East High School Tennis Tournaments the last four years.
First, Amber Gadsden captured the singles title in 2010. Her younger sister Chloe has followed in those footsteps but in much grander fashion, wearing that same crown plus and Stars and Stripes girls tennis Athlete of the Year honors the last three years.
It might seem surprising that Gadsden has won those Far East titles when the high school tennis season on Guam runs from February to March.
But the Gadsden family makes tennis anything but seasonal, playing year-round in local on-island tournaments under the watchful eye of patriarch Michael Gadsden, who serves as their personal coach and an assistant to Panthers head coach Juana Aguon.
"She's a legend at Far East," Aguon said after Gadsden, three times All-Island on Guam, went unbeaten in four matches at the Far East tournament earlier this month, capping that run with a 6-2, 6-0 championship match victory over American School In Japan's Lili Kobayashi.
"I'm proud that she is under the mentorship of her father. I'm happy to be part of her making history at Far East," Aguon said.
Dedication to the sport, setting new goals after reaching present ones and absorbing knowledge from her coaches are among the keys to Gadsden's success, Aguon said.
"She knows how to listen to coaching and she knows how to self-coach," she said. "She's dedicated to winning championships every year after the last one is finished."
Committing to improving one's game, listening to coaching, working on mental toughness and being courageous on the court ultimately got Gadsden to where she is today and the achievements she's made, Aguon said.
"She possesses all those qualities," she said. "She has mastered at her level all the beautiful skills to win three championships in a row."
Gadsden will attempt to win her second island player of the year and fourth time on the All-Island team when the Panthers resume play during the 2014 regular season.
Stars and Stripes Pacific All-Far East girls tennis team
Chloe Gadsden, Guam High (Far East tournament singles champion); Kristin Howard, Alex Howard, Kadena (Far East tournament doubles champions); Jae-hyun Kim, Seoul Foreign (Asia-Pacific Activities Conference tournament, Korean-American Interscholastic Activities Conference regular-season and tournament champion); Catherine Funakoshi, Okinawa Christian International (Okinawa Activities Council singles champion).