Future is bright for these two young Lakenheath runners
by
Charlie Coon
November 6, 2003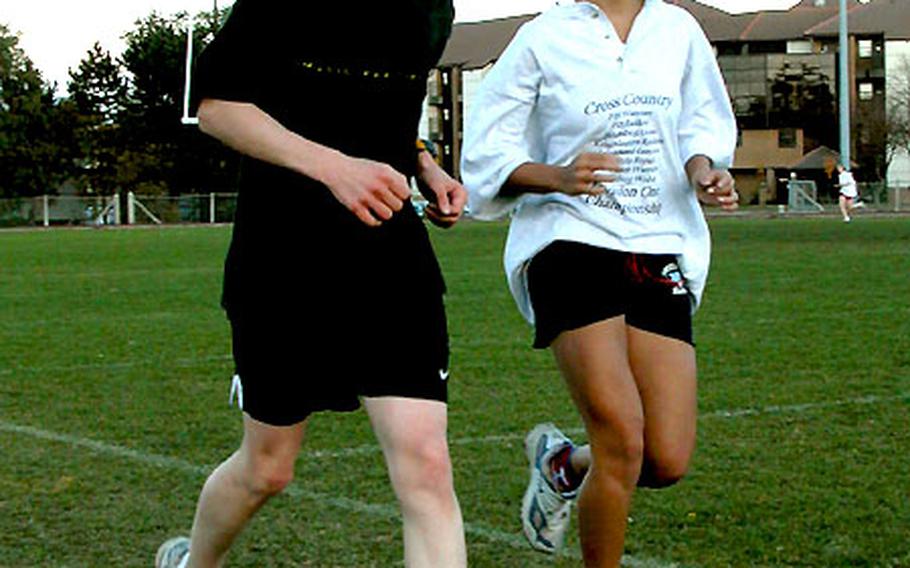 RAF LAKENHEATH, England — This year's top cross-country runners at Lakenheath High School weren't the oldest or most experienced.
Freshman Greg Billington and sophomore Frankie Houck just dug a little deeper.
"You have to keep pushing yourself," Houck said. "You have to keep running outside your comfort zone to get better."
Cross-country, both Billington and Houck say, is self-driven.
Running is a solitary, grueling sport. It's just you against your body. There's no one else to score the basket, no one else to drive in the winning run.
"You have to run for 5 kilometers and work as hard as you can," Billington said.
He said it helps to have fans.
"There's usually people lined up on the course cheering you on," he said, "so you can't just stop in front of them and walk."
Coach John Gilmore said Billington and Houck aren't elite athletes: They're nice kids having fun.
If they dedicate themselves, he said, they'll improve. Time is on their side.
"Greg has the potential to be a good athlete and when he realizes that and matures into that I think he will," Gilmore said. "Do I think he could be number one in [DODDS] Europe? I think he can, but he's got to dedicate himself to what he wants.
"I can see Frankie being a leader a couple years down the road. Right now both of them lead by example. They work hard during training."
Neither are veterans of the sport. This is Billington's first year of cross-country and Houck's second.
Billington won his first race back in September. Not bad for a freshman.
"I was amazed I'd actually done that well," he said. "I just kept waiting for someone to come flying past me."
But sports aren't everything to this duo.
Billington is active in Boy Scouts, plays jazz piano and has earned a black belt in the martial art of Kuk Sool Won.
Houck plays flute, is enrolled in advance placement classes at school and is dedicated to animal welfare.
While they're both new at cross-country, neither are new at pushing themselves.
Both are members of the West Suffolk Swim Club and compete nationally in England. Billington excels at the backstroke, and both are accomplished freestylers. Their years of swimming helped give them the wind to run cross country.
"Most swimmers who train regularly have a good aerobic capacity," said Robin Houck, Frankie's mother. "I would say [Frankie] also has the spunk and attitude [needed to succeed]."
Robin Houck is involved in Frankie's activities. It takes up her time, Houck said, but not any more time than it takes to keep kids out of trouble.
"Put the kids in a sport they like," she said. "If it's a sports that requires any kind of commitment, they have to like it."