Fumble recovery for score helps Bamberg top Aviano
by
Dan Blottenberger
September 18, 2010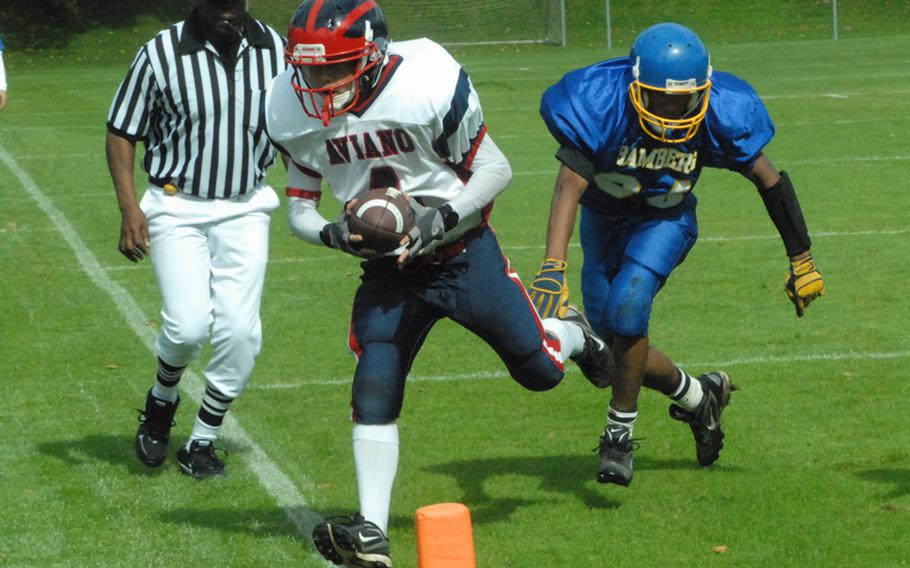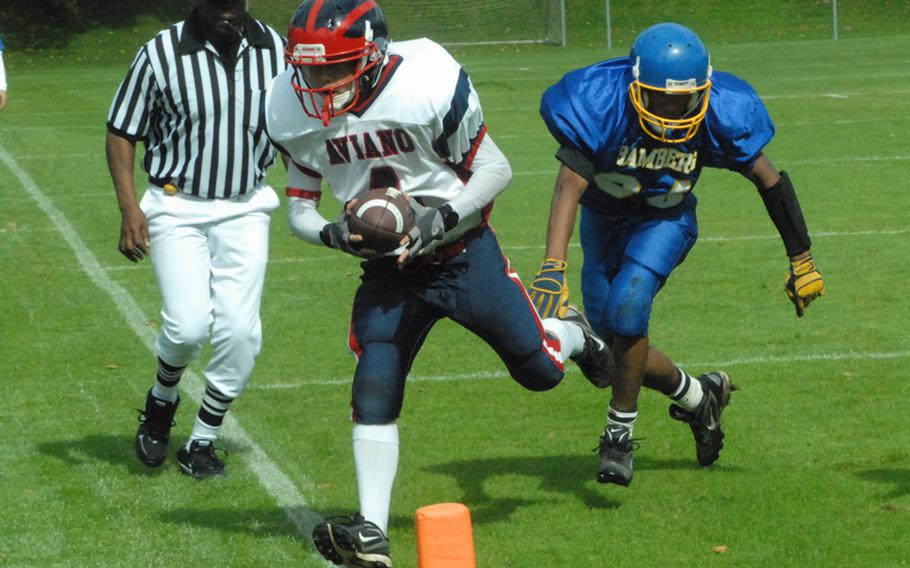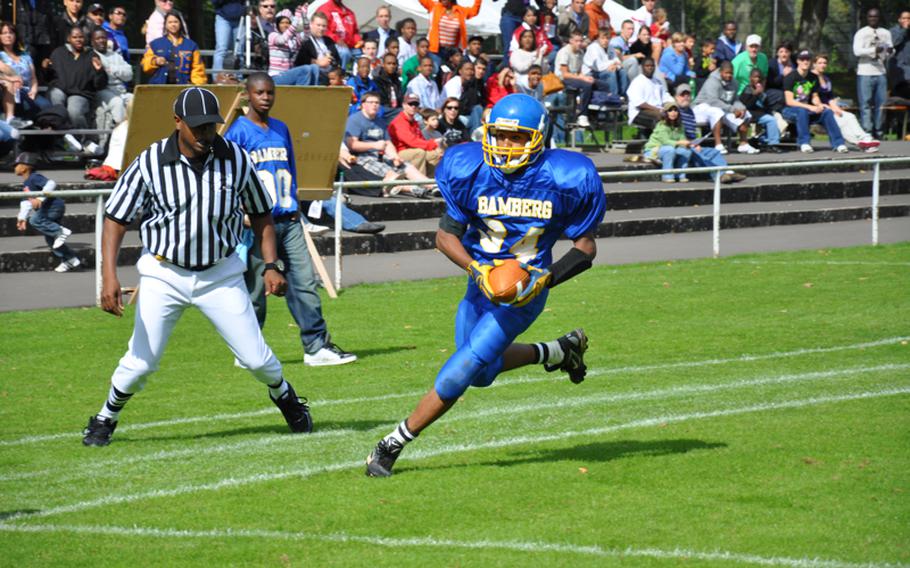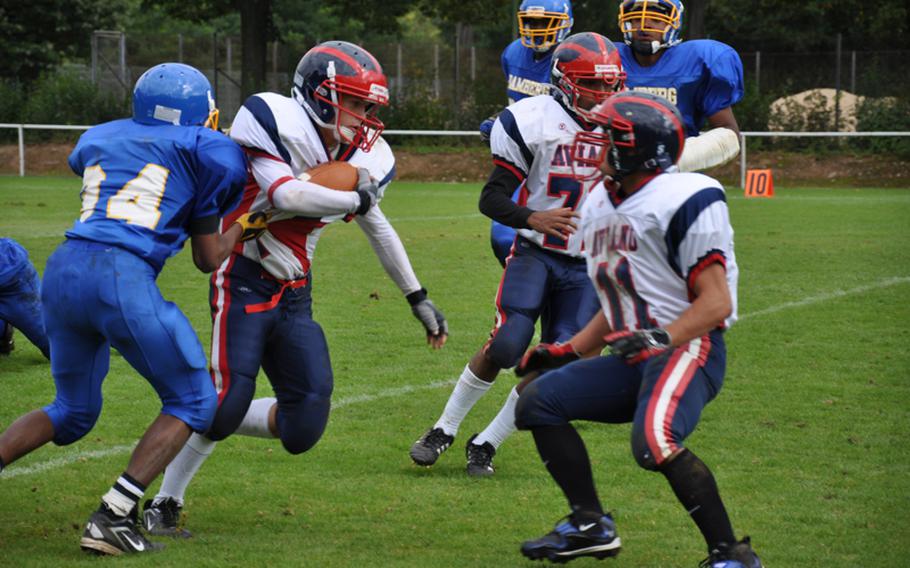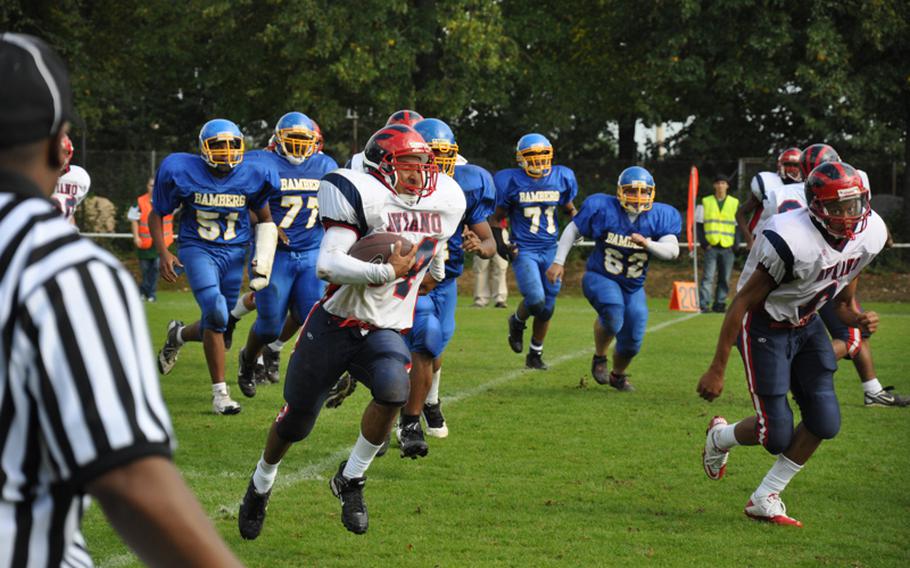 SCHWEINFURT, Germany — Newly arrived senior Dante Gibson scored the winning touchdown for Bamberg by scooping up a fumble and returning it 52 yards in the Barons' 26-20 victory over visiting Aviano on Saturday.
Gibson, who transferred from a stateside school four days before the season opener, made his big play in the middle of the fourth quarter.
"I saw the ball get fumbled and I just picked it up," he said. "I saw two people running towards me so I knew I had to cut inside and I did and just ran for a touchdown. It only felt like 20 yards."
The fumble was one of seven during the game that began with Bamberg coughing up the ball on its opening possession. Despite the turnovers and several penalties during the game, both teams were able to move the ball effectively.
The young Aviano team surprised Bamberg by jumping out to a 12-0 first-quarter lead behind juniors Corey Webb, Myron McRae and Darien Cornett, who rotated between quarterback and running back. Webb scored the first TD on a pass from McRae and Cornett got the second on a 1-yard run after a big gain by Webb.
"Aviano was a lot bigger, faster and stronger than I expected," Bamberg coach Jim Davis said. "They came to play, but we both made first-game mistakes; a lot of fumbles a lot of turnovers."
Davis credited defensive changes for his team's ability to bounce back after falling behind early. Touchdown runs by junior Tyler Lewis and senior running back Javonte Knuckles put the Barons up 14-12 at halftime.
"We made some adjustments at halftime," he said. "We were not balanced at the linebacker position … we were able to balance it and have our guys in the correct positions to make plays."
They were unable to stop Aviano completely. Cornett hit tight end Ryan Greggs with a long TD pass, and then found Webb with another toss for a two-point conversion that stood up until Knuckles got his second score on a run up the middle. A missed extra point left the teams tied and set the stage for Gibson's heroics.
Knuckles started this season where he left off last year, running for 186 yards and the two TDs, while Tyler Lewis broke some crucial runs to keep drives alive while gaining 45 yards.
"We look good this year – size wise," Knuckles said. But he said his team did not make the statement they had hoped to make in its season-opener. "Aviano is a good team."
The Saints, who have only three seniors on their roster, not only impressed the opposition, but also believe they will improve with experience throughout the season.
"We are very young and inexperienced," coach Rick Dahlstrom said after the game. "I think we are going to get better each week. The kids are a great group of kids, they are enthusiastic and they want to learn right now they are just suffering from inexperience."
blottenbergerd@estripes.osd.mil
---
---
---
---