Friday night games will help define D-I playoff picture
by
Gregory Broome
October 12, 2017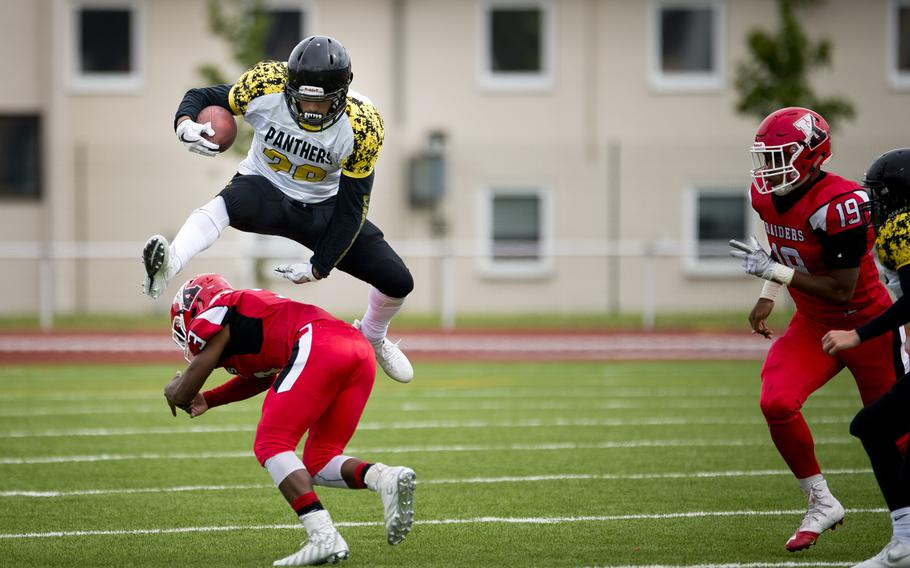 While it's a fall fixture in the United States, Friday night football isn't as common in Europe. Lengthy travel times and a shortage of the lights that make those Friday nights possible shift most DODEA-Europe gridiron action to Saturday afternoons.
This weekend, however, is an exception.
Two of this weekend's eight games are slated for Friday night. And these aren't just any routine games - they're Division I rivalry games with major postseason implications. The Ramstein Royals visit the archrival Kaiserslautern Raiders, while the Stuttgart Panthers visit the Wiesbaden Warriors in a battle of undefeated squads.
Defending champion Ramstein finds itself in the thick of the Division I pack after a 22-9 loss to Stuttgart on Sept. 15. A win Friday would clinch a semifinal berth and a winning record for Ramstein heading into its regular-season finale against Wiesbaden, but a loss to Kaiserslautern would drop the Royals to .500 entering the final week.
Kaiserslautern, despite a two-game losing streak, enters the weekend with a tenuous grip on the fourth and final semifinal spot in the six-team division. But a loss Friday would send the Raiders into a tie for fourth place with the winner of Saturday's game between winless squads Lakenheath and Vilseck.
The stakes in the game between Stuttgart and Wiesbaden aren't quite so high. The Panthers and Warriors are both undefeated and have secured their spots in the semifinal round. A finish in first or second place offers the identical reward of a home semifinal game, and the Nov. 4 championship game will be played at Kaiserslautern regardless of the participants and their records.
That doesn't mean the game is inconsequential. A first-place finish arranges a semifinal against the fourth seed, while the team that falls to second place will draw the more formidable third seed. With no room for error in the two-week DODEA-Europe postseason, that could make the difference between an early exit and a spot in the season's main event.
While Friday night's action occupies the spotlight as DODEA-Europe returns to action from a one-week hiatus, Saturday's six-game slate also features some key matchups.
Defending Division II champion Rota faces undefeated South region frontrunner Aviano in what might be a postseason preview, while International School of Brussels squad stands in the path of what has so far been an unstoppable force out of Spangdahlem.
Twitter: @broomestripes