Freshmen of 'Kiddie Korps' boosting Kadena tennis
by
Dave Ornauer
October 5, 2006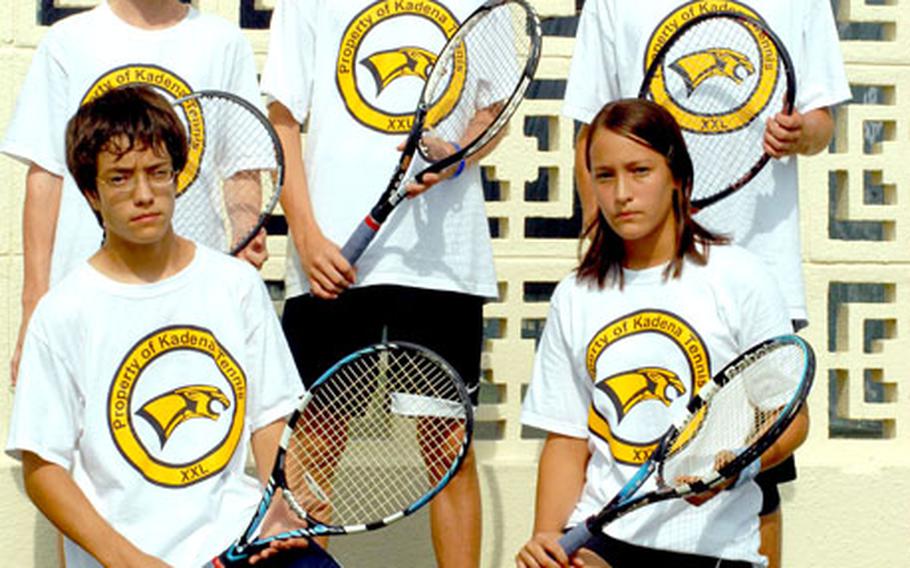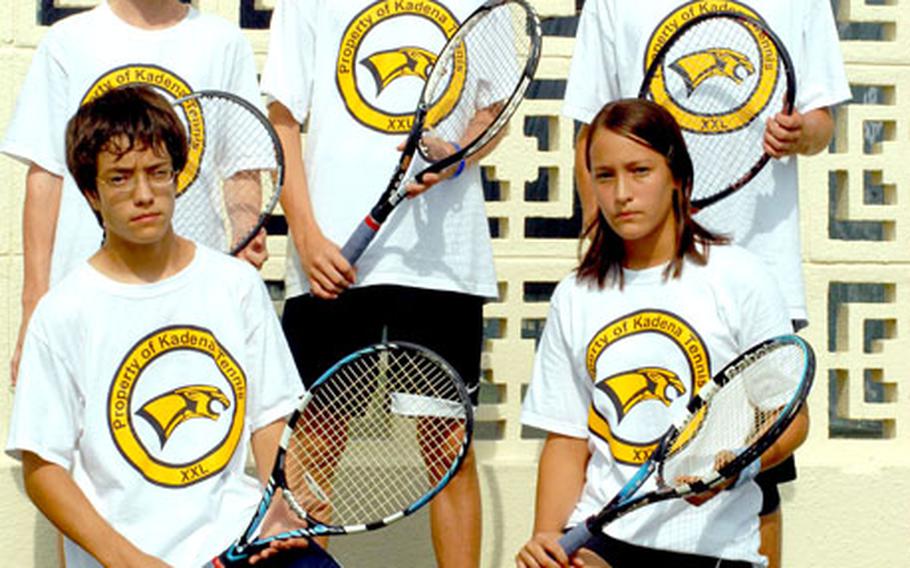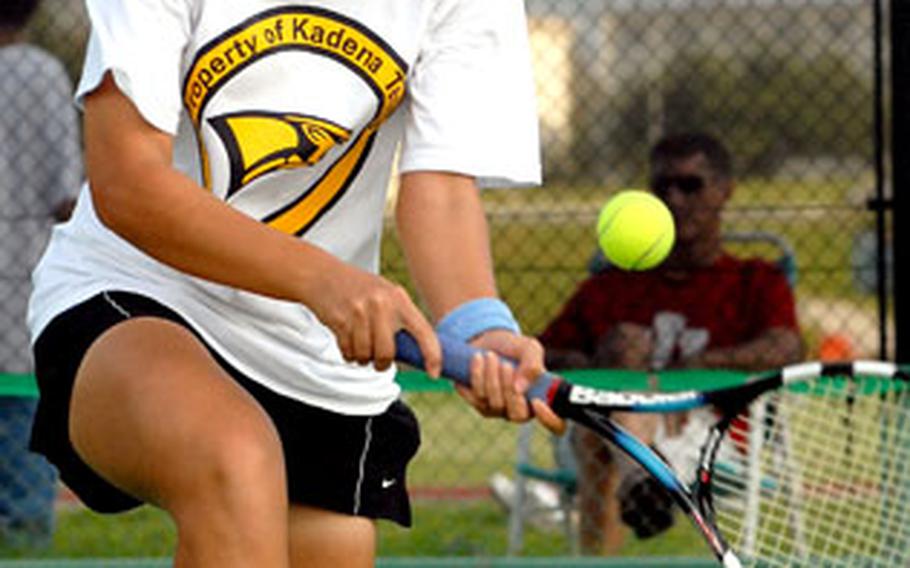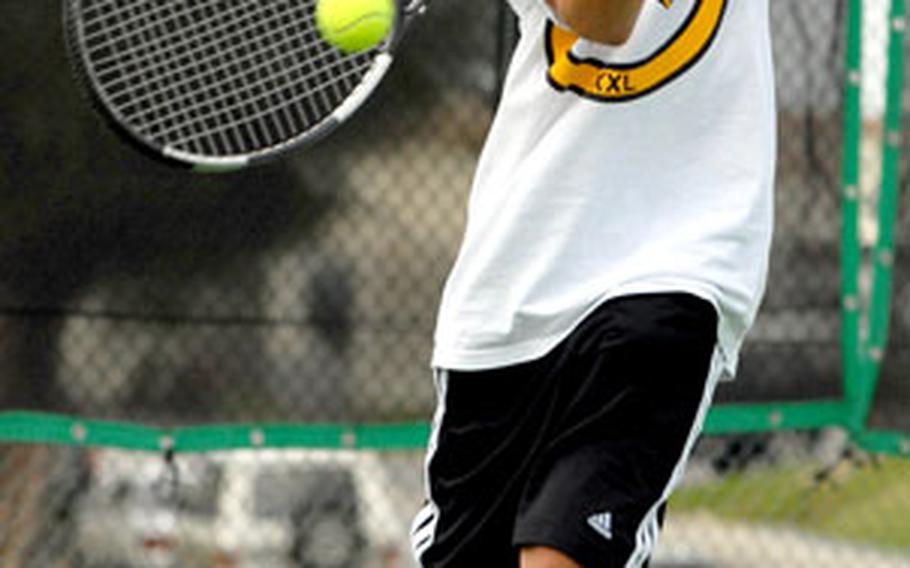 KADENA AIR BASE, Okinawa — When a team's stars depart and the coaching reins change hands, most squads can expect to face a lengthy rebuilding process.
So, why is new Kadena tennis coach Robert Bliss all smiles? After all, the talent that led the Panthers to a 2004 Far East tournament team title and came within a whisker of repeating last year is all gone.
It might have something to do with five freshman players, new to the program but certainly not new to the sport.
Twins Elliot and Ellisa Mason have been practicing and playing for five years. Alex Davis has handled a racket for four years; Kyle Sprow, two-and-a-half. Boys top singles seed Kyle Trenor, one-and-a-half years.
Together, they've led the Panthers to sweeping 18 of 20 singles matches and all eight doubles matches, giving Kadena a 2-0 early season edge over Okinawa Activities Council arch-rival Kubasaki.
"It's a unique situation … unusual to have that many freshmen with this level of experience and so dedicated to the game," Bliss said of the Kadena "Kiddie Korps."
New Kubasaki co-coach Rick Kendall, who began coaching at E.J. King at Sasebo Naval Base in 1996, said he couldn't recall a squad that welcomed so many freshmen in one year.
They can be found practicing on weekends and taking lessons from longtime 18th Services instructor Tokio Nakamatsu even after Kadena's matches on Thursdays, or they'll collar Bliss and just volley with him to stay sharp.
"These guys are tennis players … always trying to improve their game," Bliss said. "We were so lucky to have those five players step in and be competitive."
It also mitigated what otherwise might have been a complete rebuilding task.
Three players who formed the foundation of the team's 2004 Far East tournament team championship — girls singles champion Amy Lopes and doubles champions Anthony Soroka and Lori Kanikkeberg — either transferred or graduated.
"Most times, you'd be taking a soccer or basketball player, an athlete, and trying to turn them into tennis players," Bliss said. "With these guys, there are fewer things for me to worry about. We can deal with match strategies, team concepts, which are important in any sport."
Their initial success certainly appeared to please Bliss' charges.
"It's awesome," Sprow said.
Trenor and Ellisa Mason credit Nakamatsu, the 69-year-old who teaches daily at the Risner Tennis Complex, with ramping up their game, hitting form, serve and concentration.
"He's taught us well," Trenor said. "And Ellisa has stepped up her game."
Ellisa Mason's main rival, Kubasaki sophomore and team captain Cait Frandsen, says the "Kiddie Korps" also has conferred benefits on the Dragons.
"It's helped everyone know what we have to work on, playing against better people," she said.
Kendall sees big things for the "Kiddie Korps" because tennis is their year-round passion. "Kids who do well at Far East play tennis all year long," he said. "For them, it's not a seasonal sport."
He's "impressed," he said, particularly with Ellisa Mason. "She could give Kristia a good game," Kendall said of Mason's chances against E.J. King junior Kristia Suriben, reigning Far East tournament singles and doubles champ.
Hurdles remain for Kadena to defend its island championship or repeat its 2004 Far East tournament team title — for instance, defending champion Seoul American, E.J. King's strong girls squad and solid boys contingents at Yokota and Nile C. Kinnick in Japan.
But Kadena's tennis players "do have a lot of potential," Kendall said.
The only opponent first-year Bliss has seen so far is Kubasaki, which has "given us a lot of good matches and they'll continue to improve," he said. "The scores have happened to go our way.
"But the way things are going … it certainly looks optimistic."