Freshmen chip in as Kadena knocks off Kubasaki
---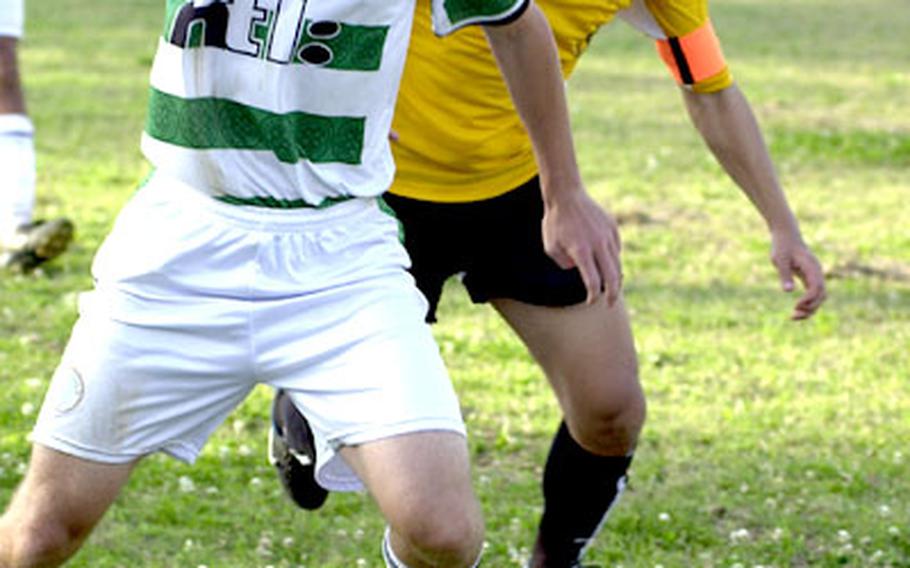 KADENA AIR BASE, Okinawa — On an otherwise senior-laden boys soccer squad, freshmen made the difference for Kadena in a crucial match Thursday.
Nathan LaGrave and Aaron Zendejas scored eight minutes apart and the Panthers held off a second-half charge for a 3-2 victory over the Kubasaki Dragons, the two-time defending Class AA Far East champions.
It was a breakout game for LaGrave and Zendejas, who each got their first goals of the season, pleasing Kadena's second-year coach, Sue Fitzpatrick.
"People couldn't believe that freshmen made the team," Fitzpatrick said.
Besides LaGrave and Zendejas — whose older brother, Zach, a junior, also plays for Kadena — freshman Scott Addy worked his way into the lineup on defense, "and he is doing very well," Fitzpatrick added.
She called the three freshmen "vital" additions to the team, as did striker Scott Knutson, one of six returning seniors from a squad that finished third in Class AA last year.
"They've filled the positions of people who graduated," Knutson said, referring to departed standouts Ian Galloway and Aaron Betancourt. The freshmen "hustle, they communicate, they play hard, they're determined and they love the game. They've been really important additions to the team."
After Knutson put Kadena ahead in the 15th minute on a breezy, sunny afternoon, LaGrave curved a corner kick into the net in the 36th to make it 2-0. Four minutes into the second half, Zendejas converted Knutson's through pass.
Then, Bill Gray, the Dragons' 6-6 senior, got into the act. In the 51st minute, he fired a laser into the net from 40 yards out. Joe Paul converted Gray's long pass two minutes later.
In the closing minutes, Gray had another direct-kick opportunity, but he clanged it off the crossbar from 35 yards away.
"I thought it was going in," Gray said. "It didn't fall for me. There'll be more chances, though."
"We just have to learn how to finish," Kubasaki coach Patrick Buckley said.
Kadena (3-2-1) pulled even with Kubasaki (4-4-1) in their Okinawa High School Athletic Association season series, with each club holding a win and tie.
It's the first time since the advent of Far East tournaments in 1998 that either school's boys or girls squad finished the OHSAA season series deadlocked. Historically, the team that has won the season series wound up losing to the other in Class AA tournament play.
Now what?
"Time will tell," Knutson shrugged.
"That's a good question," Fitzpatrick said. "It remains to be seen. It should bring everybody out to Far East to watch, anyway."
---
---
---
---