Freshman helps Yokota capture dual meet, Kanto Plain title
by
Dave Ornauer
February 3, 2006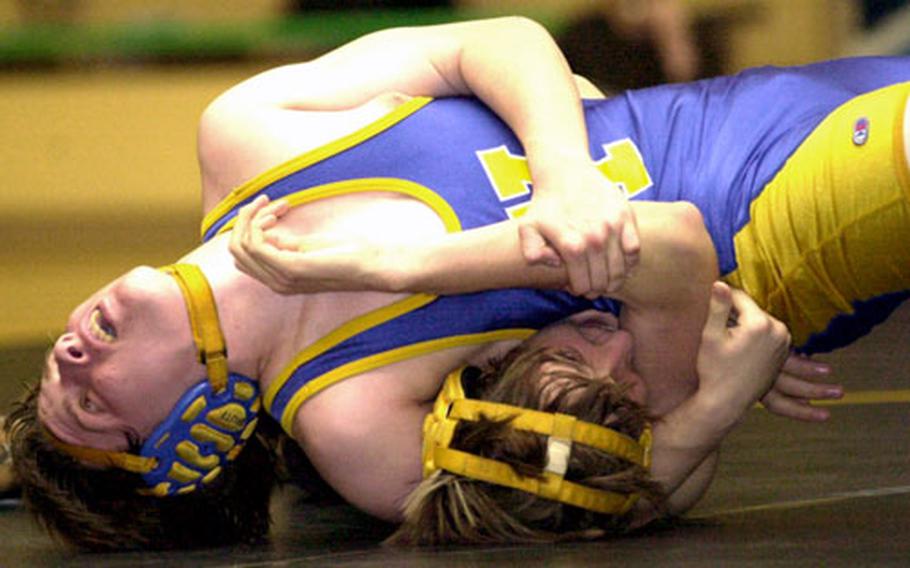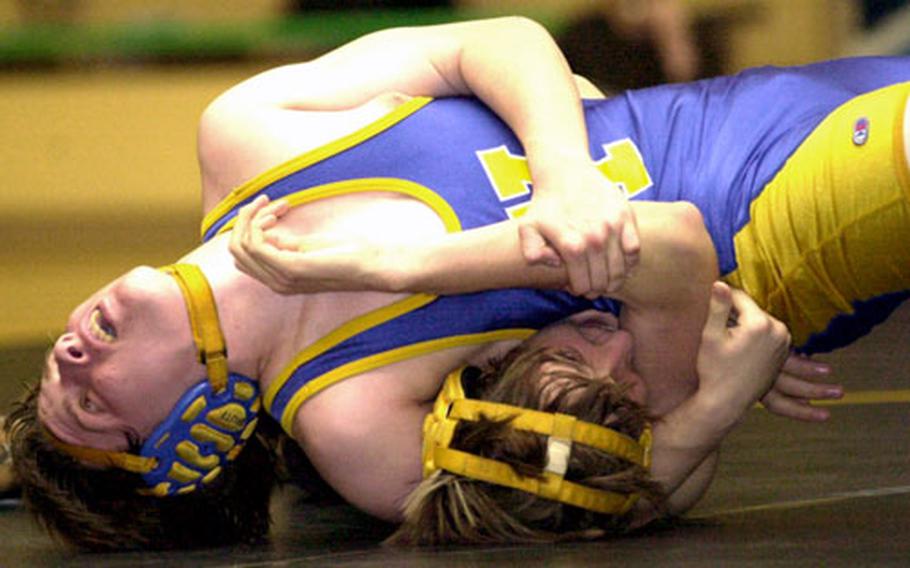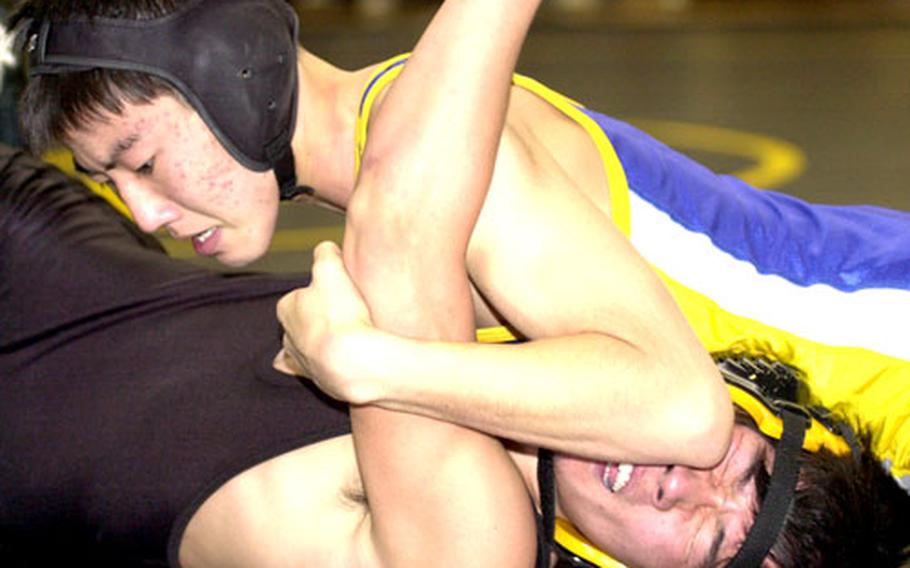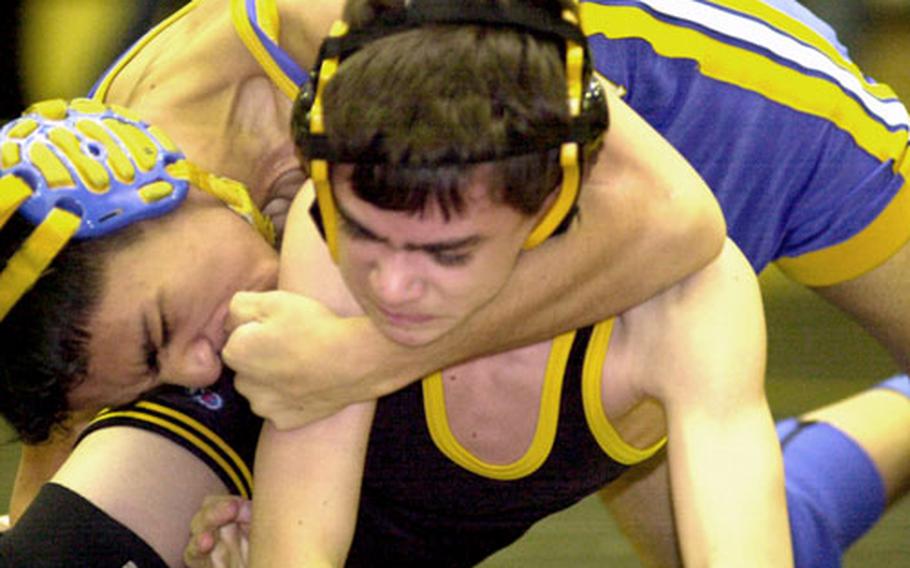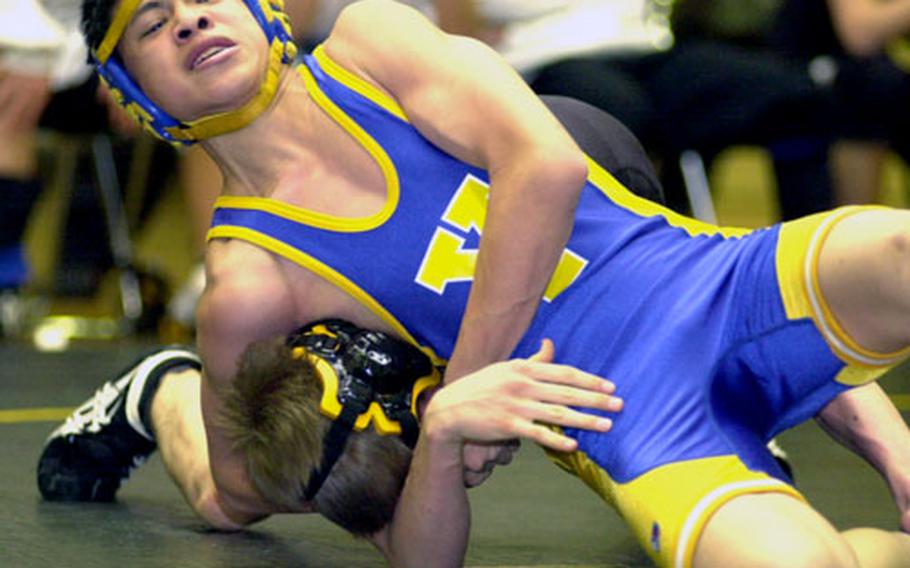 TOKYO — Even long before the Kanto Plain wrestling season began, Brian Kitts suspected Wednesday's season-ending dual meet at the American School In Japan probably would determine the league championship.
What the Yokota Panthers coach did not expect was how freshman 158-pounder Andrew Conkling would step up when the team needed him most.
Kitts called Conklin "the surprise of the season," after he eked out a crucial 2-1 decision over David Budge, helping the Panthers edge the Mustangs 31-27 to secure their first Kanto Plain regular-season championship in 22 years.
"Here's a freshman who's wrestling in one of the most competitive weight classes in the Pacific," Kitts said.
Yokota finished the regular season 5-0 while the Mustangs suffered their first loss in four dual meets (they have one dual meet left, on Friday at home against the Christian Academy In Japan).
Conkling scored two late takedowns to win the first period 2-1 but Budge took the second period 5-3, then ran up an early 4-0 lead in the third-and-final period.
Then Conkling took over, throwing Budge onto his back, scoring two points, then another for almost pinning him. As the buzzer sounded, the score read 4-3 Budge. But then referees conferred and gave Conkling three points for the throw, tying the period 4-4. He won the period, and the bout, based on having the highest-scoring point throw.
Said ASIJ coach John Hohenthaner, "If we had won that ... that was the big difference."
Kitts said the Panthers were in need of efforts such as Conkling's because defending Far East 108-pound champion Patrick Pamintuan was out injured, and Jason Rodriguez, another defending Far East champ, fell to ASIJ's Skip Harvey by 2-1 decision at 129 pounds Wednesday.
Mark Meade (101) and Nick Guzman (108) got the Panthers off to a flying start with pinfall victories before Scott Metts (115) got ASIJ on the board by decisioning Neal Lapurga. Even that threw a monkey wrench into any Mustangs' hopes of a Kanto title.
"We were hoping for a pin at 115," Hohenthaner said. "That was big, too."
Robert Rodell's pin at 122 gave Yokota its biggest lead, 17-3, but ASIJ had a run that closed the gap to 20-16.
That set the stage for Conkling's heroics.
"This was a close match," said Kitts. "There weren't many locks either way. A lot of kids wrestled hard. I'm as proud as I can be."
Hohenthaner, who's coached wrestling for 39 years, called the Panthers one of the finest Yokota teams he's seen in his more than two decades in Japan.
"They're a solid team from top to bottom," he said. "Brian has ... bonded them, he has good control of them and they've pulled together."