DODDS-Europe football
Four teams to battle for two titles
by
Gregory Broome
October 31, 2013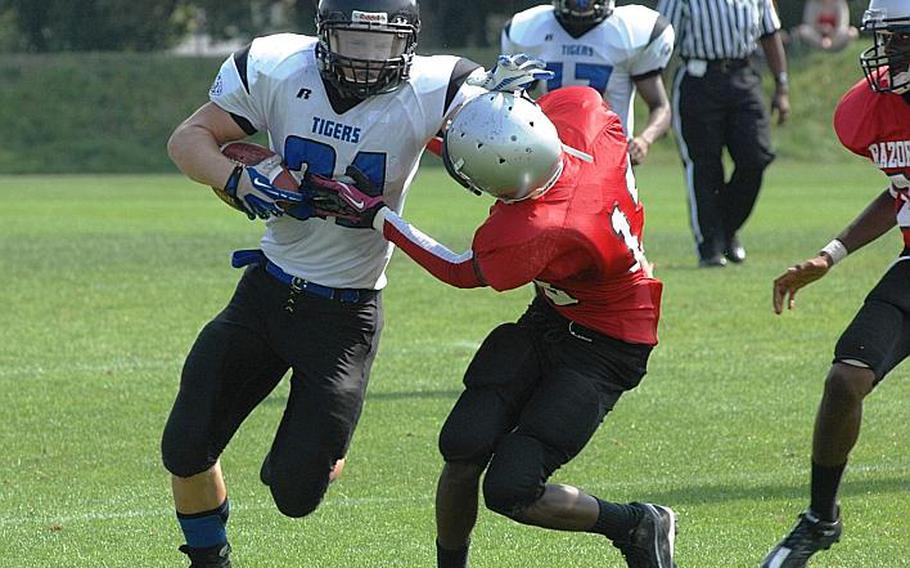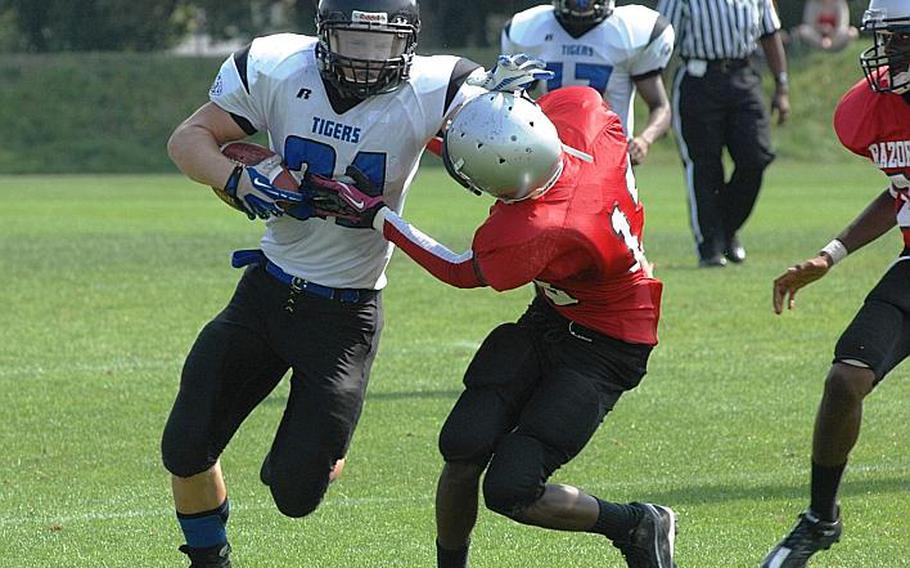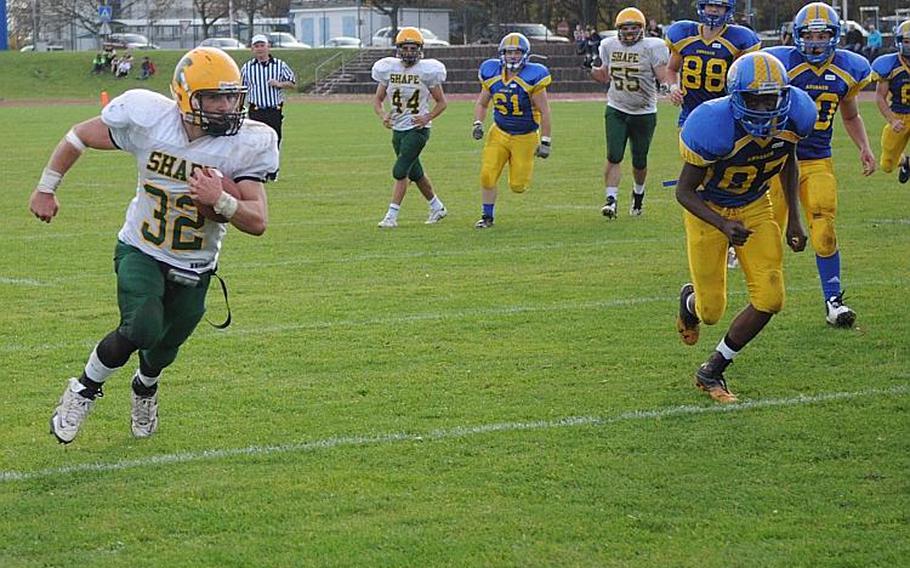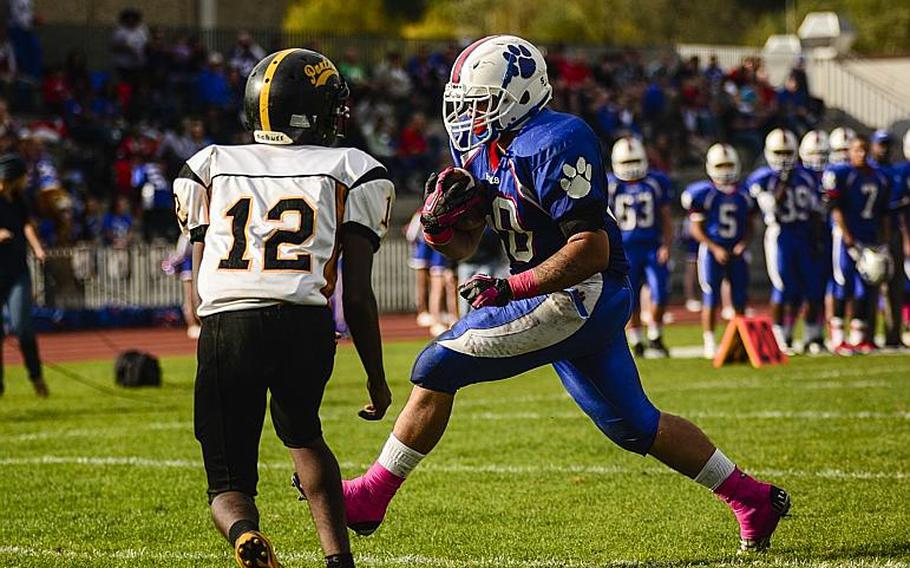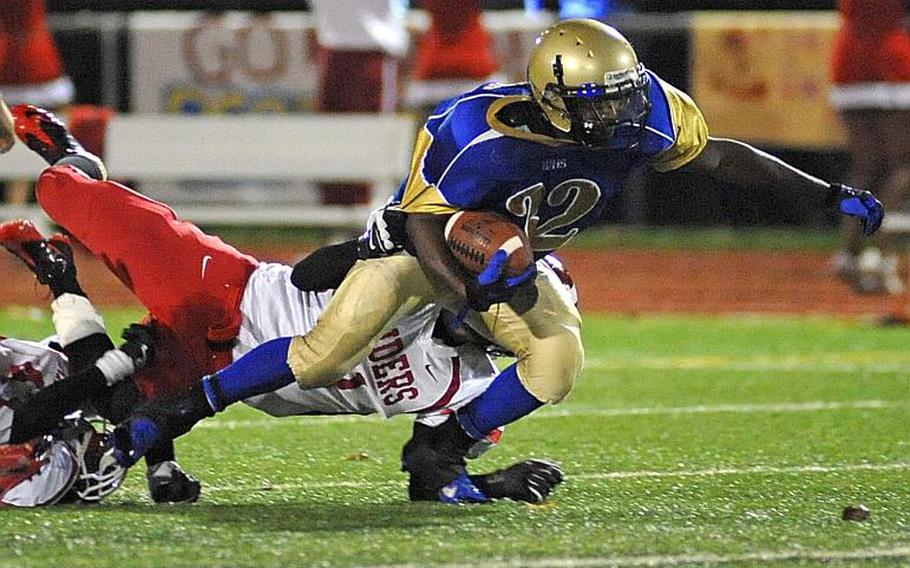 What a difference a year can make.
At this time a year ago, DODDS-Europe was preparing for a Super Six football championship series at Baumholder's Minick Field. Underdog Patch was in the Division I title game. Goliath Bitburg loomed over Division II. Two small schools squared off in Division III.
This year's final football Saturday will dawn on a vastly different landscape. The Super Six has slimmed down to a Final Four with the abolition of Division III. The games have moved from the history-laden field in Baumholder to a shiny new one in Kaiserslautern. The Division I title game features the field's two unequivocal best teams coming off decisive semifinal wins. Bitburg's reign has ended, leaving a pair of fresh upstarts in the Division II final.
That's the new reality of DODDS-Europe football. But for all of these changes, the game itself remains the same. Four teams will vie for two European championships Saturday. Here's a look at their chances:
Division I – Ramstein vs. Wiesbaden RamsteinHow they got here – Clinched the division's top seed with an unbeaten regular season and routed Patch in last weekend's semifinal.
Players to watch – RB Tevin Johnson has emerged as one of DODDS-Europe least-tackleable ballcarriers; versatile DB Gabriel Moreno is a constant threat to pull off a game-changing play; LB Branden Simonson is a key part of the Royal defense.
Strengths – Huge roster provides unparalleled positional depth, and players know and fulfill their roles; the Royals are proven performers in big games and won't succumb to championship pressure.
Concerns – While effective, the Ramstein offense is predictable; the Royals' almost-exclusive reliance on the run could pose a problem if they fall behind.
Bottom line – Ramstein is locked into its chosen game plan, and it will take outstanding strategy and execution for Wiesbaden to overcome it.
WiesbadenHow they got here – The Warriors shook off a midseason upset loss to Vilseck to earn the division's No. 2 seed, and advanced with a semifinal blowout of Kaiserslautern.
Players to watch – Two-way standout Andrew Murray has been the Warriors' unheralded star all season; athletic WR CJ Pridgen presents major matchup problems; QB Reymoi Lewis capably helms an offense rich with weapons, himself included.
Strengths – Wiesbaden's European-champion track program lends a number of speedy athletes to the football roster; K John Arnold is automatic on extra points and touchbacks and one of DODDS-Europe's only threats to nail a long game-winning field goal.
Concerns – The Warriors kept up with Ramstein for only half of the Royals' 20-7 win Oct. 12; Ramstein's superior depth and rugged style threatens to wear out Wiesbaden's two-way stars.
Bottom line – If they can mitigate Ramstein's physical advantage and stay close, the Warriors have the offensive personnel to stage a late-game drive.
Division II - Hohenfels vs. SHAPE HohenfelsHow they got here – Scrapped to a No. 2 seed in the south and outlasted International School of Brussels in the divisional quarterfinals before pulling off an epic semifinal upset of four-time champ Bitburg.
Players to watch – Newly-arrived WR Jeantony Saintmelus has quickly blossomed into an elite offensive force; RB David Vidovic remains one of DODDS-Europe's most dominant running backs; underrated QB Clayton Pinheiro keeps a dynamic offense moving.
Strengths – Saintmelus and Vidovic are the two most talented players in most Tiger games, including last weekend at Bitburg; the team's confidence is off the charts after shocking the DODDS-Europe world.
Concerns – An effective game plan to suppress Saintmelus would leave Vidovic to again carry a huge load; they've promised to avoid it, but a letdown is certainly a possibility after last week's euphoria.
Bottom line – No team traveled a tougher road to the Final Four than the Tigers; it will take a huge effort to deny them at this point.
SHAPEHow they got here – A 4-1 regular season and a quarterfinal win over Vicenza set up a thrilling 23-22 upset win over previously-unbeaten Ansbach.
Players to watch – RB Conner Manning is the heart of the Spartans' accomplished offense; DB Austen Eperjesi is one of DODDS-Europe's best at hauling in interceptions; WR Kristjan Lozar is a big-play threat.
Strengths – SHAPE has displayed a knack for winning close games with fourth-quarter heroics; the Spartans have played three games decided by seven points or less this season, and won them all; a strong two-way line gives the Spartans a strong physical presence.
Concerns – Most of SHAPE's best players play both ways, so fatigue might become an issue; their penchant for close games might eventually catch up to the Spartans.
Bottom line – If the Spartans can tame the Tigers' weapons and slow the pace, they've proven they can find a way to win a nail-biter.
Twitter: @broomestripes