Fortin, Yokota bring home first USFJ-AFL Torii Bowl title
by
Dave Ornauer
July 31, 2010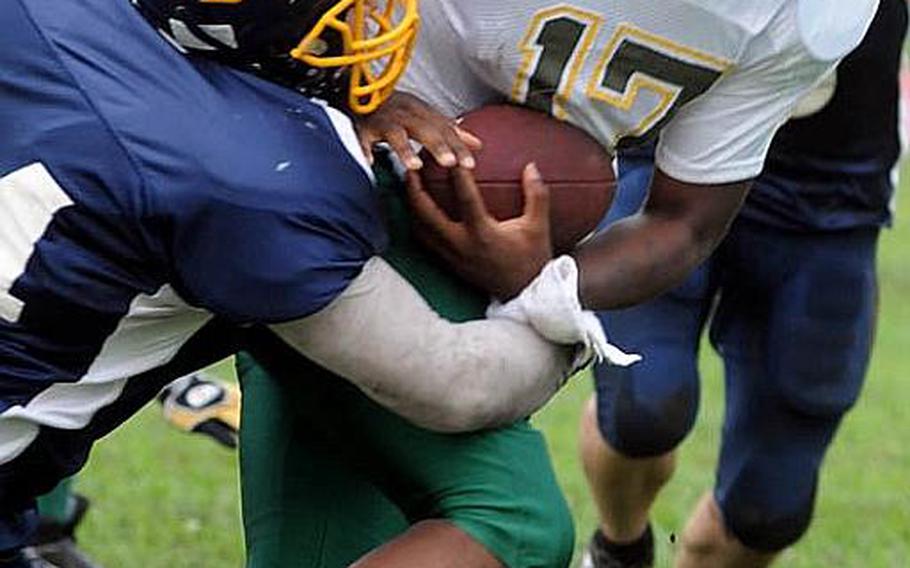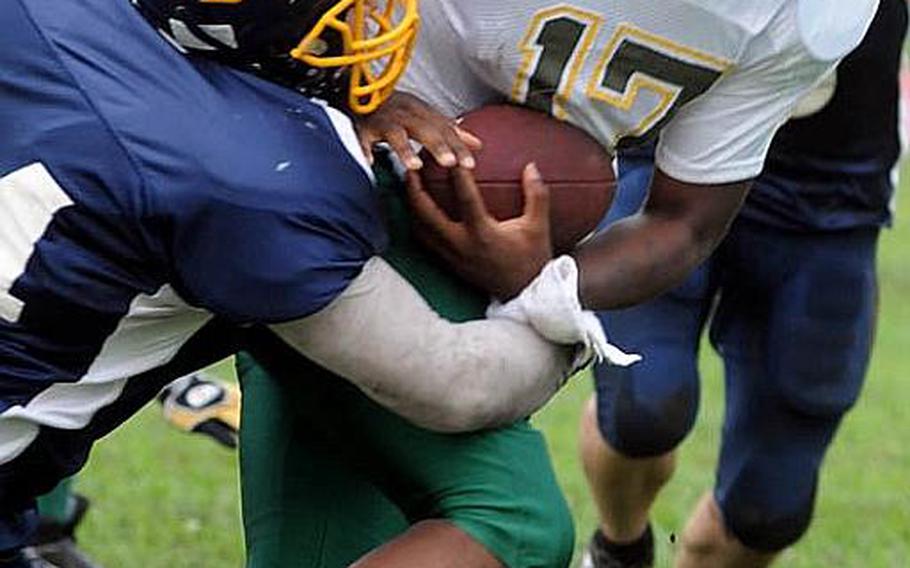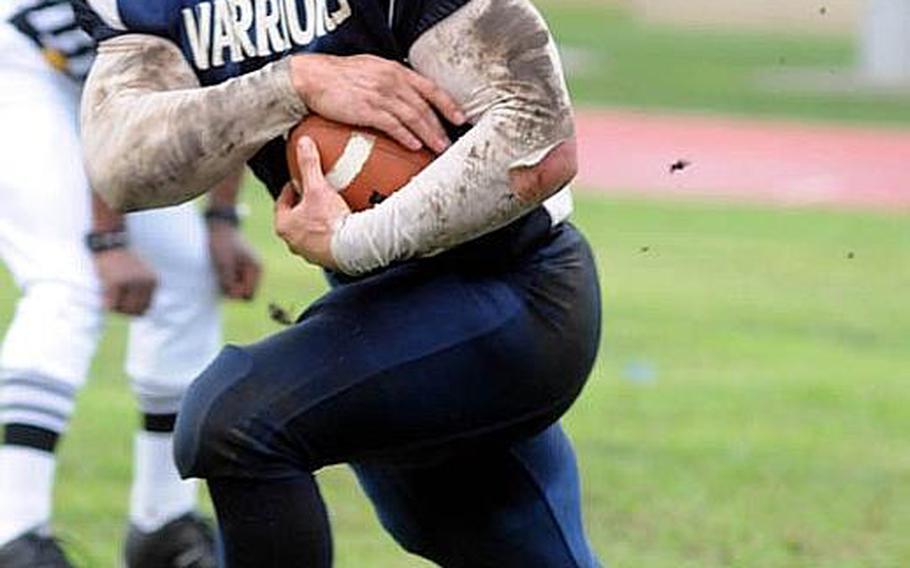 YOKOTA AIR BASE, Japan — Yokota had just fallen behind 23-20 on a 27-yard field goal by Greg Arnell of Joint Task Force at the start of the fourth quarter. Yokota running back Kevin Fortin just shrugged and said his Warriors would simply take their next possession "to the house."
His prescience proved perfect.
Fortin capped a 72-yard, 8-play drive in 3:22 with a 5-yard touchdown run, rallying Yokota to a 26-23 win over the Wolfpack on Saturday at Yokota High School's Bonk Field — and Yokota's first U.S. Forces Japan-American Football League Torii Bowl title.
"It feels great. It feels amazing," said Fortin, who led both teams with 139 yards on 14 carries. "We've been working this whole season for this moment, and we came through."
For Yokota (6-2), it was a case of the fourth time being the charm. The Warriors lost their three previous USFJ-AFL title-game appearances, 15-12 in 2000 at Yokosuka, 30-21 in 2005 at Misawa and 30-6 last Aug. 29 at Foster. It was Yokota's first USFJ title of any kind since winning the league in 1994.
"It's been a long wait," said coach Selwyn Jones, who's been a part of the program since that 1994 championship season. He praised his predecessors, Jerome Gray, Jake Dowdell, Chris Bell and Herb Fletcher for "making me what I am."
"It was more about family and friends, more about past Warriors and Raiders, it was for them. I praise those guys. And I praise these young men. They worked hard for this. I'm so proud and thankful."
The Warriors had to come from behind twice against a Wolfpack team that made Saturday's the closest USFJ-AFL championship game since that inaugural 2000 Yokota at Yokosuka showdown. The lead changed hands four times.
And Yokota also had to overcome a JTF defense that forced four turnovers and recorded four sacks, and another stellar performance by last week's South Division title-game hero Kent Onuoha, who had three returns for 213 yards, including lengthy interception- and kick-return touchdowns.
"He kept us in the game," said coach Darell Keith, whose Wolfpack (6-3) lost starting quarterback Mike Geddie to a fractured left fibula in the second quarter and left JTF with untested backup Frank Jordan; he went 0-for-10 with two interceptions.
"I guess I didn't have a good backup plan when it came to a backup quarterback," Keith said. "Losing Geddie was a big blow, and the defense stayed on the field a long time. I can't say the better team won, but the more deserving team won."
The Warriors rode the backs of a defense that recorded two interceptions and three sacks, and an offensive line that helped Fortin, Willie Brown (16 carries, 68 yards), Chris Ekstrom (7, 59) and Adaryl Twillie (7-19) trigger an offense that outgained the Wolfpack 349-46.
Yet Onuoha and Geddie helped JTF make a game of it to the end.
Fredrick Guild connected with Tyson Huff for 72 yards and Ekstrom ran 1 yard for a score as Yokota went up 12-0 and appeared set to make the game a rout.
But then, Onuoha happened. He returned an interception 91 yards to cut the lead to 12-7. Geddie's lone completion was a 31-yard TD pass to Chris Speed that put JTF ahead 14-12 at the half.
Brown's 5-yard run and two-point conversion put the Warriors up 20-14, but Onuoha promptly returned the ensuing kickoff 92 yards for the game-tying score. Arnell's field goal and Fortin's game-winning TD followed.
Brandon Jones had two sacks and Josh Adkins an interception and fumble recovery for JTF. For Yokota, Don White had a sack and a field-goal block, and Davaines Brown recorded two sacks.