Former Marine Ahmard Hall now doling out punishment as Tennessee Titans fullback
by
Leo Shane III
October 27, 2006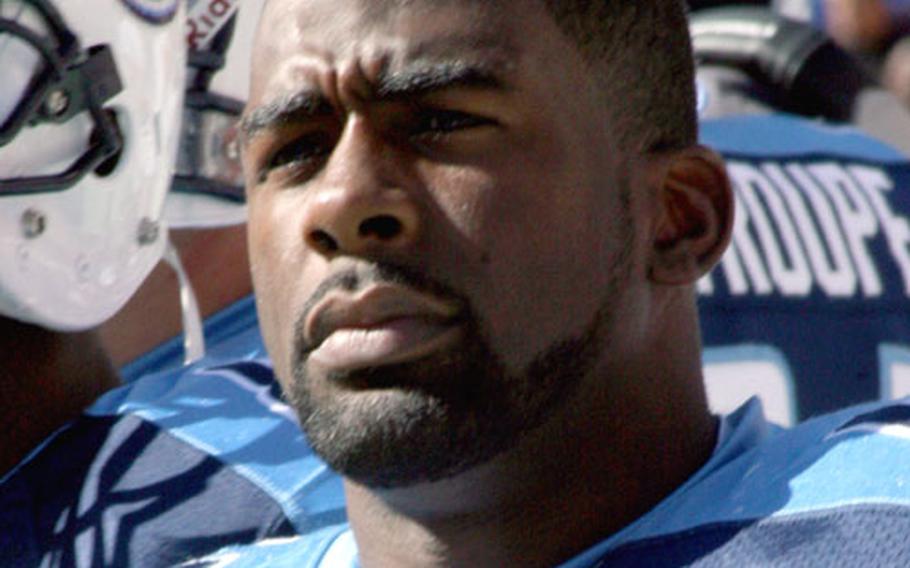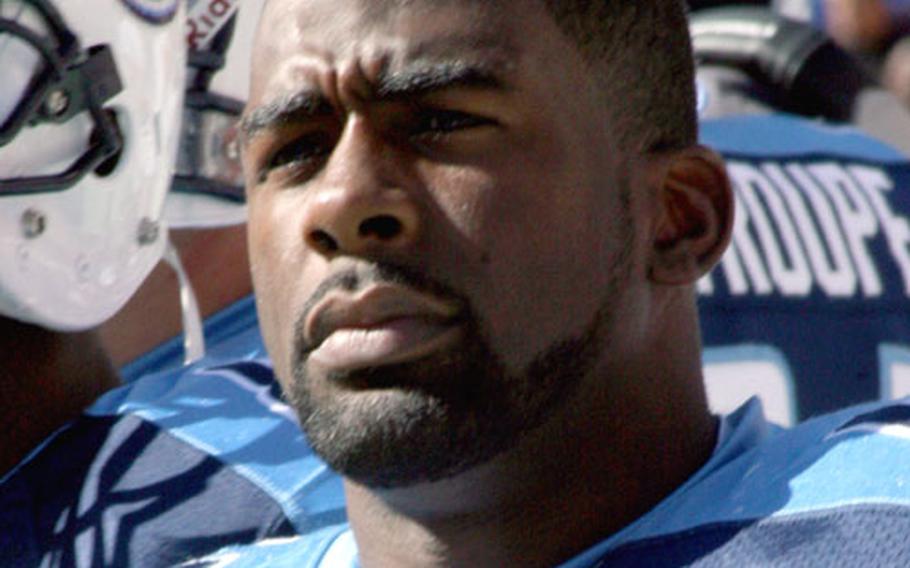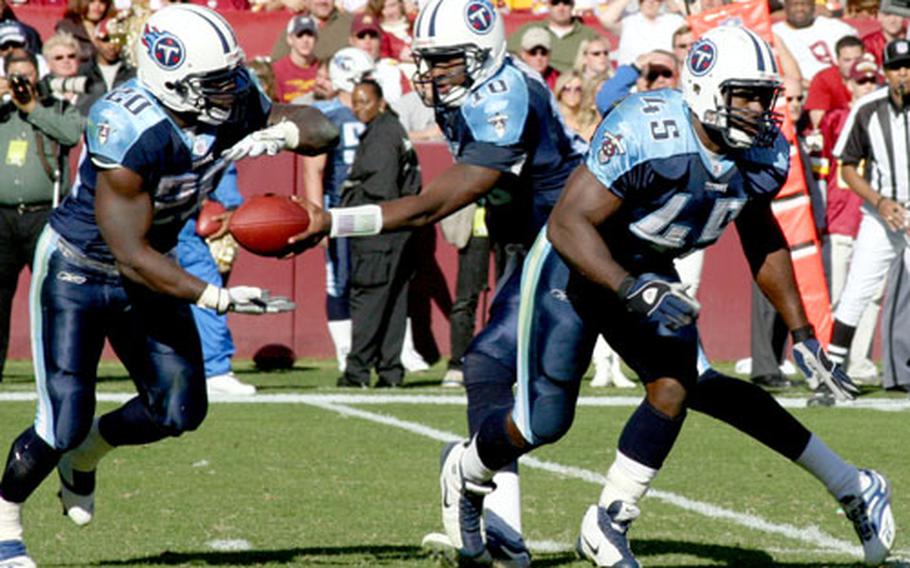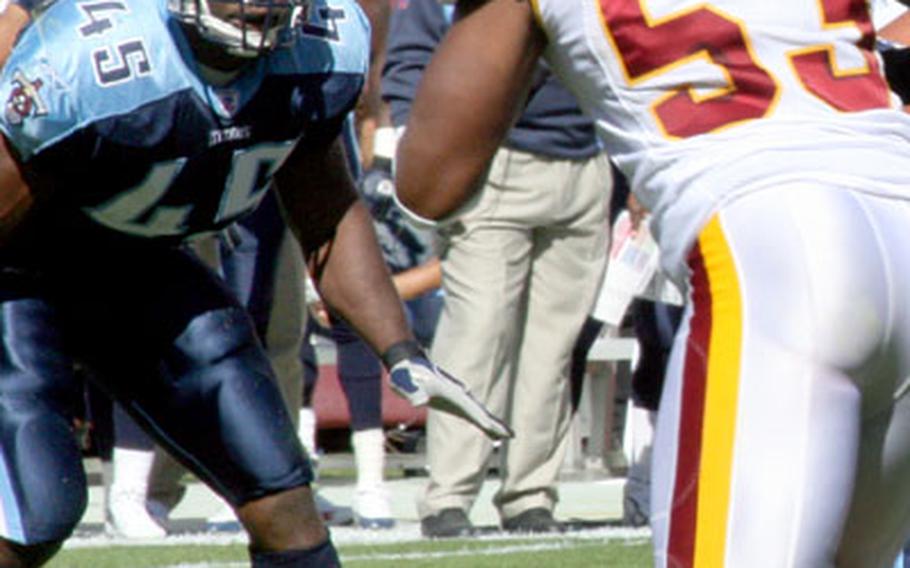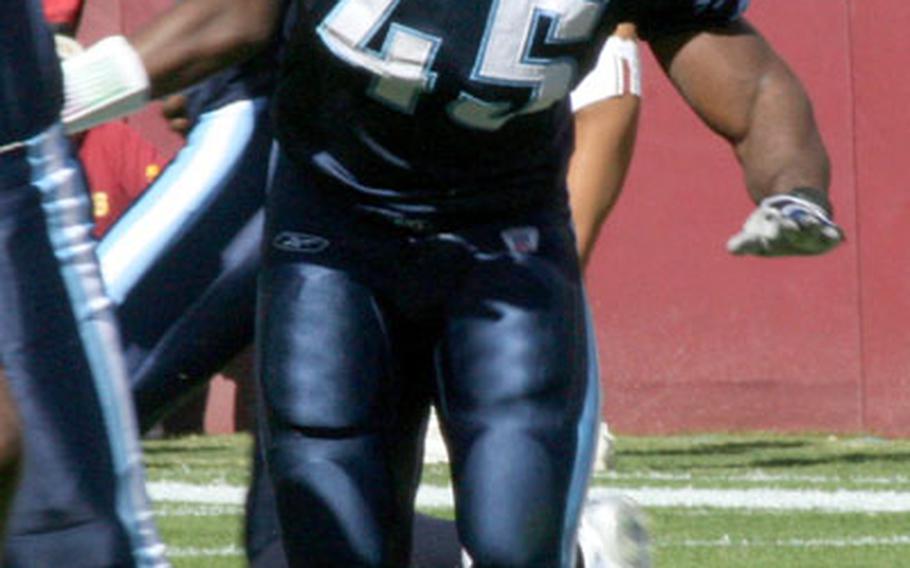 WASHINGTON — Fullback Ahmard Hall has no complaints about having to throw himself headfirst into 250-plus pound linebackers charging toward him with a full head of steam.
"After going through six-mile runs in full gear, that can't really compare," the 26-year old Tennessee Titans rookie said. "The Marines really punish you."
Hall, who has gone from an undrafted free agent to starting fullback in the last few months, spent four years before college serving with the 3rd Battalion, 8th Marines based out of Camp Lejeune, N.C.
He says that time in uniform has helped him to appreciate his good fortune to be playing in the NFL, even if his role is more pushing and pounding than touchdowns and glory.
Running back Travis Henry rushed for more than 100 yards in each of the past two games before the Titans' open date in part thanks to Hall.
"I take the same amount of pride as if I was rushing for 178 yards. Me getting my key block, to me, is just as important as Travis getting his yards," Hall said to the (Nashville) Tennessean this week. "It is an awesome feeling when that running game gets going and you can control the clock."
Titans coach Jeff Fisher told the Tennessean that Hall has done his part to help the running game since he returned from an ankle injury three weeks ago.
"When he is in there, he is basically getting his job done," Fisher said.
The Titans' game this week in Houston will be a homecoming for Hall, who grew up in Galveston and played his first football games in the Houston suburbs.
Coming out of high school Hall wanted to play college football but knew his grades were too low for any major programs. Rather than attend junior college, he decided to enlist.
"My girlfriend's brother-in-law, Ricky, really inspired me to join," he said. "I just liked the way he lived his life: Everything was squared away, he was always there to help guys out. He was really involved in his community. He was an athlete in high school too, so that seemed like the right choice."
His service included a tour in Kosovo in 1999 and a year in Afghanistan in 2002. During the latter he mostly spent his time patrolling Kabul, but he was still thinking about football.
In fact, he said leading his team to victory in Camp Lejeune's annual Turkey Bowl tournament was the greatest football moment in his life – until he and his Texas Longhorns teammates beat USC in the Rose Bowl for the national championship in January.
"That national championship was a huge stage and a huge win," he said. "But the Turkey Bowl? At the time, that was important. I was just grateful for the chance it gave me to keep playing.
"It kept pushing me to get back into football."
Hall said the transition from the Marines to college ball was difficult, but not as tough as going from Texas to the NFL.
As an undrafted player, and a 26-year-old rookie, he had to audition for dozens of scouts at countless camps in hopes of catching on with a team.
When he landed in Tennessee, he found a friendly face whose trip to the pros went a little easier: first-round draft pick Vince Young.
"He's a great guy, and he embraced me as a teammate because of what we did in Texas," he said. "When he accepted me, everybody else did too, which helped a lot."
Hall said that most of the younger teammates he has played with, while respectful of his military service, have had little idea about what troops actually do in places like Iraq and Afghanistan.
"Most of the guys I play with now and in college, they never thought about those places," he said. "But I lived there. It gives me a whole different perspective."
It also gave him a sense of responsibility to keep looking out for servicemembers after he left the Marines.
In college he helped lead the "Momma Bear Cares" drive to collect gifts for Marines serving in Iraq. Today he's working with programs to help veterans get the health services the need and visits from a friendly face.
Hall said he doesn't like to brag about military service, but his teammates do ask about his time overseas often.
"I don't want to tell them too much and make a big deal out of it," he said. "I just want to let them know that there's always somebody out there doing that fighting to let us here play this game."