Former Kubasaki runner shines for Seoul American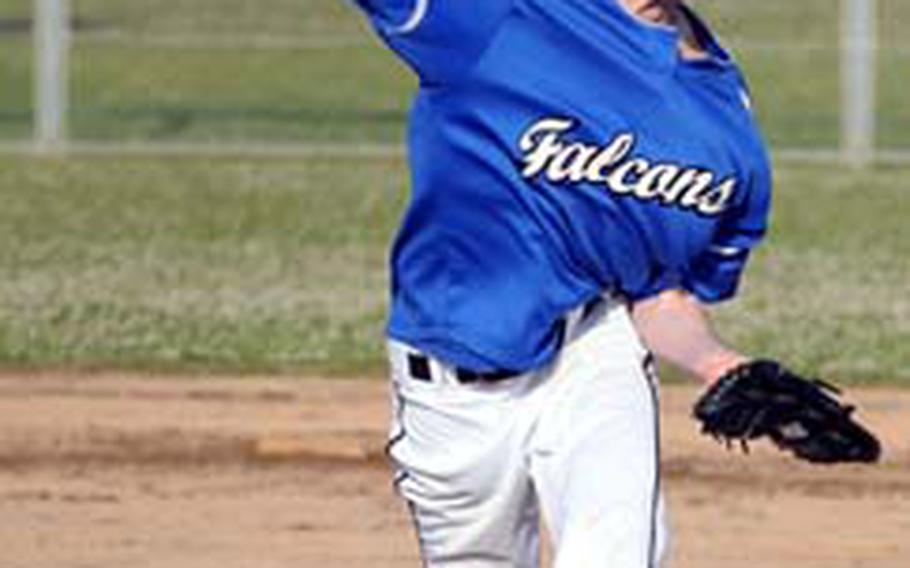 A year ago, Amanda Henderson ran in Kubasaki Dragons green and white. On Friday, as a member of Seoul American's brand new track and field team, she netted the Falcons their first gold medal.
Henderson, a sophomore, ran the two-mile in 11 minutes, 57.41 seconds, nearly 40 seconds ahead of her nearest challenger, in the first medal event of the 8th Alva W. "Mike" Petty Memorial Track and Field Meet at Okinawa's Camp Foster. Kubasaki has hosted the event since its inception in 2003.
"It feels so nice," said Henderson, who transferred to Seoul American over the summer. "I feel like I'm running at home for the first time. The weather, the air … It just feels really good."
Achieving a measure of revenge in the boys' 3,200-meter run was Kadena's Jacob Bishop. Fourth behind champion Thomas Kim of Seoul American in November's Far East Cross Country Meet at Misawa Air Base, Japan, Bishop edged Kim by just under two seconds on Friday.
"It feels good to finally beat him," Bishop said after posting a 10:07.7, just ahead of Kim's 10:10.63. Kim ran on Bishop's shoulder much of the race until Bishop kicked at the end. "I was thinking about cross country, and how I didn't want to lose again."
Heavy rain overnight Thursday forced meet officials to move the field events to Saturday, preceding the sprint and middle-distance finals.
Triple play gives Falcons boost in Kubasaki Spring Fling
Friday's St. Mary's International vs. Seoul American baseball game in the fourth Kubasaki Spring Fling tournament featured an unusual ending — a triple play that secured the Falcons' 9-8 win over the Titans.
Reliever Chris Horton walked the first two Titans to lead off the seventh inning; they advanced to second and third on a wild pitch.
St. Mary's Tomoya Minaki then flew to right fielder Will Catineau, who caught the ball and threw home to catcher Casey Donovan to double up Jack Cavanagh at home. Seoul American then appealed successfully that Saman Herat left second base too soon for the third out.
Win or lose, for the Falcons, it gives them the fire-testing they need to prepare for next month's Far East tournament at Zama American, coach Bob Heckerl said.
"It's good to have exposure to these teams now, so that when we go back to Seoul, we'll have a realistic idea of what's out there and we can start to work toward that," he said.
Also on Friday, host Kubasaki got a pair of two-run home runs from catcher Kaleb Robinson, and pitcher Andrew Estes worked his way out of trouble several times to beat American School In Japan 4-1. The Dragons at 3-0 led Seoul American and St. Mary's by 1 ½ games after three days.
Zama girls strikers take season series over Edgren
On paper, Zama American's 3-1-2 record over Robert D. Edgren might signal domination. Not true in the slightest, Trojans coach Rogers Pitts insists.
"I'm glad we don't see them the rest of the season," Pitts said after Zama got goals from Taylor Russell and Rachel Walls to shut out Edgren 2-0 on Friday. Zama tied Edgren 1-1 on Thursday.
"We enjoy playing them," Eagles coach Mark Pierce said. "They're a tough team. They have some good players."
On the boys side, Edgren held a comfortable edge, sweeping all six matches with the Trojans this season, including Friday's 2-0 shutout of Zama. Matt Linder got his team-leading 21st goal for Edgren.