For U.S. soccer fans, weather didn't matter
by
Rusty Bryan
March 3, 2006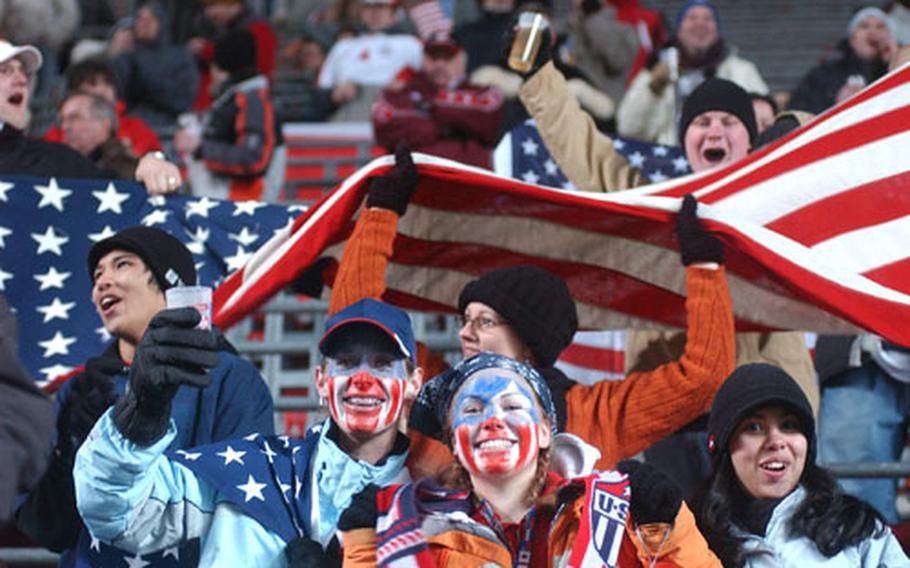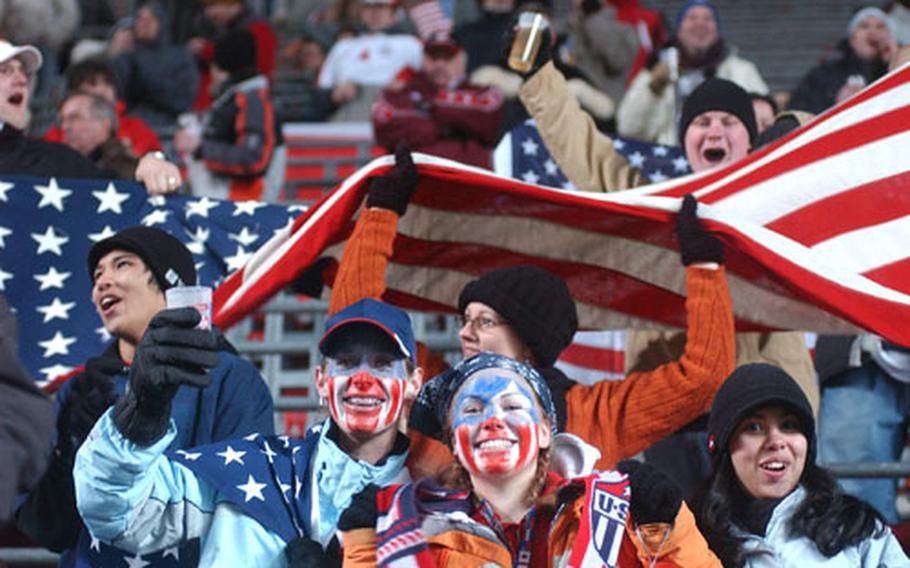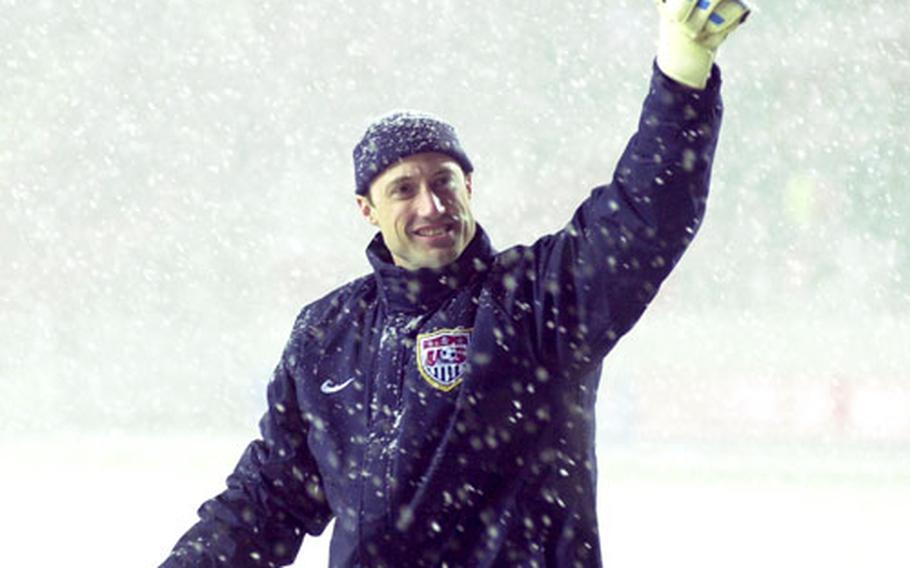 KAISERSLAUTERN, Germany — The word to describe having the U.S. national soccer team play in your own backyard?
"Awesome," spectators agreed at the U.S.-Poland soccer game Wednesday night at the Fritz Walter Stadium.
"It gives us a chance to be Americans again," said Mary Dillon of Kaiserslautern, who brought face-painted Shaun Kemp, 13, and daughter Mary Dillon, 10, to the game. "Most of the time we have to keep a low profile and blend in. It's awesome to have a chance to show our colors again."
Blending in was the last thing on anyone's mind Wednesday night. Spectators painted their faces and bodies with American flags or red-white-and-blue U.S.A. monograms, waved and wore Old Glory and launched spontaneous chants of "U-S-A! U-S-A!" into the cold, and eventually snowy, air.
"It's wonderful to be able to see the U.S. team on a foreign field," said Tammy Hollenbeck of Ramstein, who long before kickoff predicted an American victory.
Her reason?
"We have more spirit."
Ramstein's Gonzalo Lopez had multiple reasons to predict a U.S. victory.
"We have a good coach," he said. "Bruce Arena is the best coach we've ever had."
He also liked the team concept Arena has instilled.
"Our players aren't looking to be stars. They want to be team players."
Lopez and his buddy, Mike Ostertag, were seated in the seventh row of seats just past midfield in the cozy confines of Fritz Walter Stadium. Although the stadium has been vastly enlarged and modernized over the past few years, all the seats feel close to the field. There is no track around the field as there is in most German stadiums, so the first row of seats is a bare three yards from the sideline.
Lopez relished his proximity to the field.
"I've got 10 friends way up there," he said, gesturing to the rows of seats disappearing into the roof above, "and I couldn't care less. This is the place to be."
Lopez and Ostertag were in the high-visibility seats because of a quirk in the ticket sales. Tickets sold at Ramstein Air Base in January were for seats much higher in the stands.
This was the second U.S.-Poland game Ostertag has attended.
"I was TDY with some Polish air force people last year," he said. "We went to the game in Chicago. It was an incredible experience."
Some 13,000 fans, many of them attired in Polish regalia and chanting, "Polska! Polska!" braved the cold temperatures Wednesday. An Italy-Germany friendly, broadcast on German TV, contributed to a less-than-expected turnout.
Count on the stadium to be packed the next time the U.S. team plays in Kaiserslautern, June 17 in a first-round game in the World Cup.
"We're trying to get World Cup tickets," Ostertag said, "but so far we haven't had any luck."