For Seoul American's Falcons, it's all about love of the game
by
Dave Ornauer
May 31, 2004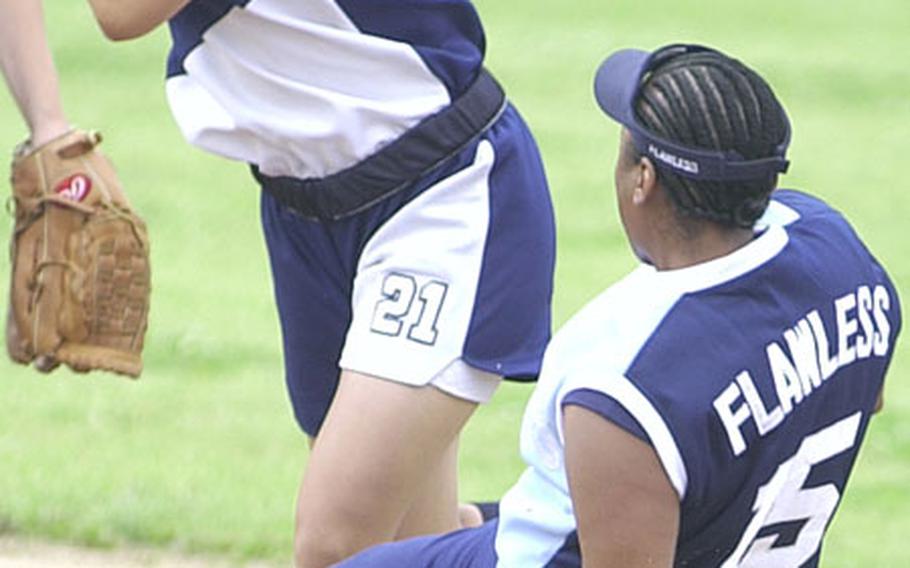 YONGSAN GARRISON, South Korea — It's almost a rite of passage for the Seoul American High School softball team.
Every spring, the Lady Falcons come to the Pacificwide Open Softball Tournament, thinking this will be the year they win a game or two. Then they take the field against a company- or post-level or South Korean team, and get whipped yet again.
Why bother, when they're an automatic W for every team they've played since first entering the tournament in 1994 as the YBG All-Stars?
"We love softball," senior shortstop Yun Hui Voelker said after the Lady Falcons lost 16-1 to Osan Air Base, a base-level team. "It's not about winning. It's about how hard we play. It doesn't matter if we lose or not. If we play our best, we're happy."
Losses such as the one to Osan, and a 24-0 pounding at the hands of Kadena on Friday, are at the opposite end of the spectrum from the lopsided victories the Lady Falcons enjoyed in DODDS-Korea play.
They went 12-0 in the regular season, with an average victory margin of 11.63 runs. A 13-7 victory over Taegu American on April 17 was the closest any team came to beating them.
"We're not really challenged during the season," said LaRoy Slaughter, who guided YBG when it first started playing in the Pacificwide. "We don't get challenged until we play post-level teams."
So they press on, learning a bit more about the game and about themselves with every outing. "We keep our heads high and we take it," Voelker said.
Osan Air Base coach William Ogburn appreciates the prep squad's effort here — and believes its will pay dividends next spring on the DODDS-Korea diamond.
"We always like to see the young ones come out, have a good time and learn something in the process," he said. "It's good for their future in the game."
Friends on a long road trip
Their days of being assigned to South Korea are long gone. But a handful of former All-Army players on the International Guzzlers just keep coming back.
John Nicholson, a reservist living in San Luis Obispo, Calif., Andy Watts, a former All-Army coach now stationed at Fort Bragg, N.C., and Wayne Julius, based at Fort Bliss, Texas, had their airfare paid by the Guzzlers, a nonprofit softball club registered at Yongsan.
Watts left South Korea two years ago, Julius in 2001 and Nicholson last year.
They could have played in Memorial Day weekend tournaments stateside. But friendship and loyalty lured them back.
"This team is family-oriented," Watts said. "They come to see friends that we otherwise wouldn't see back there. You see different people traveling from North to South Carolina, but you come over here and see familiar faces from Korea, Japan and Okinawa, guys we know."
Airline tickets and hotel fees for Nicholson, Watts and Julius were paid out of money the Guzzlers raise through activities such as softball field concessions and team T-shirt and ballcap sales.
"It's worth it," Guzzlers coach Tom Costello said. "These tournaments are like a reunion for us. Camaraderie, friendship and nostalgia. Plus, we're all softball-crazy."
All-Marines put rivalry aside
Though Pacific Force of Okinawa, winner of 39 Grand Slam tournaments since 1989, isn't here, its presence is still being felt.
Duty requirements kept most of the team on Okinawa. Four players came anyway, with Keith Serrano playing for the Guzzlers and three others — including two former All-Marines — suiting up for the archrival Yellow Box, the tournament's defending champion.
Outfielder Gary Chaney said he made the move as a favor to Yellow Box coach John O'Brien.
"He's been my friend for 18 years," said Chaney, a four-time All-Marine twice named All-Armed Forces, who's set to retire next year. "He's been asking me to play for him for a number of years. This would be the last time I'd be able to play with or for one of his teams."
Joining Chaney on Yellow Box for the tournament are 13-time All-Marine and 12-time All-Armed Forces catcher Cherylton McRae and shortstop Carlo Aguon of Pacific Force.
Yellow Box has reached the last seven Grand Slam finals but won only once. Pacific Force beat Yellow Box in three of those matchups.
"But 18 years of friendship outweighed that," Chaney said.