For Kubasaki, PCS plane brings precious cargo
by
Dave Ornauer
December 15, 2005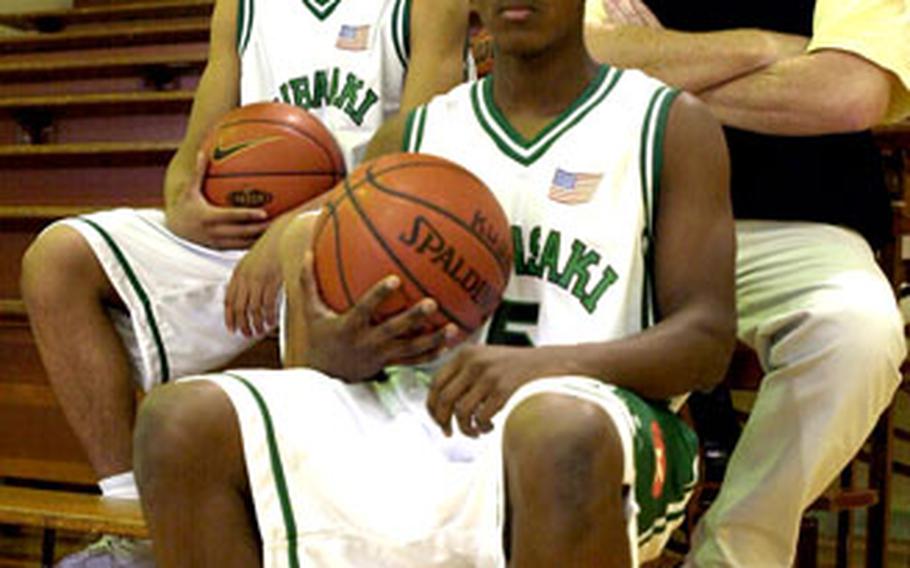 Some years, the so-called "PCS plane" carries a wealth of high school athletic riches from the States that makes a coach get on his knees, clasp his hands, gaze skyward and whisper a fervent "thank you."
Such is the case for Kubasaki boys basketball coach Chris Sullivan. It's almost as if the fourth-year coach has, for the past two years, extended a bridge from Okinawa across the Pacific into Southern California, from whence came his three senior stars, 6-foot-5 forwards Vance Maxey and Stephen Thompson and 5-9 point guard Steven Ellis.
"The PCS gods have been good to us," the Dragons coach said Friday, smiling after a practice at the Dragons' Den on Camp Foster. "That's a hit-and-miss thing. Some years, it's a gold mine. Sometimes, you have a dry year. The California pipeline. It's been good to me the last two years."
Good? More like explosive — the team has exceeded 100 points in three of its first nine games.
Maxey, an arrival last summer from San Diego, has averaged 26 points and 19 rebounds. Thompson, who transferred from Twentynine Palms in August 2004, has averaged 20 points and 17 rebounds in two games since returning from a football ankle injury. Ellis, who came in from Fallbrook, near Oceanside, at the same time as Thompson, has averaged seven assists and four steals in replacing graduated star Marcus Carson.
It took a while for the three to play a game together — it wasn't until after Kubasaki slumped to a fifth-place finish in the Hong Kong International School Holiday Invitational over Thanksgiving weekend en route to a 5-4 start.
Now that they're in the lineup, coaches, players and foes feel the sky's the limit, and an end to Kubasaki's nine-year Class AA tournament title drought may be in the cards.
"That's a lot of power," said coach Steve Boyd of Seoul American, which finished third at Hong Kong. Mindful of Thompson's inside game, which he saw last season, Boyd said: "It will take a Herculean defensive effort to stop them."
Kubasaki owns a Pacific-record 10 Class AA titles, but none since 1997. The Dragons' chances at an 11th crown "are great, as long as we keep practicing and working hard," Ellis said.
Sullivan feels his ballclub is potentially better than the one that played six games in 36 hours en route to a runner-up finish in the 2003 Class AA tournament.
"We're deeper, more mobile and versatile on the floor," Sullivan said. "We're probably 10 guys deep. That year, we had perhaps six or seven players. We couldn't go deep, especially at Far East."
Of the Dragons' "Big Three," Maxey is the most traveled; he's attended 10 different high schools, including Kubasaki, and has never completed a full season with one team. "I'm just happy to be here, knowing I'll be here for a whole season," he said.
Maxey is also a pure scorer, able to hit from anywhere on the floor. "He's our inside and outside guy," Sullivan said.
Thompson brings the blue-collar ethic to the paint to complement Maxey's scoring.
"He owns the middle. He controls the perimeter," Sullivan said, adding he can interchange their roles when needed. "Since Stevie's come back, we can make that adjustment."
Last season, only Thompson posed an inside threat for the Dragons. So now, how can an opposing team handle the sort of inside power that not just one, but two skilled post players can bring to the table?
"You keep placing an emphasis on rebounding and cutting off second-shot opportunities," Bliss said. A team that permits Kubasaki too many offensive rebounds will be "in trouble," he said.
"It puts pressure on opposing defenses," Thompson said. "They can't double-team all of us."
Then there's Ellis, who fills what Sullivan felt at season's beginning was the most critical hole in the lineup — that vacated by Carson, who averaged nearly a triple-double in scoring, assists and steals for last season's fourth-place Class AA squad.
"He's not Marcus, but he's stepped right in," Sullivan said. "He understands his role, pushing the ball down low or shooting outside. He reads and understands defenses very well."
Surrounding the three are a strong supporting cast of youngsters, such as guards Michael Bennett and Reggie Pearson and post players Tsutomu McCoy, Keith Sturdivent and Tommy Fair, all of whom are "developing," Sullivan said. "It bodes well for the future."
Kubasaki's slow start was mainly due to going from football season to basketball so quickly; the team had six practices before Hong Kong, as well as having Thompson on the sideline.
"All three of those guys had a hard adjustment, going from football to basketball with no time off," Sullivan said.
For now, the Dragons concern themselves with the present and have put the slow start behind them. And players and coach hope the blessings brought by the "PCS plane" will translate into Class AA success in February.
"We already have football," said Thompson, who played for Kubasaki's large-schools football champion team in the fall. "Basketball's next."