For Far East music festival participants, it's tough leaving teammates behind
---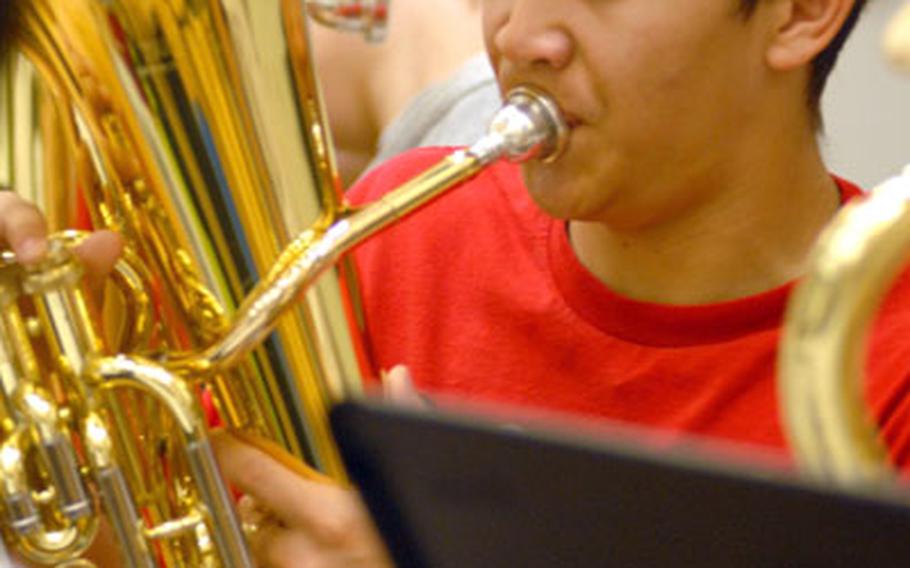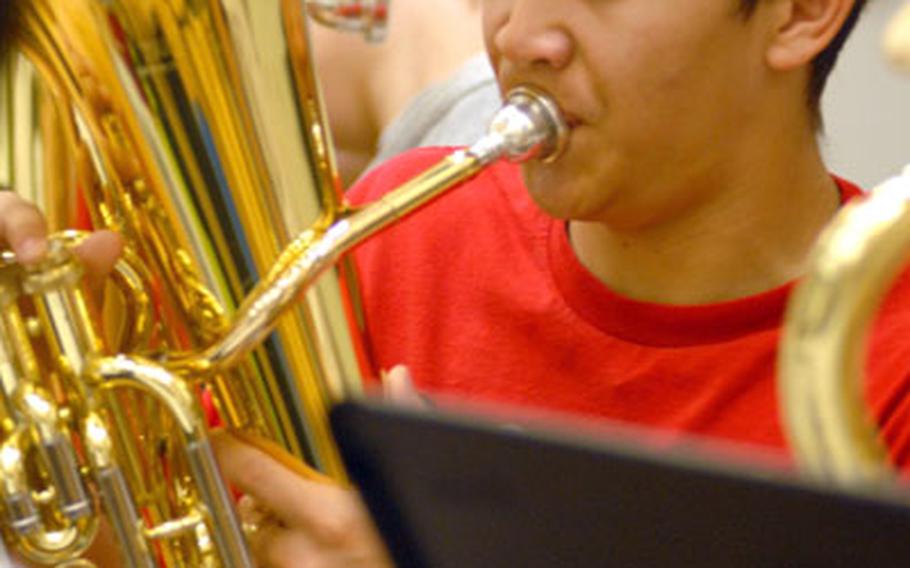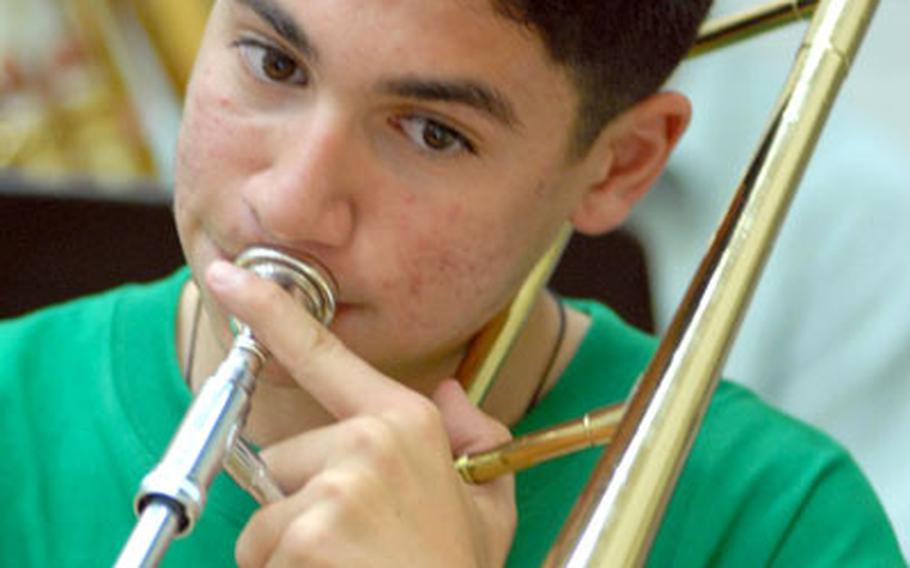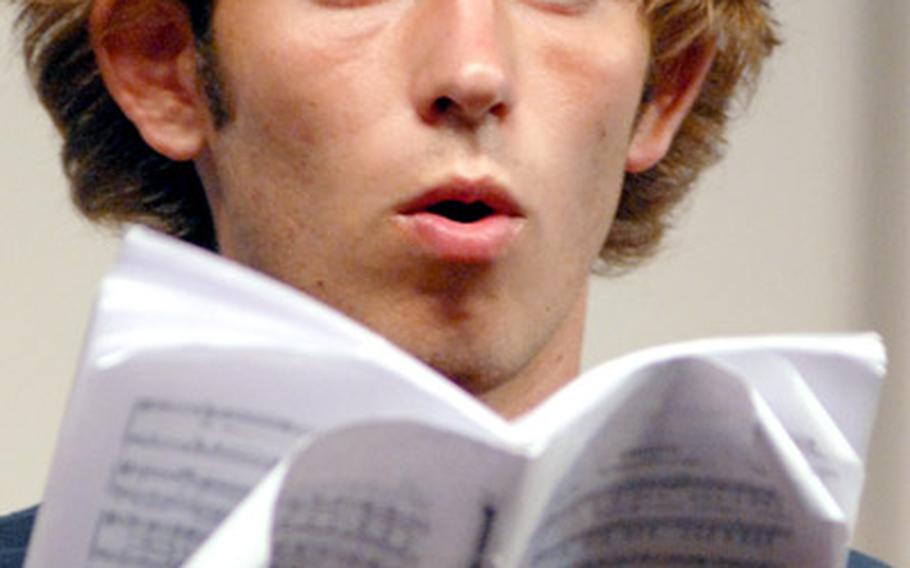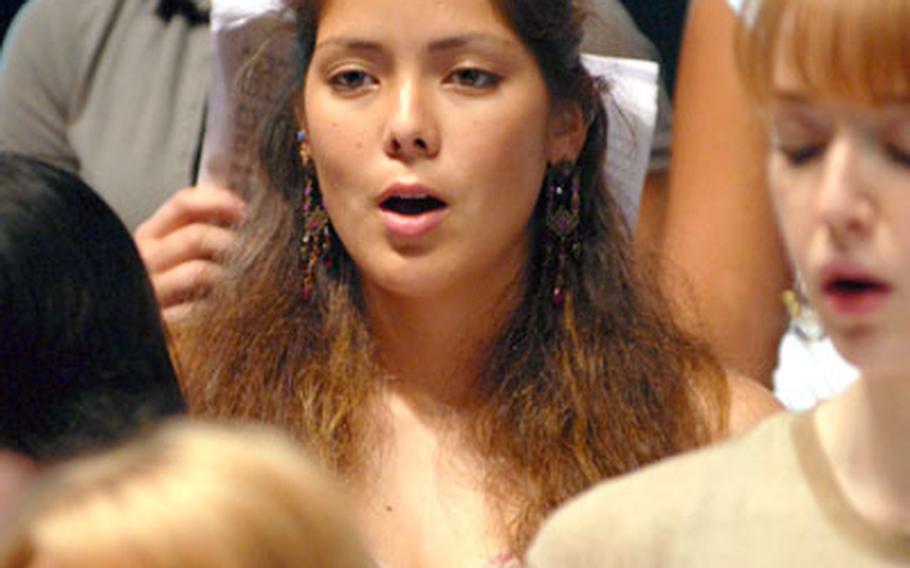 CAMP FOSTER, Okinawa — Lorna Haney has spent much of the spring backstopping the Seoul American girls soccer team to an 8-3 record.
But come this weekend, the senior goalkeeper won't be playing in the Korean-American Interscholastic Activities Conference Division I tournament at Yongsan Garrison, where the Falcons are the No. 3 seed.
Haney opted to devote this week to her vocal rehearsals for Friday's honors band concert at Kubasaki High School, the culmination of the Far East High School Music Festival.
"I love sports over anything," Haney said. "But this is different. I want to get as many experiences as I can in high school."
Haney was not the only student-athlete involved in other activities who faced a difficult decision this week: stay with their teams to prepare for this weekend's competition, or blow their horns or sing their hearts out.
She is among the 73 vocalists and 72 instrumentalists from the 11 DODDS-Pacific high schools plus Guam High from the DDESS-Guam system gathered at Camp Foster to conduct their honors band rehearsal. The concert starts at 7 p.m. Friday at Kubasaki's theater.
The music festival is one of 19 activities, ranging from athletics to academics to arts, offered by DODDS-Pacific's Far East Activities Council.
Occasionally, schedules collide.
"It makes it difficult. Everything is a matter of balance," DODDS-Pacific deputy director Steve Bloom said, adding that despite scheduling conflicts, the FEAC slate "absolutely" offers students opportunities they "might not get elsewhere."
"A Far East event that lasts a whole week, more people would choose that" than a KAIAC tournament or other game, said Jack Adams, band instructor at Japan's E.J. King High School.
Of course Adams isn't the one losing a key starter for a championship tournament.
"I'm not thrilled about her absence in the tournament," Seoul American coach Lori Cannon said.
But Cannon, who played at Seoul American and graduated in 1993, can relate to the tough choices students must make.
"I do support them in their other activities because I was the same way and I know what it feels like," Cannon said. "But now, I also see how frustrating it is from a coach's point of view."
Senior trumpeter Christina Renick, in her third trip to the music festival, missed E.J. King's trip last April to the DODDS-Japan girls softball tournament at Misawa Air Base. When this year's tournament was canceled due to budget cuts, Renick chose not to play softball at all.
"Honors band was more of a priority" this year, she said. "I know what it takes, a lot of hard work just to get here. It seemed more reasonable for me to do band."
Given all the other things Renick does, giving up softball was probably a good thing, Adams said. Renick participated in Far East Model United Nations in March, in addition to serving as National Honor Society vice president and E.J. King's student council treasurer.
Haney is in her third year at the music festival: She also missed last year's KAIAC tournament. Seoul American lost in the championship in a shootout to Seoul Foreign with midfielder Erica Anglade taking her place in goal.
"They did fine without me [last year]," she said. "But it's going to be tougher this year because the competition in the league is better."
This year Anglade leads the team in scoring, with 14 goals and five assists. The goalkeeping duties will fall to Haney's backup, senior Lexi Lewis.
"I'll want to see how that goes," said Haney, who acknowledged that a part of her will "want to be somewhere else" during Friday's concert.
Likewise, Taegu American junior Andrew Davenport, a third-year player on the Warriors baseball team who's been playing the baritone for six years, will miss Saturday's second weekend of DODDS-Korea games at Camp Humphreys.
"I miss it. But it feels good to carry around that instrument. Band will impact my future more than baseball," said Davenport.
He also plays football, wrestles, participates in Far East drama and junior ROTC.
As Friday's concert is beginning, so will the fourth of five matches in the annual Okinawa Activities Council boys soccer series pitting Kubasaki at defending Far East Class AA tournament champion Kadena.
Kadena senior sweeper Alex Mierzejewski, the team's leading scorer with six goals, will skip the match to sing with the Far East honors choir. It's a choice he says is causing "mixed emotions."
"I'd like to be playing, but I want to do this, too," Mierzejewski said.
Haney shared that angst.
"It would have been nice to do both," she said.
---
---
---
---