Home Team
For coaches, deciding Far East roster tugs at the heartstrings
---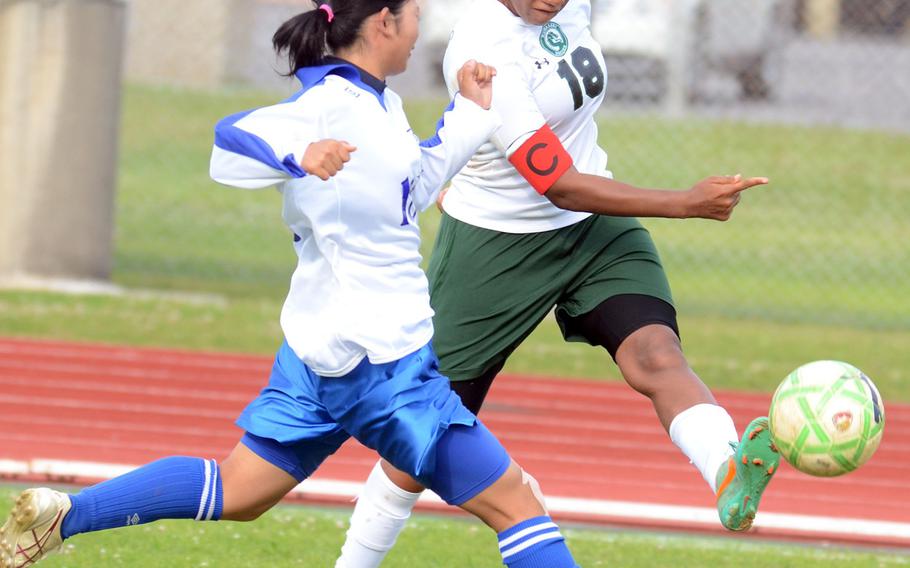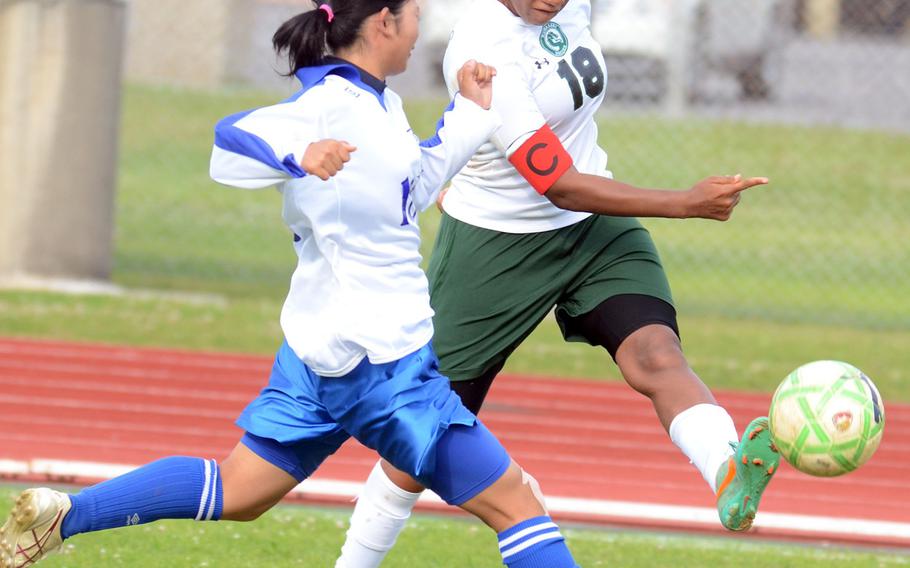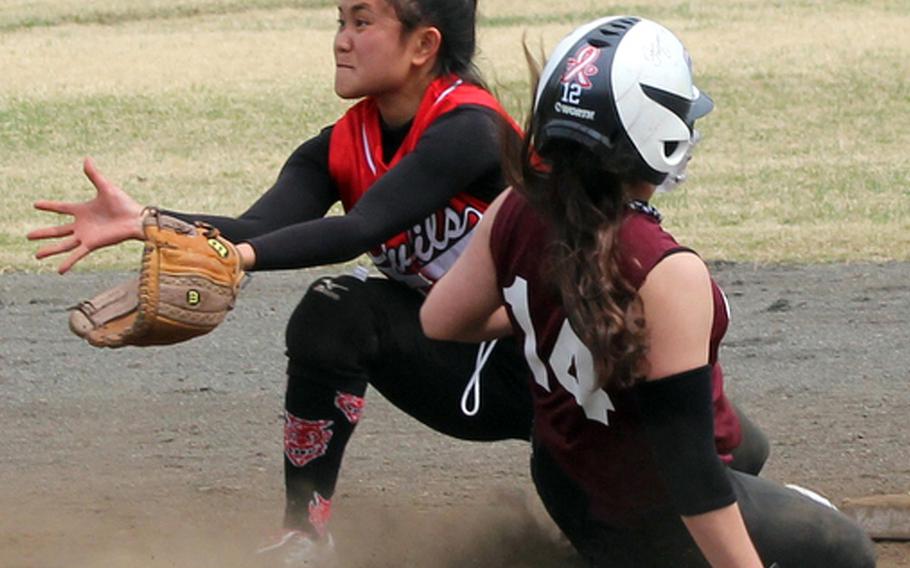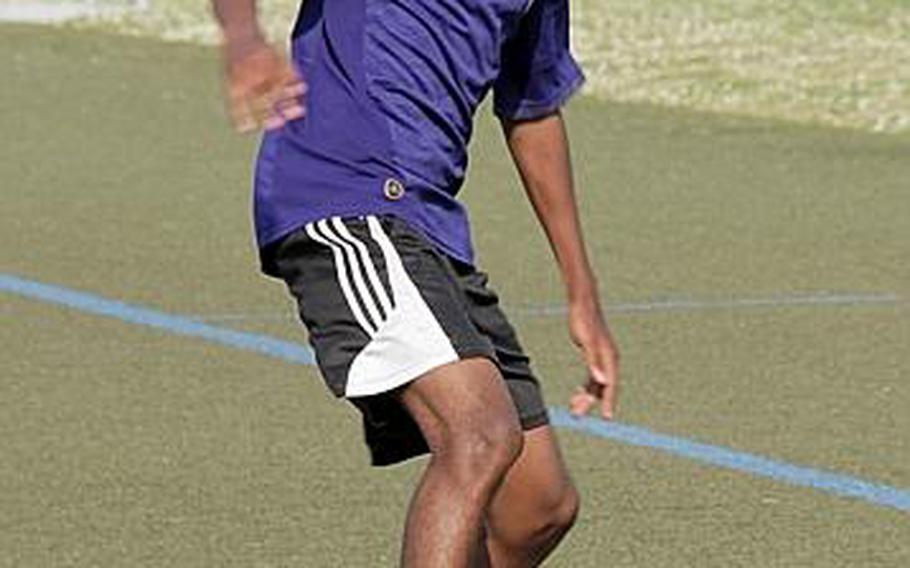 All season, coaches emphasize to teams that they're not just teams, but families, at least for the three months they're together. But with Far East tournaments fast approaching, coaches have had to deliver some heartbreaking news to some members of their sports families:
"I can only take so many with you to Far East. A few, I must leave behind. So while we're family, the head of that family has to make tough choices, some of which won't be popular. I ask you be gracious to your teammates, whether you're going or not. And please understand why I made the choices I did."
Much easier said than done, coaches say. They agonize over making final cuts, even lose sleep over it, something most say they'd rather not do at all.
"It's the least enjoyable aspect of coaching," Kadena boys soccer coach Michael Callahan said. "It becomes a numbers game. … You want to take all the young men who worked hard all season … you know that there are deserving players who will be left off the roster."
"I never take any pleasure in this, and it's always the toughest decision I as head coach have to make during a season," Seoul American boys soccer coach Steve Boyd said. "It's always tough to look a player in the eyes and relate the news that he did not make the Far East roster."
DODDS Pacific policy limits soccer teams to just 14 players and baseball and softball teams to 13 for Far East tournaments, down one player each from 2012 levels due to budget cuts, DODDS officials said.
Most teams began the season with well more than 13 or 14 players.
"I'm still losing sleep over it," Daegu softball coach Ken Walter said. "I do not like to leave girls behind who've done things right all year."
Most coaches say they understand the rationale behind the cuts, "but that doesn't mean I have to like it," Boyd said. "Players and parents have a right, and understandably so, to be upset. … I know I would be if I were a parent whose son was not included."
It's probably worst on soccer teams because of all the running they do, Zama American girls coach Rogers Pitts said.
"Most players run anywhere from 2 to 5 miles a game. We play 80-minute games. You tell me which sport runs as much and for as long as soccer?" Pitts said. "Now, you reduce our number by one person during a time when intensity is at its highest and demand on players by coaches is even higher."
Teams just starting up, such as Matthew C. Perry softball, have it even harder. "It is always hard when you have to tell someone that has worked hard for you, that it just wasn't enough and it is especially hard on me because I am struggling to get these girls to buy into this 'new' sport and then to have to keep some at home is rough," Samurai coach Kevin Peterson said.
There's no single method to the cuts. Each coach surveyed seems to have a different method to evaluate and determine which athletes go and which ones don't.
"Team goals, team needs, team character, team health, team academics and team chemistry all play a vital role in my decisions," Boyd said.
"Hitting, fielding, team-first attitude, coachability and so on," Walter said, adding that he would post 14 names of players on a board outside his room, those who had an "inside track" to make the team. He said that approach helped ramp up his players' competitive edge.
It might seem logical to reward those who are senior in the program, but "as much as we appreciate the dedication of our seniors, we had to choose our strongest players," Seoul American softball coach YunHui Danforth said.
"You have to do what's best for the team as a whole. If we want to compete against other D-I schools, then we have to take our strongest lineup. We hate to see students disappointed, but the fact is, this is competitive."
"You play well, you're in," Callahan said.
But even for coaches who've been through the process a time or three, "there is no happy medium," said Kelli Wilson, Kadena softball coach, who tried to head off the heartbreak by picking a smaller varsity team, of 12 players, to start the season and add on as the season progressed.
"Last year, I almost made myself sick trying to pick who to take," Wilson said. "This year, it was the easiest process every because I knew how it would work and set myself and my team up for success."
Kubasaki girls soccer coach Annie Mudd followed a similar blueprint. "I've been carrying 14 all season," she said, adding that it keeps "team chemistry consistent."
So, how do the players take it when they're confronted with the news?
"I was a little disappointed," said Ali Osman, a Nile C. Kinnick soccer player who didn't make the cut two years ago as a freshman.
But that was due to grades. He didn't play last season, said he worked hard to boost his grades and is a regular on honor rolls in this, his junior year. And he made the cut for Far East this time. "I feel like I accomplished something," he said.
Walter said he'd talked with one of his seniors and told her it was down to her and one other girl. The senior had not played much due to injury and made the decision to remove herself from the list. "What an amazing kid," he said.
Not everybody says they'd be disappointed if they weren't selected. "I'd accept it and understand it, that somebody better is going to represent the school," Kubasaki sophomore goalkeeper Harleigh Lewis said.
It comes back to family, Lewis' freshman sister and Dragons defender Peyton Lewis said. "If the team is family, it's what's better for the family."
---
---
---
---