Foote is the foundation as Kubasaki works to rebuild
by
Dave Ornauer
April 1, 2004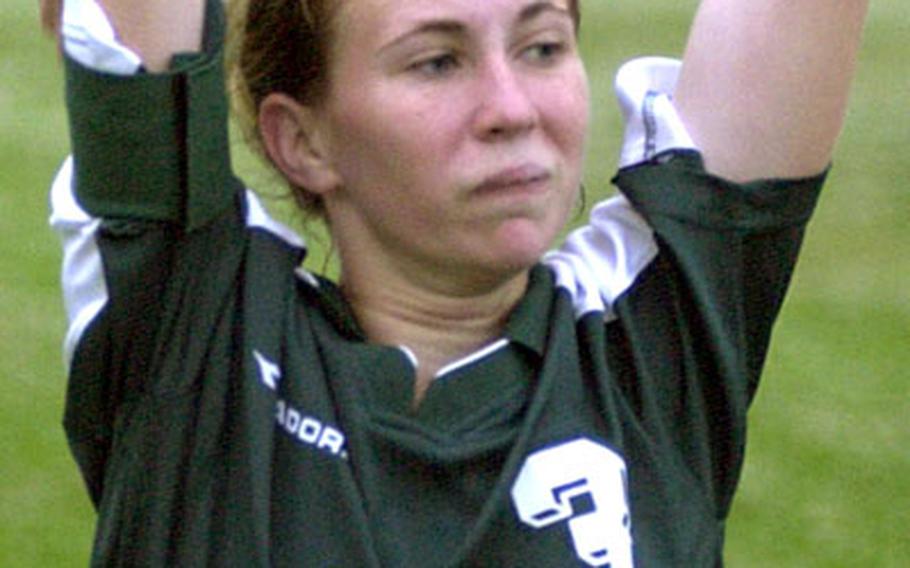 Junior Erin Foote has seen a lot of success in her high school soccer career.
Two Far East Girls Class AA Tournament team titles … two All-Far East selections … MVP of the 2002 tournament … a region-high 73 goals in two-plus years in a Kubasaki uniform.
But the glory hasn't been there this season and prospects of another championship are dim after some of the Dragons' key players either graduated or transferred.
"This is a much different team," said Foote, a captain this season.
There is a small core of veterans trying to blend with a group of youngsters, including talented freshmen Kimi Cece and Sarah Rhodes in the middle.
Still, two early season shutout losses against Kadena indicate a rebuilding campaign — a rarity for the three-time Class AA finalist Dragons.
"It's like my sophomore year all over again," senior goalkeeper Debra Kinzley said, recalling how Kubasaki struggled to rebuild in 2002, going 0-2-1 in the regular season against Kadena, only to rise up to win the Class AA title.
"Every year is different depending on the personnel you have," said coach Terry Chumley, in her eighth season as either Kubasaki's head or assistant coach. "You plug along, do your best, don't worry about the short term and look beyond."
She's bore the brunt of the rebuilding and retooling effort, with Foote, the most visible of Kubasaki's veterans.
"I've always felt that burden, but not quite to this extent," Foote said, adding, however, that the added responsibility is fueling even greater efforts on her part.
"It inspires me to work harder," Foote said. "People are depending on me, they look to me. 'If Erin's OK, we're OK.' I'm learning to roll with the punches."
"She is focused, wants for her team to improve during the season, as we all do," Chumley said. "She has a never-give-up type spirit, and she'll work to improve at every opportunity there is available."
But making the team competitive in this year's Class AA tournament, less than four weeks away at Camp Zama, Japan, might be too tall an order.
"We're still kind of new to each other," Kinzley said.
She and the other veterans have stressed to the youngsters the need to communicate and understand what they're up against.
"They need to realize that high school soccer is different from youth ball. You need to take things more seriously," Kinzley said.
Trying different lineup combinations, seeing where the strengths and weakness of the new players lie, and how best to make it function with the strengths of the veterans and hoping it all comes together soon, is what Chumley hopes for.
"We have to learn how to mesh as a team. We've only played four games [and] we haven't reached the point where we'll be successful yet, but we intend to be within the next four weeks," Chumley said.
Aside from developing chemistry, other obstacles loom. There's the top two teams in Japan, Nile C. Kinnick (5-0-1) and Robert D. Edgren (7-0-1), along with a Kadena team that has run the table in its first 12 matches.
While keeping the run of Class AA titles alive would be nice, "building a team is likewise awesome," Chumley said. "Just because we've won, that doesn't guarantee that we're going to win every year."
Though Kadena has held sway in the first two of their three regular-season meetings, with a final meeting scheduled for April 16 at Kubasaki, coach Hoa Nguyen says he takes nothing for granted where Kubasaki is concerned.
"Give them time, another month," he said. "I think Terry can get them going again. I still think they're a big threat. They are still a force to be reckoned with."
Remembering Foote's role in the 2002 Class AA final, Nguyen says Foote's leadership will serve as a key element on the Dragons' route to regaining that championship edge.
"She's a role model," Nguyen said. "They all look up to her and say, 'Hey, this girl has been there, won the two championships, scored the 70-plus goals, she's the most experienced player.' She has everything that anybody can look for, going to a practice or a game, she has it."
Returning to a competitive level "comes with time," Foote said, noting the gradual rise of Kadena to title-contending status the past couple of years.
"Maybe this is their time," Foote said. "Or maybe by Far East, it will turn around; we were 0-2-1 against Kadena two years ago but won the title. I'd be happier if it were us again, but as long as it [title] stays on Okinawa, I'll be happy."
Despite the hurdles, Chumley remains optimistic.
"They'll become better players together and become a better team over time," she said. "It's time to refocus and redetermine and see what the future holds."
---
---
---
---