Florida referee brought in to school football officials at German military bases
---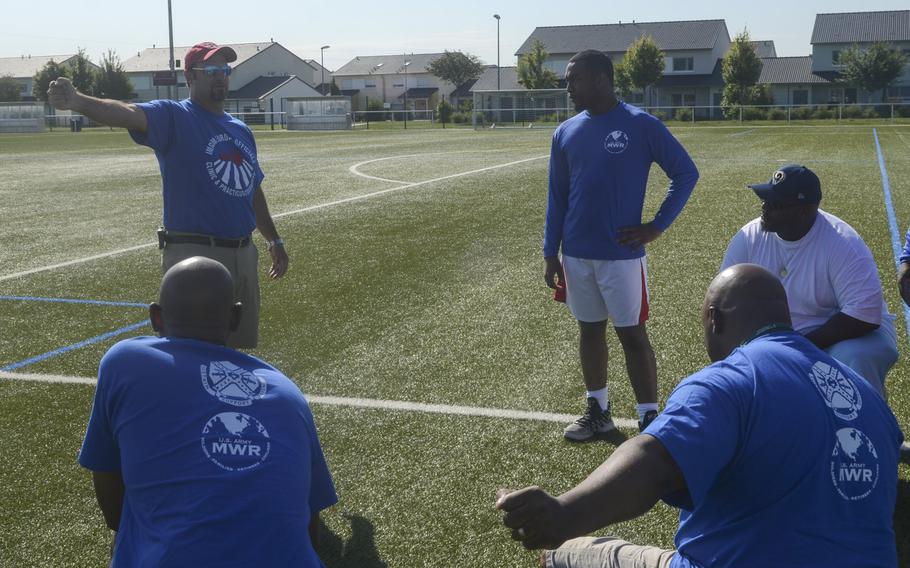 WIESBADEN, Germany — Youth sports managers brought in a ringer to lead weeklong football refereeing clinic in Wiesbaden, which will form the foundation for Germany-wide certification of youth football referees this year.
Andrew Gugliemini, an official and high school wrestling coach from Bradenton, Florida, headed a forty-hour course July 18-21 at Wiesbaden's Clay Kaserne attended by officials from five U.S. installations in Germany – Stuttgart, Wiesbaden, Kaiserslautern, Hohenfels and Grafenwoehr.
Even though some of those at the clinic have been refereeing for decade, they must re-certify every year to officiate youth tackle football with Child and Youth Services, or CYS.
"There's no association here like you have in the states, so we have to get them trained up and make sure they meet the standard, and that's a hard thing in itself," said Joe English of Wiesbaden CYS. "The idea of bringing in a professional is if you want to do something, you want to do it the best."
Gugliemini said his training included three days of classroom instruction, something that's easier to do now with the huge amount of football videos available online. Being able to come to Germany, he said, was also a welcome break from the sweltering Florida summer heat.
"It's hot and it's humid there, so this is beautiful," he said. "The facilities, the people, it's been amazing. At this point in my career, it's been a blessing to do this."
Henry Wilkerson, an official from Kaiserslautern, said his experiences as a basketball coach have given him a new appreciation for the importance of good referees.
"The one thing I hate is a bad official," he said. "So now that I've become an official, I want to do everything I can not to be that guy that when the coaches see them, they shake their head. I don't want to be that guy."
Officials certified at this clinic will head back to their respective home stations and lead local training there, English said.
"The idea is to reach one, teach one," he said. "Most of the other officials are soldiers – they can't get off forty hours during the week, so we send these guys to go back and teach locally in the evening most of the time."
While there are some differences between the game in the U.S. and at military bases in Germany, including facilities and the number of players in some leagues, Gugliemini said officiating is a universal language.
"It's the same once you step onto the field," he said. "They're all coming together for one common goal – to get better as football officials and help their crews and their coaches. If i can help out with that at all, feel like I've actually done something, that's nice."
---
---
---
---