Flavor of Yokota-Zama rivalry has changed a bit
---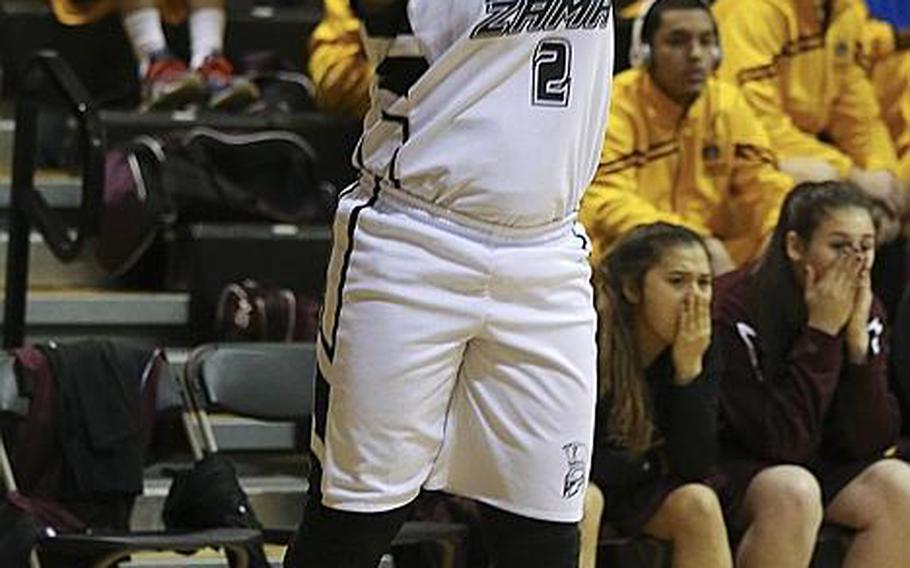 CAMP ZAMA, Japan – Nothing like a sprinkling of freshman talent to add spice to two already-good girls basketball teams engaged in an sizzling rivalry.
Yokota and Zama are both chock full of young talents and seasoned veterans. They currently sit 1-2 in DODDS Japan, Yokota 9-1 in league and 13-2 overall and Zama 6-2 and 9-3.
Players and coaches on each team say they are likely on a collision course to meet in the Feb. 6 DODDS Japan finals at Yokota and the Feb. 15-18 Far East Division II tournament at Matthew C. Perry.
The two met in last year's final, with Yokota winning 53-40. And they've halved their two regular-season games, Zama winning 47-25 at Yokota on Dec. 17 and the Panthers repaying the favor 61-47 on Jan. 12.
The new ingredients are as alike in their backgrounds – each are veterans of youth services ball – as they are different in style. Kaliah Henderson of Yokota is a slashing speedy guard; Zama's Destiny Thomas is a sturdy force in the paint.
Henderson missed the first four weeks of the season, but since her debut, the speedster has averaged 19 points, four rebounds, eight assists and six steals in eight games, all Panther wins. She joined a team featuring senior center Caitlyn Rowan (11.7 points, 13.3 rebounds) and the guard tandem of Jamia Bailey (17.5 points) and Sarah Cronin (13.1).
"It was an already good team, and we just took something already good and added to it," Yokota coach Kitty Martinez said. "She has a natural ball push. She gave us the spark that the team kind of needed and she speeds the team up that much more."
Thomas doesn't possess Henderson's quickness – few players do – but she's just as quick to battle for a rebound as she can step back and shoot the three. She averages 13 points and 8.2 rebounds per game, complementing the play of junior captains Ti'Ara Carroll (19.1 points, 5 assists) and Ally Chiarenza (16.8 points).
"She's kind of a glue person," said first-year Trojans coach Aaron Wells. "She can shoot, she can dribble, she can penetrate, she can rebound, she's a complete player for being 14 years old and being a freshman."
The addition of the two freshmen has created a different approach. No longer is it about one or two players carrying the load, as in past seasons.
"We're working well together," Thomas said. "We're bonding more. I watched a few of the games last year. It's a lot of progress with teamwork as opposed to last year when I saw … really in some aspects a one-man show."
"We have set team goals and they have that in their vision," Martinez said. "And that's our concern this year is the team goals."
The saying in past years among opposing teams had been, stop No. 22 and you stop Zama, referring to Carroll's jersey number.
"It feels like a little weight has been lifted off my shoulders" with Thomas, Carroll said. "But I continue to push hard and make sure to give all my effort into it. Allowing more players to come in and help, it's been great. It's been more about family, not just all on you."
The early part of the season was rough for Henderson, who fractured a finger during an Oct. 6 volleyball loss.
"To have that third guard, it took a lot of pressure off Cronin and I," Bailey said. "It just made the team kind of click. It gives us a little more energy and it keeps us playing well."
Both teams hope they're playing well if/when third and fourth matchups come in tournament time.
"Whenever we have a rough practice, I remind them that Zama is also at Zama working," Martinez said. "I have a lot of respect for the Zama girls. I consider them a very serious threat."
At the same time, the teams say they enter every game with the same mindset.
"We're trying to approach every game with humility and confidence, but not arrogance," Wells said. "We don't want be cocky. We want to be good sports and play as hard as we can and let the results on the scoreboard speak for themselves."
Ornauer.dave@stripes.com
---
---
---
---