Far East finals
Five records fall at track championships
by
Dave Ornauer
May 24, 2011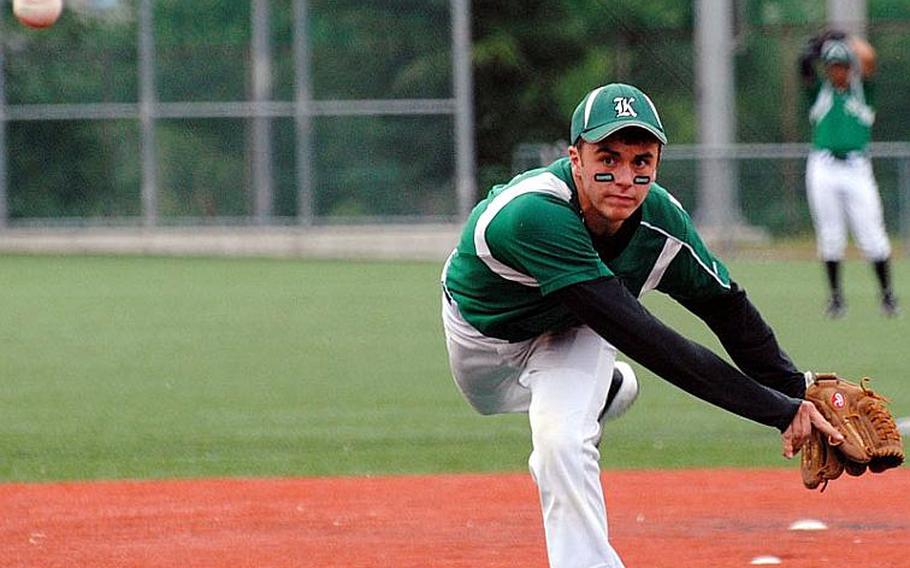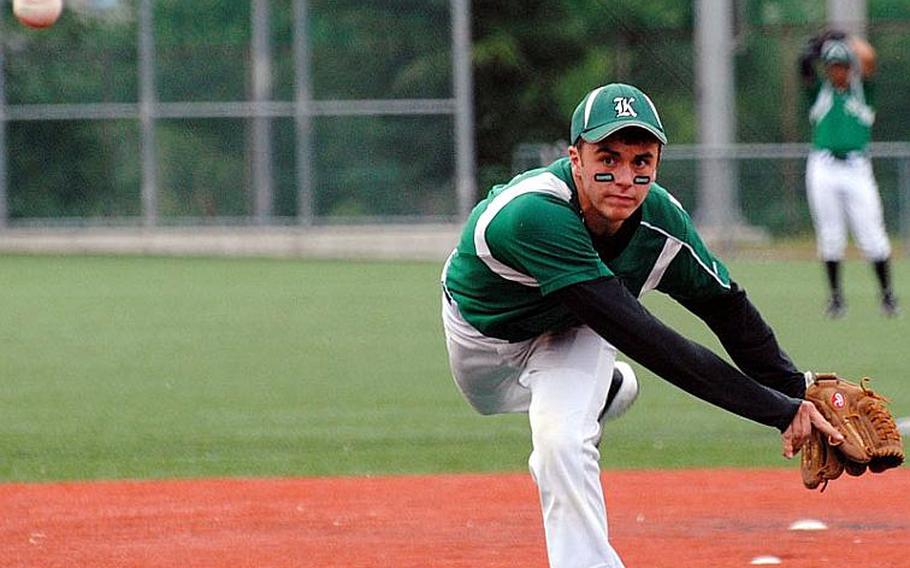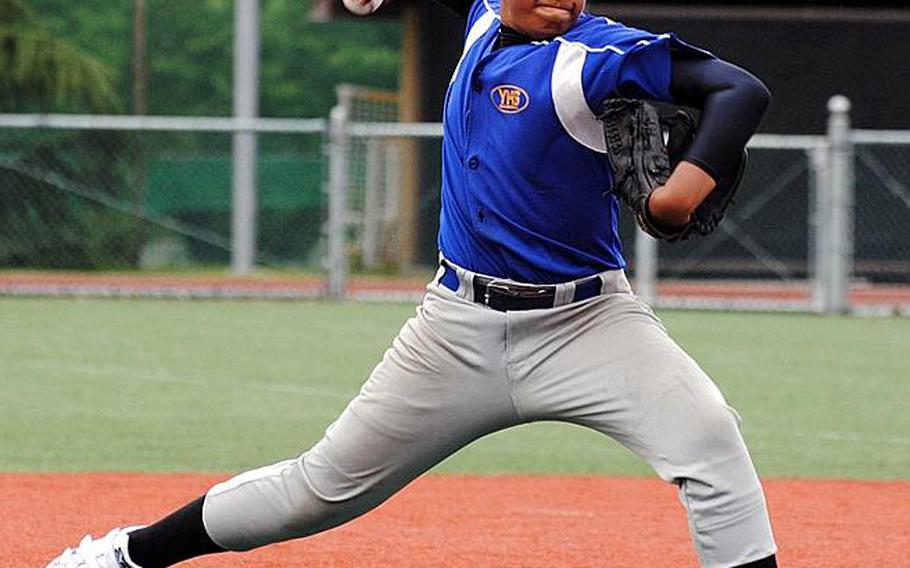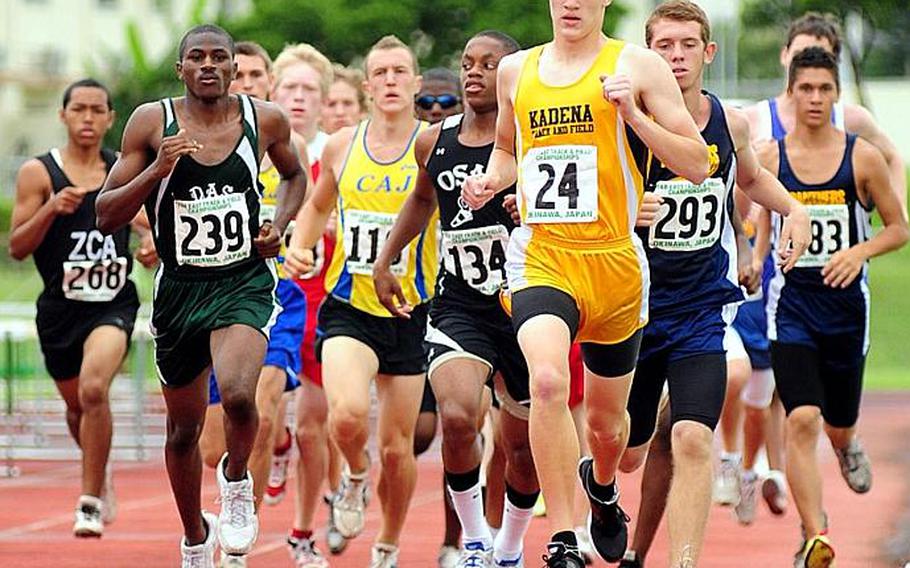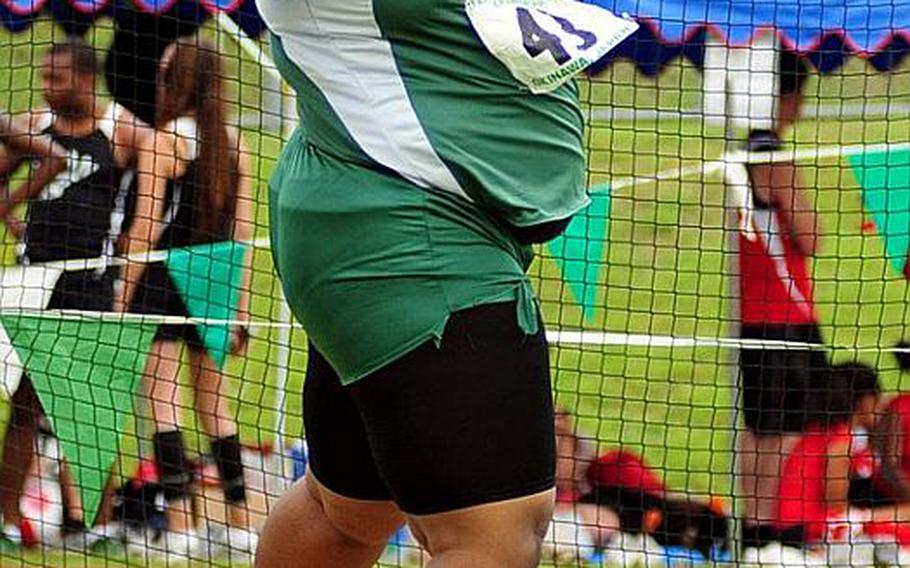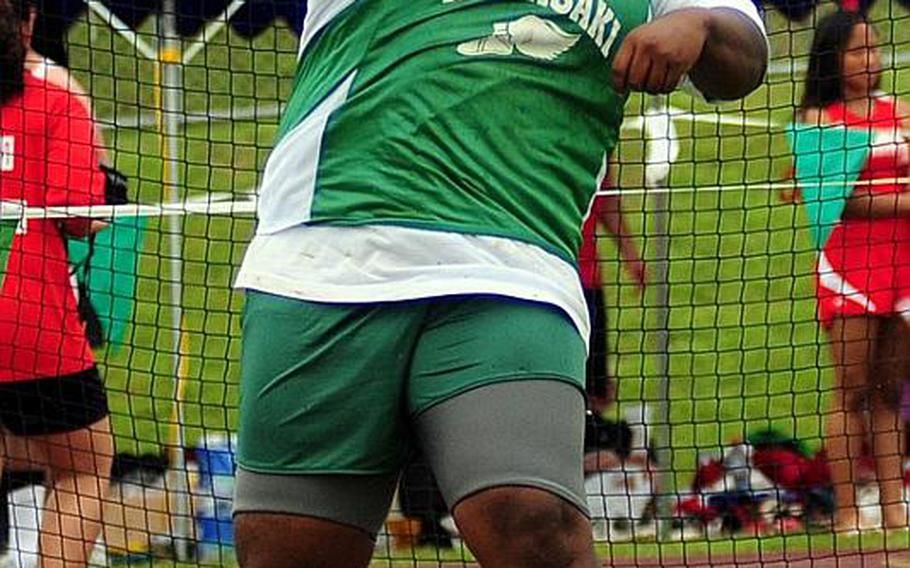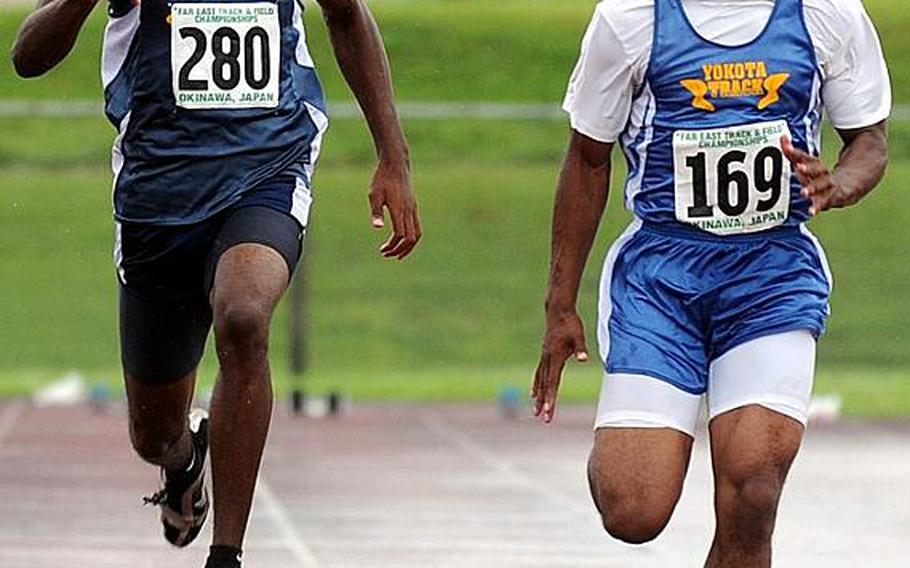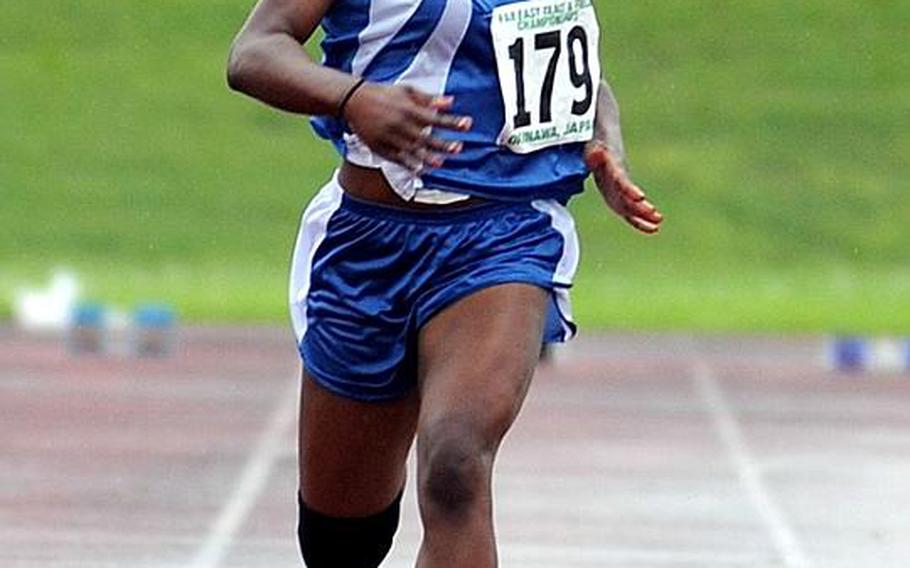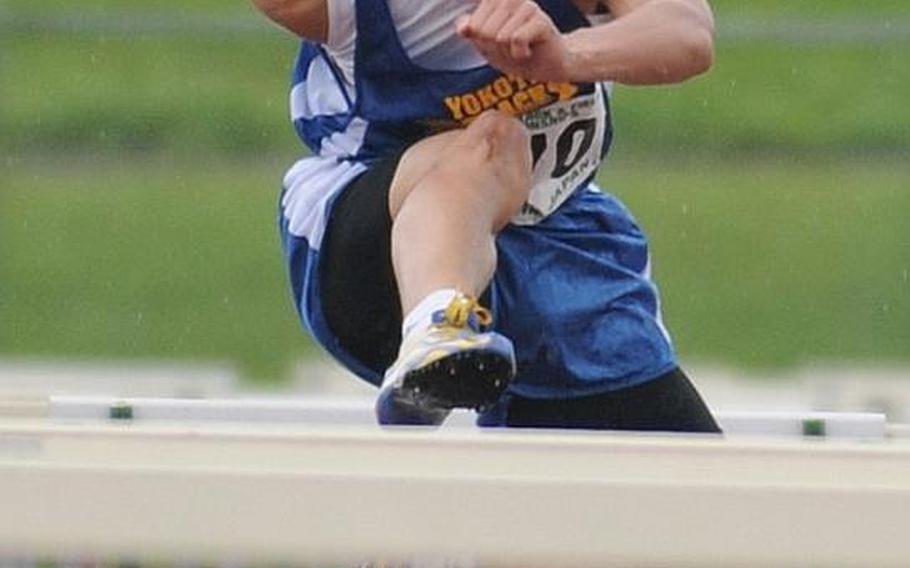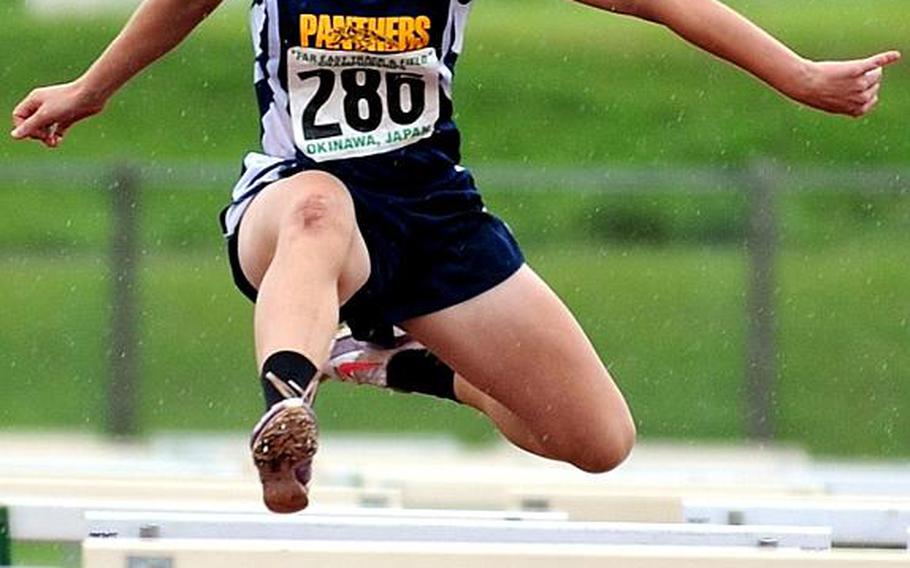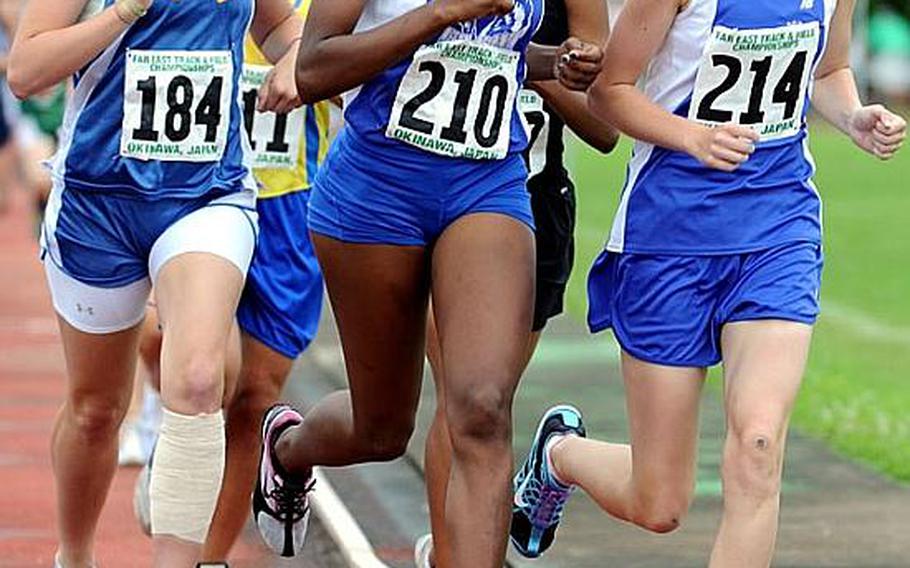 ISHIKAWA, Okinawa – Welcome to the spotlight, Gabe Ahner.
Long overshadowed by his older and more decorated brother Aaron, Gabe Ahner, a Kadena junior, stepped out of the shadows by breaking the meet record in winning the shot put Tuesday in the Far East High School Track and Field Meet.
"I just kept telling myself to keep throwing and keep getting better and better," Ahner said. "And to do this in my very last meet, it's overwhelming. I'm all smiles."
Ahner recorded a throw of 13.11 meters, breaking the meet record of 12.52 set last year by David de los Santos of Nile C. Kinnick, who finished second Tuesday to Ahner in 13.01.
"I always looked up to David. He was a great challenge," Ahner said.
Ahner's older brother is a three-time All-Far East soccer tournament selection and won the 215-pound gold medal in February's Far East wrestling tournament in Korea.
Gabe Ahner's performance was one of five meet record breakers on a day hardly conducive for track and field. Much of Tuesday's events were conducted in light rainfall, compounding the misery of a Mike Petty Stadium track drenched by overnight downpours.
Yet all but a few events were completed; just the high jump and girls long jump remained to be finished Wednesday, the latter halted after junior Kiana Caines dislocated a kneecap during a practice run-through.
Defending boys champion Kadena held a 45-point lead over second-place Kubasaki, while Seoul American was tied with Kadena with 90 points in the girls standings after 26 events.
Among the record setters, Kubasaki's Vallen Alleyne defended her discus title by breaking her own record of 24.10, recording a 28.82. She also won the shot put in 9.58, capping a stellar, unbeaten senior season.
Guam High's island champion Stefani Loisel topped the 100 hurdles record, running a 17.33, beating Kubasaki's Micaela Sherman's 2010 mark of 18.42; Sherman finished second to Loisel on Tuesday.
"Honestly, it's unbelievable," said Loisel, who finished third last year.
Sung Ji Kim of Christian Academy Japan wound up the record-breaking procession, topping Loisel's 300 hurdles record of 50.35; Kim ran 49.83 in slippery conditions after the meet was delayed an hour by the wet surface.
"How did that happen? That was the worst race ever," Kim said. "I need to call my dad."
Defending her 800 and 1,500 titles was former Far East cross-country champion Siarria Ingram of Seoul American, clocking 2:33.98 and 5:10.68.
"She could have done better" if the Falcons had had more than one meet of preparation for Far East, coach David Abbott said. "Yet, she still achieved the significant milestone of two-time Far East champion in those events."
Earning the mythical titles of "Pacific's fastest humans" were Yokota's Preston Brooks and Kelsey Scott, who swept the boys and girls 100 and 200.
"We wanted this," Brooks said, adding that the two had never really talked about a sweep, but said it was a silent understanding. "It was in our heads," he said.
The two expressed disappointment that they couldn't run against Pacific record-setting A.J. Watson (moved to States) and Bianca Johnson (ruled ineligible) of Kubasaki. "I felt bad that he had to move," Brooks said.
Among the surprises was Yokota sophomore thrower Jesse Hogan, who upset defending champion Roland Cote of Zama and other favorites de los Santos and Ahner in the boys discus."
"No way! I can't believe it," Hogan said. "I had this in the back of my mind, but I didn't think it would happen. This is so awesome."
Baseball, softball tourneysContinuing its remarkable run in the Far East baseball tournament at Daegu American, Jesse Rice, Mike Dzoba and Robert D. Edgren, which had just three weekends of regular-season games, won its round-robin pool at 4-0 to earn one of two top seeds entering the single-elimination playoffs starting Wednesday.
The Eagles upset DODDS Korea champion Seoul American, 7-4, in Tuesday's action. Defending champion Kubasaki settled for a No. 3 seed in Pool A, which American School In Japan won by tiebreaker over Kinnick.
Also playing in the damp Okinawa weather, defending girls softball champion Kadena earned a top playoff seed after going unbeaten in its pool, joining DODDS Korea champion Seoul American, which went 3-0-1 in its pool.
Zama American drew the tournament's overall No. 3 seed but at a price – senior infielder Reina Staley was lost for the tournament with a fractured wrist suffered in a 7-3 win over Yokota.
Kadena student-journalists Megan Schweers, Jeffrey Mizell, Stephanie Mobley, Zabrina Comia and Alex Zermeno and Daegu American student-reporters Maylynn Padilla and Angie Robinet contributed to this report.