First-place Raiders roll over Dolphins
---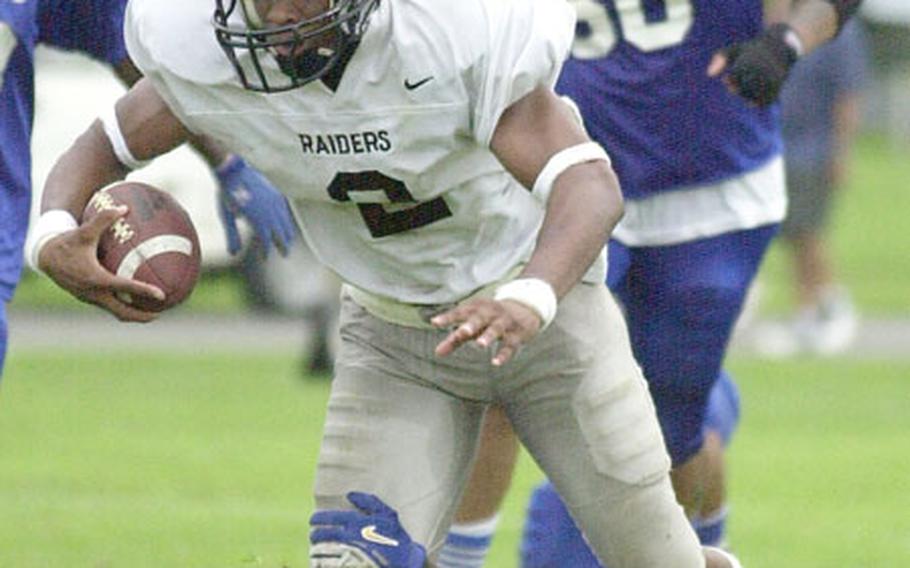 Air Force teams enjoyed a red-letter Saturday at the expense of their Navy counterparts in U.S. Forces Japan-American Football League play.
John Wilson ran for a touchdown and caught a pass for another and Xavier Reyes ran for three scores to power the first-place Yokota Raiders (3-0) past the Atsugi White Dolphins 50-0 — the first victory by a road team in six games this season.
Meanwhile, league-leading rusher James Coleman ground out 201 yards and three touchdowns on 28 attempts, boosting the Misawa Marauders to a 27-6 home triumph over the four-time champion Yokosuka Seahawks.
Yokota 50, Atsugi 0
ATSUGI NAVAL AIR FACILITY, Japan — While other league teams might have expected Yokosuka to make a run at a fifth straight title, Yokota expected to be where it is.
"We worked hard in the preseason. We put in the work to be where we are," Yokota offensive coordinator Jake Dowdell said. "It's been a total team effort. People coming to practice. Positive attitude."
Bruce Turner was 12-for-21 passing for 235 yards, including scoring passes of 38 yards each to Wilson and Ron Carmichael and 10 yards to Daniel Hutcheson and four passes to Michael Wells for 100 yards in his 1½ quarters.
The Raiders stuck to the ground game the rest of the way against the outmanned White Dolphins, who suited up only 16 players. Wilson finished with 118 yards on just three carries, and Reyes racked up 102 yards on six attempts. Mardie Wilson intercepted two Atsugi passes.
Misawa 27, Yokosuka 6
MISAWA AIR BASE, Japan — James Coleman ran for touchdowns of 18, 5 and 4 yards, and ran his league-leading rushing total to 462 yards on 62 carries, with five touchdowns.
Misawa (2-1) rushed for 352 yards and completed one pass — David Valencia's 83-yard scoring strike to Michael Jackson.
Chancer Burton recorded two sacks and Rodney McCullough had an interception.
Yokosuka scored its only points in the closing moments, on a 32-yard pass from backup quarterback Justin Victor to Alvin Johnson. The Seahawks played without league sack leader Gary Hicks and team-leading tackler Stephen Fox, among other defensive stars, who are deployed.
"We were undermanned, but we have to suck it up and play," Yokosuka coach Isaac Lee said.
---
---
---
---