Final weekends will sort out tournament seeding
---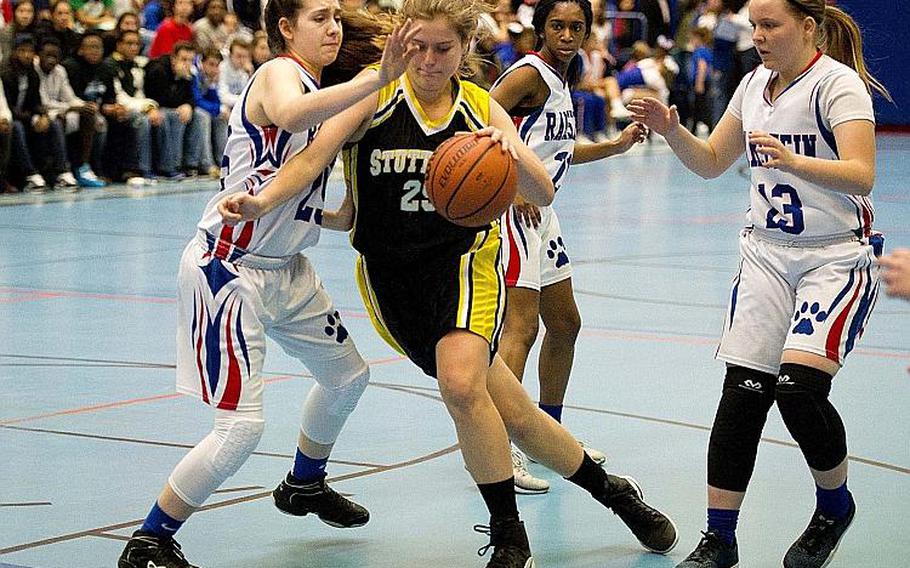 The 2017-18 DODEA-Europe basketball season has been among the most competitive and evenly matched in recent memory. That trend could become even more pronounced over the final two weekends of the regular season.
Four Division I boys basketball teams enjoy .500 divisional records or better entering this weekend's games, and those four happen to be in action against each other. The first-place Wiesbaden Warriors face the second-place Ramstein Royals in a rematch of last year's championship game on Friday. Meanwhile the Kaiserslautern Raiders and Stuttgart Panthers, tied in the loss column with three apiece, play a Friday-Saturday set at Kaiserslautern.
The Warriors have spent the winter as the clear favorite to win the Division I European tournament they'll host Feb. 21-24, dating back to their convincing 59-44 defeat of the defending champion Royals on the season's opening night of Dec. 1. But a 46-30 setback to Stuttgart on Jan. 27, just a day after it survived another Panther upset bid in a 68-67 win, brought Wiesbaden closer to the pursuing pack.
The Royals might be ready to take advantage of that newfound Warrior vulnerability. Ramstein, after dropping its first two games of the season to Wiesbaden and Kaiserslautern, has rattled off nine straight victories over Division I opponents. That active streak includes a redemptive 69-65 defeat of the Raiders on Jan. 30.
While Wiesbaden and Ramstein are likely to claim the tournament's top two seeds regardless of Friday's outcome, the Kaiserslautern-Stuttgart matchup offers the Raiders and Panthers the opportunity to add quality victories to their tally. Kaiserslautern's lofty preseason expectations have been tempered by losses to Wiesbaden and Ramstein and a costly doubleheader split with Lakenheath, while Stuttgart had the look of an also-ran before its impressive showing against Wiesbaden.
Outside of undefeated frontrunner Naples, the Division I girls standings are equally crowded with contenders. Including Naples, five of the division's nine teams enter the weekend with .500 or better records.
Defending champion Stuttgart carries losses to Naples and Ramstein, but will bring an overall five-game winning streak into Kaiserslautern. The Raiders have been resurgent since a middling start and leapt back onto the championship short list with a 36-31 defeat of archrival Ramstein on Jan. 30.
The Royals will look to avoid another setback against a Warrior team that is 3-7 in the division but capable of a big upset.
Fifth-place Vilseck, meanwhile, is a team worth monitoring down the stretch. The Falcons played Ramstein to a split in late January and handled Wiesbaden twice to start February. They'll face a tough test this weekend against Division II champion Black Forest Academy, and another one in the season's final weekend against Stuttgart.
Twitter: @broomestripes
---
---
---
---