Final track meets a time to branch out
---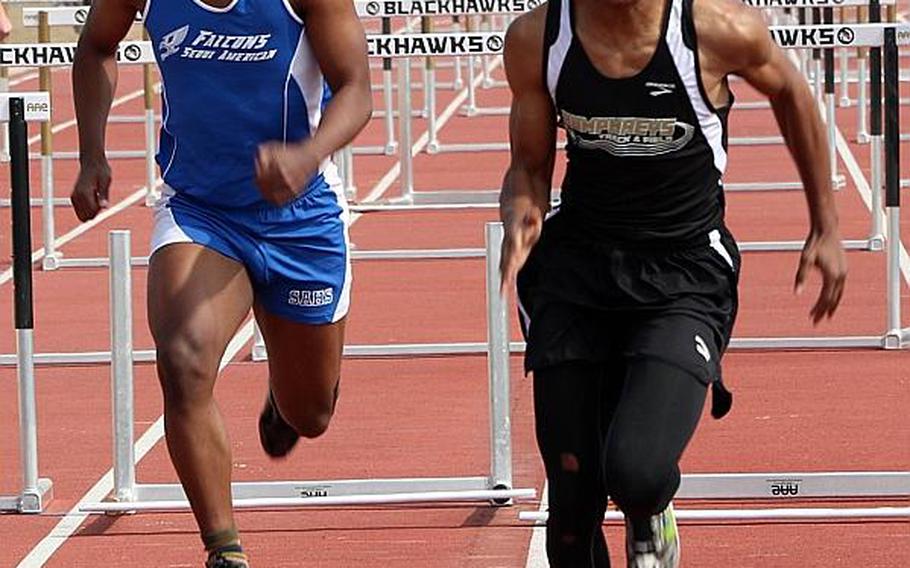 KADENA AIR BASE, Okinawa – There was a time when district track and field finals meant much more than they do today, coaches say.
Because the qualifying deadline for the Far East meet later this month passed on April 23, Okinawa's and Korea's district finals mean little beyond carrying home a league championship medal. Those meets are scheduled for Saturday; the Kanto finals are slated for May 14.
Compounding that is the fact that the first Saturday in May is also an SAT day, plus there's an Advanced Placement practice exam taking place.
"It's a meet that really doesn't count" for as much as it used to, Kadena assistant coach Doyle Robertson said, adding that due to the tests and injuries that occurred in the April 30 meet at Kadena, "there are some heavy hitters that aren't going to be there."
"The (Far East) banner is the important thing; the district meet comes second" in importance, Robertson said.
Quite different, coaches say, from the days before the Far East meet came on the map in 2010. Teams were permitted to send set amounts of athletes the first two years; after that, qualifying standards for track and field events were imposed by DODEA-Pacific's area office.
Once the Far East qualifying deadline has past, there are still regular-season and district meets on the schedule. Coaches say that while they do pursue district titles, they also find themselves holding back certain athletes who've already qualified for Far East, this year scheduled for May 19-20 at Yokota.
Or they experiment with athletes in different events to see how many team points they could conceivably earn at Far East.
"There is some purpose to those meets," Humphreys coach Ron Merriwether said, citing his 100-meter and 110-hurdler specialist Tim Ward, whom he had run the 200 in last week's meet at Humphreys.
He won. Others like Ward would be "thrown in" to other events "to see if they can get some (Far East points), see what other stuff they can do."
Still, there were 100 fewer athletes, Merriwether said, in the latest meet at Humphreys than there were on April 2, the last meet before spring break. Last week's meet got done at 3:30 p.m.; the one on April 2 lasted a couple of hours longer.
The whole issue could be solved, coaches say, if the Far East qualifying deadline could be bumped back a couple of weeks to give the district finals more meaning.
DODEA-Pacific area officials have long stated they need at least four weeks, especially for athletes coming from outside Japan, to book airline tickets and match passport names in bulk with those tickets.
There has been some discussion, DODEA-Pacific athletics coordinator Don Hobbs said, of moving Far East track a week later than it's scheduled now, two weeks after AP tests instead of one, but no decision has been made.
Such a move would also bump the qualifying deadline ahead by at least a week. Whether district finals would be in the mix would still depend on scheduling, Robertson said. "There would be some substance to it, but it could still leave district on the outside looking in," he said.
While six Kanto meets counted toward Far East qualifying, only four meets counted on Okinawa and three in Korea did.
Twitter: @ornauer_stripes
---
---
---
---