Final D-II playoff spot at stake when SHAPE hosts Naples
---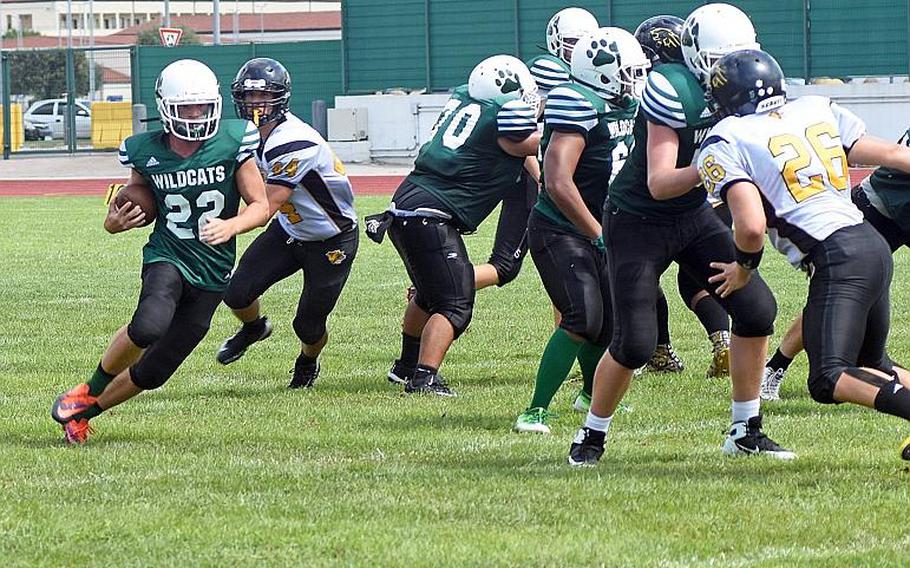 The loser of Saturday's football game between the SHAPE Spartans and Naples Wildcats will miss the playoffs. That makes the game itself a de facto playoff game.
SHAPE and Naples enter the final weekend of the DODEA-Europe Division II regular season with matching winless conference records. Rota, Aviano and Vicenza have already qualified for the semifinals in the five-team league, leaving the fourth spot open for Saturday's winner between the Spartans and Wildcats.
Naples defeated Vicenza 26-6 in its opening-weekend game, but that first week didn't count towards playoff qualification. The Wildcats fell just short against their two in-country rivals in the following week, losing 18-7 to Aviano and 18-6 in a rematch with Vicenza, before taking a 27-0 loss to unbeaten Rota.
Wildcats coach Jim Davis has seen "lots of positives moving forward" even as wins have proven elusive.
"We have been in most of our games," Davis said, adding that there is "more parity" in Division II this fall than in recent seasons. "The young players are feeling more confident as the season progressed and they are able to contribute more."
Adding to this weekend's intrigue is the fact that neither team, even as the postseason draws ever closer, has yet played a game in October.
The Wildcats had a scheduled bye Oct. 12 as the other four Division II contenders faced off. DODEA-Europe sports observed a league-wide hiatus the weekend of Oct. 5, a now annually scheduled break related to funding.
The Spartans, for the second straight year, were unable to fulfill their scheduled trip to Rota for that school's late-season homecoming game Oct. 12. SHAPE coach Scott Burgess said his team had just 14 players available that day, short of the 18 required by DODEA-Europe for an 11-man football game, and therefore did not travel. Undefeated Rota was awarded the victory by forfeit, dropping the Spartans to 0-3 on the season.
But Burgess said his team is ready and "eager to play" its own homecoming game this weekend, and, if things go well for the Spartans, a week or two more.
"We have enough athletes to field a team, even though several key players are out with injuries," Burgess said. "We will adapt as needed."
broome.gregory@stripes.com Twitter: @broomestripes
---
---
---
---