Wrestler of year
Fields dominated, inspired teammates
by
Rusty Bryan
March 8, 2012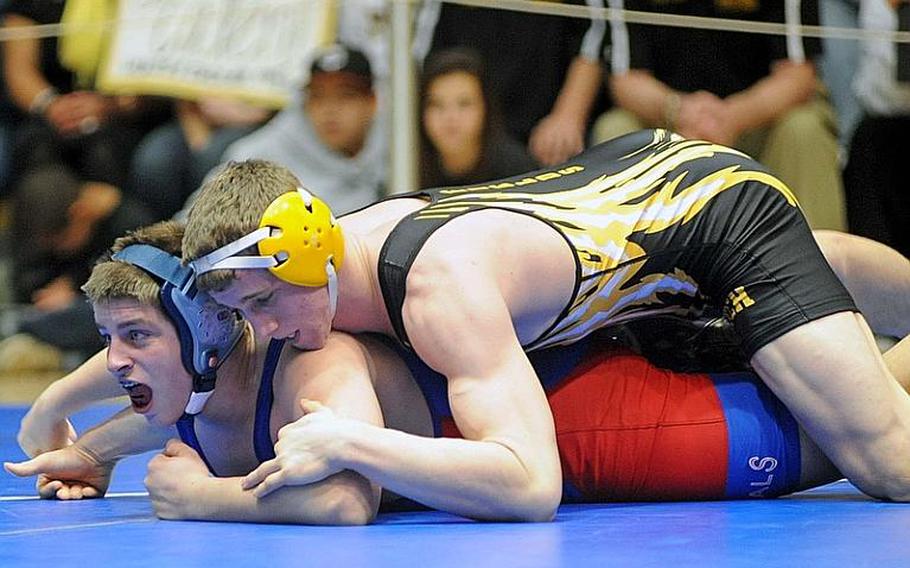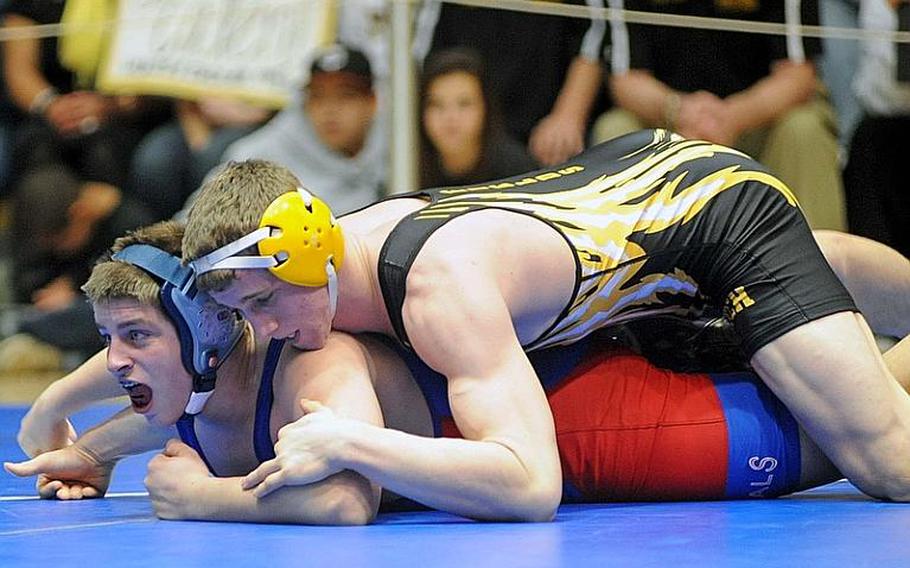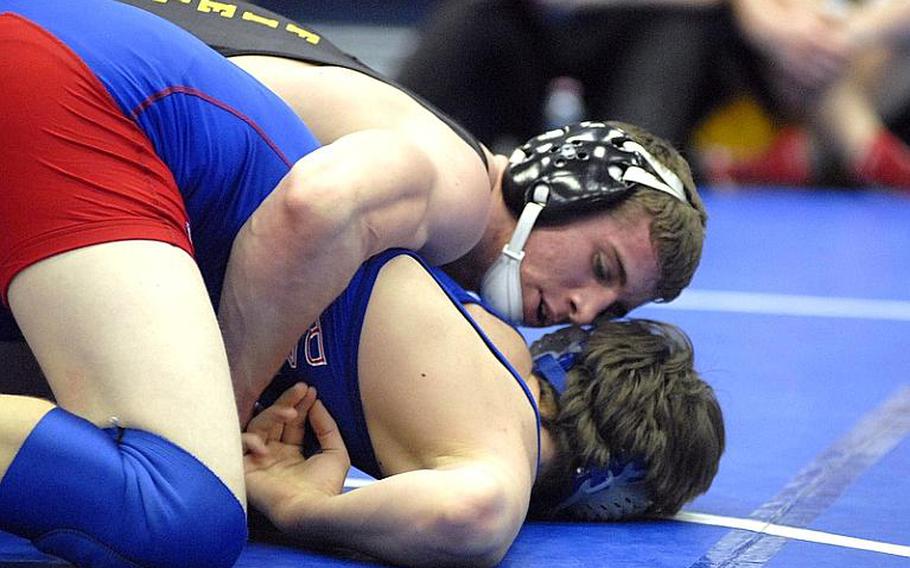 Exactly how good a season does someone need to be named the Stars and Stripes wrestler of the year?
Calen Fields, our choice for 2012's top wrestler, certainly had a stellar one. The Patch senior, who's been on the team all four years the Panthers have won the European Division I title, was 18-0 this season with 17 falls en route to his third straight European individual crown. He won at 145 pounds as a sophomore, 160 as a junior and 170 this season.
It was an impressive season, but not an unmatched one at the rarefied levels of DODDS-Europe wrestling in 2012, where excellence creates crowds at the summit. No fewer than nine of the 14 individual champions crowned last month at Wiesbaden, like Fields, posted unbeaten seasons. Some of them, most notably Bitburg's 220-pound champion Austin Schmidt, like Fields, won almost always by way of the fall. Schmidt, who moved up from 195 during the season in search of competition, pinned 24 opponents and downed the other one via a bout-ending, 16-1 technical fall.
Another unbeaten champ, Stripes' 2011 wrestler of the year Adam Carroll of Lakenheath, like Fields, won an individual title for the third straight season. Moreover, Carroll lost just once in his four-year career, falling to MVP Chris Campos of Naples in the 125-pound title bout as a freshman in 2009.
Two more of the officially unbeatens, Austin Morrow of Lakenheath and European MVP Matt Lengyel of SHAPE, collected their second straight European titles.
So what separated Fields from the glittering field of candidates?
Ask AFNORTH coach Greg Blankenship.
"I vote for Calen Fields as the best wrestler in Europe," Blankenship emailed on Tuesday. "He walks on the mat with the look in his eyes of Conan the Barbarian. Your heart isn't pumping blood if you don't get psyched to wrestle when you see his intensity. He could have just as easily dominated the 182-pound weight class."
Fields should probably also get some credit for not only leading his team by inspiration, but pushing two siblings to do their best as well. Younger brother Jaden (132 pounds) and younger sister McKenna (106) also wrestled in the European championships.
Fields posted his dominating season in spite of having to overcome an ankle injury that slowed him for much of the early part of the season.
"I pushed it," Fields said by telephone on Thursday about his recovery. "I didn't want to be worried about it when I started wrestling again."
That kind of determination is just a third of the package Patch coach Norman Matzke cited as the key to Fields' success.
"He really embraced the 3-Ds we teach at Patch," Matske said, "desire, dedication and discipline. He's driven to succeed."
Matzke expects more of Fields' drive at the high school nationals at month's end in Virginia Beach, Va.
"I expect him to finish in the top eight and be an all-American," Matzke said of the event that brings state champions together each spring. "Last year, he won his first match at nationals but broke his hand. He wrestled two more matches with his broken hand and barely lost them."
After that, honor student Fields said Thursday just moments after completing an exam in an AP class, it's on to college.
"If I get into the Naval Academy, I'll wrestle," said Fields, who's waiting for word from Annapolis.
If not, life on the mats might be over for the 2012 wrestler of the year.
"I've been accepted by Vanderbilt on a Navy ROTC scholarship," Fields said, "but they don't have a wrestling team."
---
---
---