Boys track preview
Field's wide open at season's debut
by
Rusty Bryan
March 24, 2011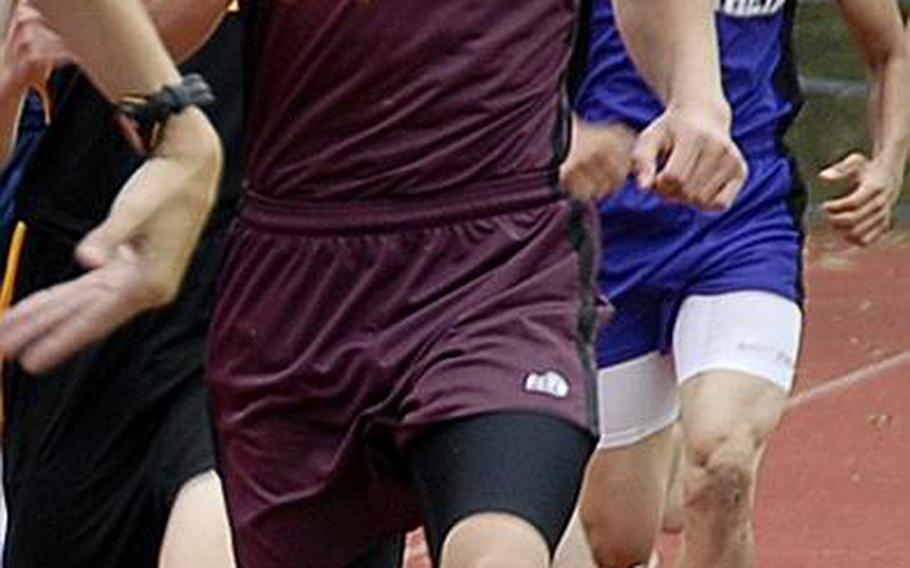 High school track and field opens its 2011 season Saturday at four locations with a clean slate among male athletes.
That's "clean" as in "blank." No 2010 European boys' individual champions return to defend their titles.
Moreover, 2010 silver-medalists are almost as scarce as champs. Just Derrick Flake of Ansbach, whose 51.11 seconds in the 400 was second to 2010 grad Julius Johnson-Rich of Patch by 1.28 seconds; 800-meter runner-up David Lance of Vilseck, whose 2 minutes, 01.91 seconds trailed Mannheim grad Alex Cornelius's 2:00.92; Vilseck's Zane Kennedy, second to Cornelius by 4.74 seconds in the 1,500 and by 8.33 seconds in the 3,000 at 4:15.98 and 9:23.28, respectively, and a third Vilseck athlete, high jumper Dane Gray, runner-up on more attempts to Ramstein grad Michael Wallace at 6 feet, 2 inches, return.
That's about as wide-open as you can get.
Ramstein is the defending boys Division I team champion, but all those returning silver medalists, along with 100-meter contender Darius Whitehead, a European placer in 2010, and transfers Myles Hall from Patch and North Carolina product Eddie Stokes, both relay runners of note, have Vilseck coach Eric Mead contemplating a move up from his team's third-place finish in 2010.
"Ramstein (85 points in 2010) lost quite a bit from last year's senior class," Mead emailed recently, but not without a caveat. "But with a school that size, they were probably able to replace those graduating seniors with new athletes."
Even so, "With a little hard work this season," Mead wrote, "Vilseck could be in the running for a Division I boys' title."
Aviano was the top-scoring D-II boys' team in 2010 with 81 points, but the Saints bid good-bye to 74 of those when Jamal Tuck, Sean Outing and Francis Ledesma graduated. And third-place Mannheim lost 30 points when triple champion Cornelius graduated.
Youthful Bitburg will be led by shot-put bronze medalist Darian Billups, coach Brian Bent reported, while Ansbach returns power in Flake. SHAPE coach Michael Vargas is enthused about the leaders of his 65-strong team, stateside transfer discus thrower Justin Davis, also a high-, long- and triple-jumper, and distance runners Curtis Engel and Michael Cotugno; while AFNORTH's D.C. McDonald reported his team will coalesce around 20-foot long-jumper Jamil Pollock, sprinter Sean Amidan and newcomer Dante Brown in the weight events.
Brussels boys were the only D-III team to score in the 2010 European championships. Rota, Sigonella and retiring coach Larry "Liberty" Bell's final edition of the Menwith Hill Mustangs hope to change that in 2011.
---
---
---
---