Few surprises on opening day of DODDS-Europe tennis championship
by
Rusty Bryan
October 28, 2005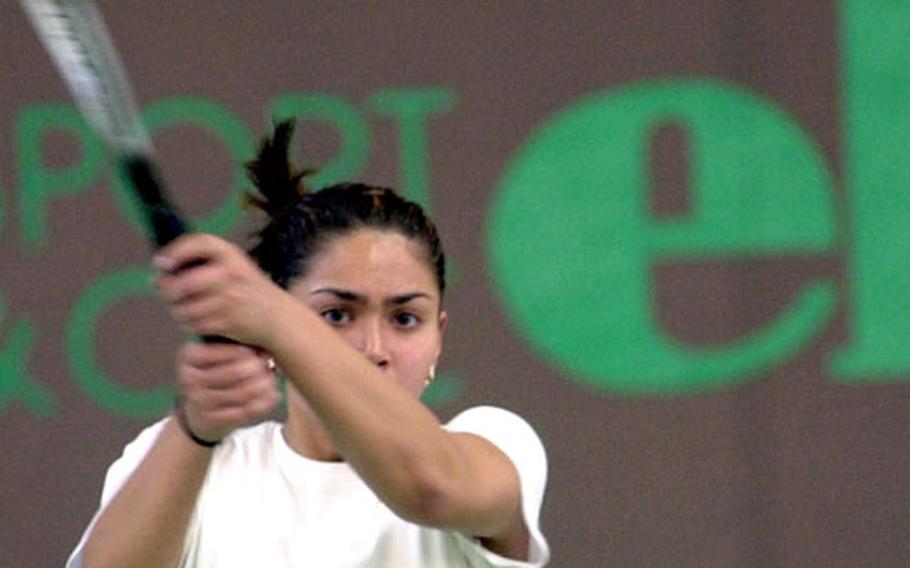 WIESBADEN-NORDENSTADT, Germany — The first day of the three-day DODDS-Europe high school tennis championship was a long one for Nathan Stebbins of Iceland's A.T. Mahan High School.
Stebbins, a junior, flew into Germany on Wednesday and opened his tournament Thursday morning with a three-hour, 4-6, 7-6 (7-4), 7-6 (7-4) victory over Kevin Yatsko of Patch. It put him a step ahead of his performance here last year — he dropped his first two matches — but there was no time to savor the moment.
After a 45-minute break, Stebbins was paired against fifth-seeded John Pendergrass of Bitburg, who had drawn a first-round bye. Stebbins lost 6-0, 6-0, thereby earning another 45-minute break before he was forced to take on Paul Moseman of Brussels in the second round of the consolation bracket. He lost again.
"That first match was really tiring," Stebbins said, "but Pendergrass is an amazing tennis player."
Just as amazing, perhaps are the lengths that the Iceland team has to go to ply its trade.
Stebbins said that the team gets to play one regular-season weekend in Alconbury, but that there was more to Iceland's traveling than just finding matches. Finding a court in the North Atlantic nation is a journey in itself.
"The nearest outdoor court is 30 to 40 minutes away from Keflavik," he said, adding that the few indoor courts in Iceland are so expensive that they're out of the question.
"We play in a hangar. We lay out the lines with police tape. Last year, people had to hold the net — it was made of police tape, with strands of tape hanging down. This year, we ordered breakdown nets. Now we can play two matches at a time."
There were few breakdowns among the seeds here on opening day. Only No. 6 Paul Maritz of Bamberg and Ramstein's fifth-seeded duo of Trey Dulaney and Shawn Kelley failed to reach the quarterfinals.
Ramstein's Matt Puchta downed Maritz 6-3, 7-6 (7-5), and Alconbury's Christian Felice and Max Reuning toppled Dulaney and Kelley 4-6, 6-3, 6-3.
The top two seeds in each category drew byes into Friday's quarterfinals at the Vitis tennis center.